Rogora and Ondra dominate at Briancon World Cup
Laura Rogora and Adam Ondra took the top spots in the trilling and emotional IFSC event at Briancon over the weekend.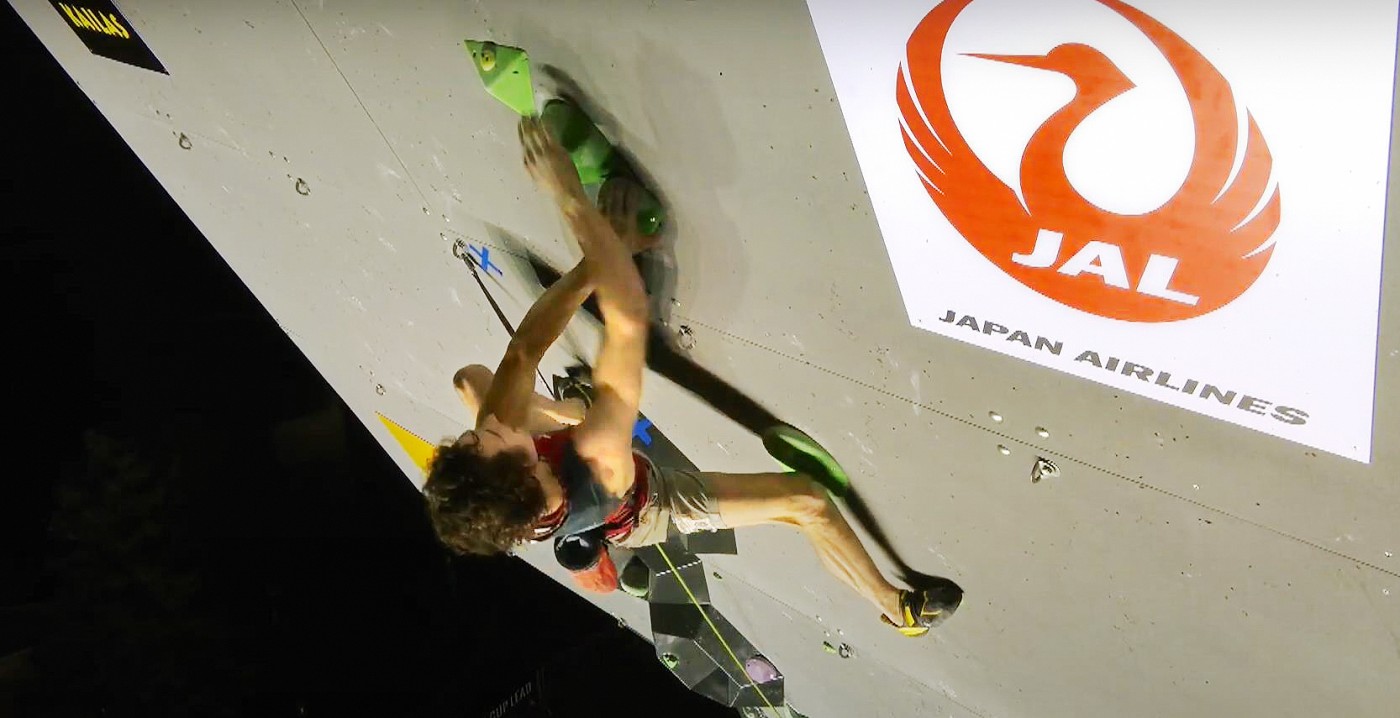 The eyes of the climbing competition world focused on Briancon at the end of last week for the first IFSC competition in ten months! Whilst the IFSC badged the event as a World Cup event the travel and Coronavirus restrictions in place in a number of countries meant that the starting line-up was largely limited to European competitors. GB Climbing decided not to send a competitive delegation and there were no competitors from Africa, Asia, Pan-America or Oceania. That said there was still a phenomenal talent on display.
The women's line-up included not only lead regulars such as Janja Garnbret, Jessica Pilz but Fanny Gilbert from France and the young Italian teenage super-star Laura Rogora. In the men's event, Jakob Schubert was joined by Domen Skofic as well as Alex Megos and Adam Ondra. Everyone was keen to get back onto the world stage and see where their comp game was.
The women's semi-finals saw Janja Garnbret and no less than seven other competitors all finishing in joint 3rd place having fallen off at 26+. Nina Arthaud made an extra move but it was Laura Rogora alone who blasted through for several more moves to dominate the round. In contrast, the men's event saw the field more spread-out. Alex Megos, fresh from his success on Bibliography (F9c) at Ceuse, finished in 3rd place with Adam Ondra and Jakob Schubert taking a joint top place a few moves higher.
The finals kicked off with the women's event and a route which was said to be F8b+. The setters had included a 360-degree sequence in the middle of the route and most of the finalists duly obliged reading the sequence perfectly. Nina Arthaud, having placed 3rd in the semi's, didn't manage to sustain her game and finished 7th. Former Lead champion, Jessica Pilz, almost made the podium but was pipped into 3rd place by Fanny Gilbert; a remarkable achievement from the French climber given it was her first-ever lead World Cup. Janja Garnbret produced a solid performance – as she so often does – and topped the route. However, her fate was in Laura Rogora's hands. Climbing last Laura also topped out and hence took a thoroughly deserved gold, her first-ever World Cup Lead win. Last year's Briancon winner, Chaehyun Seo, was the "2019 new lead female super-star"; it remains to be seen what will happen now that Laura Rogora has also joined in the fray.
The men's event, unlike the women's, was dominated by the 'old guard'; the younger competitors being squeezed out of the top places. The setters have included a tricky/powerful section at about half-height on the route where competitors had to release from a heel hook. Some read this section wrong and fell whilst others, Jacob Schubert and Domen Skofic absolutely aced these moves. Arguably, Ondra didn't climb this section either as smoothly nor as technically as others but in an extremely impressive display of strength and power he simply powered through his way through these moves almost as though they were nothing!
Alex Megos got all tangled up in his rope following a dynamic few moves and fell off lower than what might have been expected. Jakob Schubert, so often a dominant force in such competitions, hit the buffers halfway up the headwall; although disappointing he earnt another WC medal for his efforts – a bronze in this case. Never far away from the action, Domen Skofic climbed superbly to pick up a silver medal. However, the winner and clearly way better climber on the day was Adam Ondra. Ondra looked as though he meant business from the outset of the competition; certainly he's in superb lead shape right now and looked utterly ripped. He remains the clear favourite for lead events going forward. His win at Briancon gives him his 23rd medal of his career.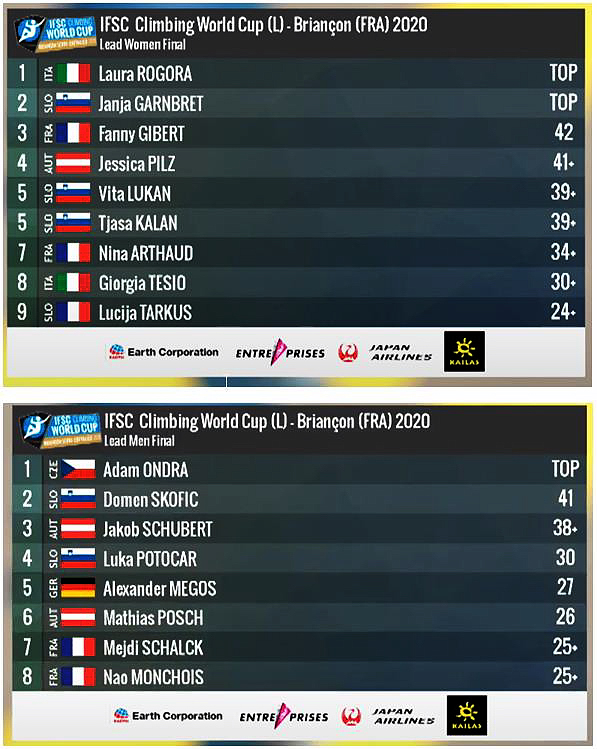 Briancon 2020 will not only be remembered for the amazing performances by Rogora and Ondra but also for the impact that Covid has had on the climbing world as well as the tragic accident that befell the young 16-year-old French climber, Luce Douady earlier this year when she fell to her death off a cliff trail. Following the competition a short but highly emotional tribute for Luce was held in which her father read an extract from Luce's diary: "I picture myself clipping the anchor, and there's a great release, I feel a joy that I can't conceal; a joy that's so pure, so true, so strong inside of me, that it has to spill out. I spread it everywhere: to each face, each person I meet, I pass on my love of life and my cheerfulness."
Watch the Briancon finals below…