Rogora and Bailey take Gold at Chamonix
Laura Rogora and Sean Bailey take the gold medals in the latest IFSC World Cup Lead competitions in Chamonix.
The Chamonix round in the IFSC's World Cup Lead schedule is always eagerly awaited by the athletes; who won't want to compete on that wall in front of that backdrop?! However, heavy rain during Monday's qualification and semi-finals threatened to spoil the party. In the end, it didn't (seemingly) affect the climbers too much. It's the third Lead competition of the year and it's the third to be affected by heavy rain!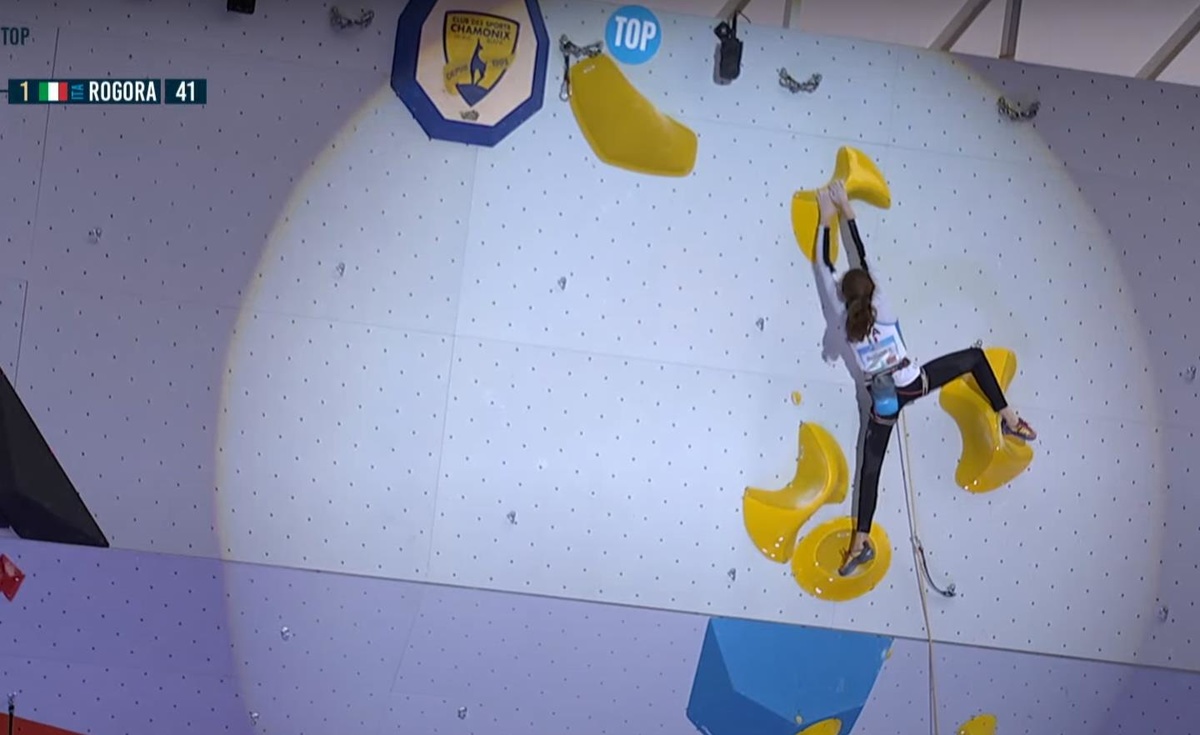 From a GB Climbing perspective, Chamonix saw a welcome return to the international stage for our athletes. Quarantine restrictions had prevented GB_Climbing team members from attending any of the WC's following the two Salt Lake City events; Molly Thompson-Smith and Hamish McArthur were representing the team.
Whilst most Olympians were absent from the starting line-up, a few - Lauro Rogora, Julia Charnourdie as well as Alberto Gines Lopex and Jan Hojer - were having one last outing before wrapping up their competition appearances before the Olympics and heading to Tokyo.
Qualification
Lucka Ravovec and Natalia Grossman were level pegging in the women's event after both fell off at move 50 on the first of the two qualifier routes and then both topped the second. On-form, Laura Rogora finished qualifiers in 11th, immediately ahead of Molly Thompson-Smith. It was Molly's first comp since the European Climbing Championships which were held in Moscow at the tail-end of 2019 so a 12th place finish was a very solid performance from her.
The Men's qualification rounds saw a more decisive result - Satone Yoshida topped both routes and finished in first place, followed by Alberto Gines Lopez and Domen Skofic. Numerous 'big-guns' were close behind, however; Sasha Lehmann (5th), Sean Bailey (=6th), Yannick Flohe (8th), Stefano Ghisolfi (=11th) and Martin Stranik (=14th). Sadly, Hamish McArthur just missed a semi-final cut finishing qualification in 29th; a cruel blow but, as with Molly, his Chamonix outing will be invaluable match-practice for Hamish as he heads over to Briancon for this weekend's competition. Putting Hamish performance into perspective qualified Olympian, Jan Hojer, finished in 32nd place.
Semi-Finals
The women's semi-final was something of a rout; no less than nine climbers topped the route! Janja Garnbret was so moved to take to Instagram and pose the question – "Is this a joke"? Having placed joint first in the qualifiers Natalia Grossman took the top spot in the semis. Sadly from Team GB perspective, and despite climbing well, Molly Thompson-Smith didn't top the route falling a few moves before the top; ultimately Molly finished the semi-final in 17th. Doubtless, the lack of completion practice, as well as the travel/quarantine requirements, wouldn't have helped Molly's cause. Fortunately, her Chamonix outing will have been invaluable 'game practice' as she too heads across the Alps to compete in the Briancon competition this weekend.
The men's semi-finals saw a wholesale switch around in the top finishers; Sasach Lehmann taking the top spot with Stefano Ghisolfi and Paul Jenft coming in second and third. Satone Yoshida, having led after the qualifiers, slipped into 26th whilst Alberto Gines Lopez and Domen Skofic also failed to make the finals cut finishing in 14th and 25th respectively. Both have been a bit off the pace recently. Sean Bailey, however, maintained his consistent form and finished in 5th.
Women's Final
Word from the IFSC commentator, Matt Groom, was that the setters had spent all day tweaking the women's final route to ensure that it was harder than the semi-final route and would therefore give a clear result. Climbed third, Laura Rogora burst onto the wall climbing very quickly and purposefully. If there was to be a time-dependant countback, Rogora clearly was intending on being on the right side of that calculation! With nearly a minute remaining Rogora had climbed onto the headwall way past the high points of both Ashima Shiraishi and Natsuki Tanii; all that remained was the final dyno to the finishing hold. As is apparent when watching her climb, Rogora isn't a fan of dyno's however and with the clock ticking down she made numerous tweaks to her hand and foot places and then promptly did the final move of the route - statically! Understandably, the crowd roared their approval.
With Rogora's top obvious to the remaining competitors and undoubtedly playing on their minds, Julia Charnourdie and Vita Lukan both fall earlier than expected. However, the 16year-old Bulgarian Aleksandra Totkova, matched Vita Lukan's place so on countback she took the bronze to earn herself her first senior WC medal. Not for the first time in this season, the result was all down to the final climber, Natalia Grossman. Grossman, climbing well, made steady progress onto the headwall only, as if often the case at Chamonix, she struggled to make the final clip and had to reverse. Finally, the clip was done but Grossman was blown and then fell off straight afterwards. Nevertheless, she finished in second with a silver medal. Remarkably, the 20year old Grossman has now won six medals from her six WC appearances in 2021; two golds – both in Boulder, two silver – one in Boulder and one in Lead, and two bronze – one in Boulder and one in Lead. It seems odd-on that she will add yet more before the end of the season.
Men's Final
Said to be "the hardest final route ever", the men's final route looked brutal. 'Blockers' - holds which mask areas of other holds and therefore make the original hold worse - have become commonplace in recent competitions. Unusually, the setters had used a blocker on a knee-bar on what proved to be the crucial section of the Chamonix route so that the finalists couldn't shake out at that point. Unusually, all the finalists all fell off between moves 25 and 34 with a significant amount of climbing remaining. Czech strong-man Martin Stranik climbed quickly and purposefully finally falling at move 32 to take an early lead. Sean Bailey was next to climb and he applied himself very well climbing in his characteristic relaxed manner. Significantly, Bailey managed to use the 'blocked kneebar' to some effect but he fell 2+ moves past Stranik's high-point to take the lead with a new high point.
With both Sascha Lehmann and Stefano Ghisolfi still to climb it the results were very much up-in-the-air still. Ghisolfi couldn't improve on Stranik's final position and he too fell at move 32. Climbing last, Lehmann didn't get that far even and finished outside the medals in 4th. Sean Bailey, had taken back-to-back Lead wins and clearly, the momentum is now with him going into Briancon. Bailey now has three golds from this year, two in Lead and one in Boulder. Stefano Ghisolfi took the silver on account of his semi-final position and Martin Stranik the bronze.
Watch the finals below…