Rick Allen found alive on Broad Peak by drone
July 17th; 2018
In a remarkable search operation involving a drone missing mountaineer, Rick Allen, has been found and rescued following a fall from Broad Peak.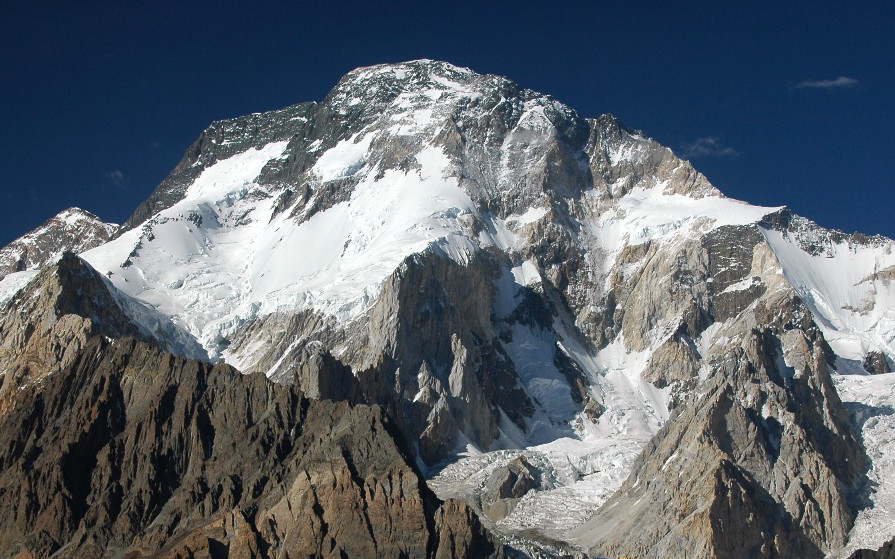 Broad Peak
A series of recent reports on the Alan Arnette website/blog have reported that Rick Allen was reported missing/believed dead on Broad Peak and then found by a drone and subsequently rescued and is now back at base camp recovering!
It appears that Rick Allen, although climbing on Broad Peak with a small group comprising Casper Tekieli, Sandy Allan and Stanislav Vrba, had made a solo attempt on Broad Peak and then had slipped during the dscent and was feared missing/dead. However, a drone pilot from the K2 basecamp flew over Broad Peak and found someone moving about albeit off route.
David Roeske, also climbing in the area describes the situation: "We headed first down then up the mountain with rope, water, and medicine looking for him and were later joined by Tenji Sherpa from Summit Climb. With the help of the drone pilot we were able to eventually locate him in very dangerous terrain — a fall would've taken him either down a crevasse or all the way to the base of the mountain — and the three of us got him down and into a tent at camp 3 just as it was getting dark. Then the Summit Climb team took over."
Sandy Allen has then written about the incident on his blog:
"Sandy and Rick are now both back at Base Camp following a couple of days making a summit attempt. Sandy returned back to camp himself after deciding to descend due to high winds. The rest of the team stayed at Camp 3 and considered their options for the summit. Rick made a summit attempt on 9th July after climbing all day and night. Rick was missing from the group and feared injured from 9th July until he was spotted by a drone, piloted by climbers at K2 Base Camp on July 10th.
Sandy, with help from Andrej Berdel, his brother Bartek and their drone, was able to coordinate climbers that were already on the mountain to reach Rick at around 7.30pm. The climbers brought Rick back to camp 3 in the darkness. Rick returned to Base Camp today (12th June) safely thanks to Dan Mazur and his sherpas. After being examined by a doctor at basecamp, Rick is okay all things considered and has a few superficial cuts and some frostnip.
Sandy and Rick would like to express their sincere thanks to Kacper, Stan, Andrej and Bartek Bargel, Piotr Pablus, Dan Mazur and team, Frekrik Strang, David Roeske, Major Ramzan, Captain Kaddar and Dan's sherpas."