Responsible Down Standard adopted by major producers
Tuesday 28th October 2014
The Textile Exchange[i] has just announced (21st October 2014) that a number of major producers have adopted the RDS (Responsible Down Standard) to ensure traceability and to help improve animal welfare in the down and feathers supply chain. The companies which include H&M, Eddie Bauer, The North Face, Marmot, Helly Hansen, Outdoor Research, DownLinens, Down & Feather Co as well as other leading international fashion, bedding and outdoor brands have committed to using certified down from a soon as 2015.
Down and feathers are an excellent insulator and have long been in common use in the outdoor clothing industry as well as household bedding. Typically, down is sourced from ducks and geese which are specifically reared for the food industry. However, animal protection organisations - such as FOUR PAWS – became increasingly concerned over animal welfare issues such as force-feeding and live plucking as well as other issues such as food and water quality, housing, stock density and outdoor access, animal health, hygiene and pest and predator control, among others.
In 2012 The North Face combined forces with Textile Exchange and Control Union Certifications, an accredited third-party certification body, to design and implement the RDS across primary sourcing regions in Europe and Asia, and in U.S. processing sites. This included working closely with leading suppliers Allied Feather & Down and Downlite to analyse and certify every step of the down supply chain. When the standard was completed, The North Face gifted it to Textile Exchange to administer and evolve the standard as needed with the hope of engaging more brands and down suppliers to begin to implement the RDS. By January 2014 the RDS was officially launched.
The North Face have committed to having 100% certified and responsibly sourced down across all their product range by 2017. "We are incredibly excited to see the adoption of the RDS across industry and competitive boundaries. The brands adopting the RDS today are helping lead the charge to transform the down supply chain in an entirely new way," said Adam Mott, Director of Sustainability, The North Face. "When we set out to develop the RDS, we knew that in order to truly succeed we had to create something that was global, open and adaptable. Today we are seeing the realization of this vision – yet it is only the beginning. We welcome other brands to join in the commitment to source more responsible down."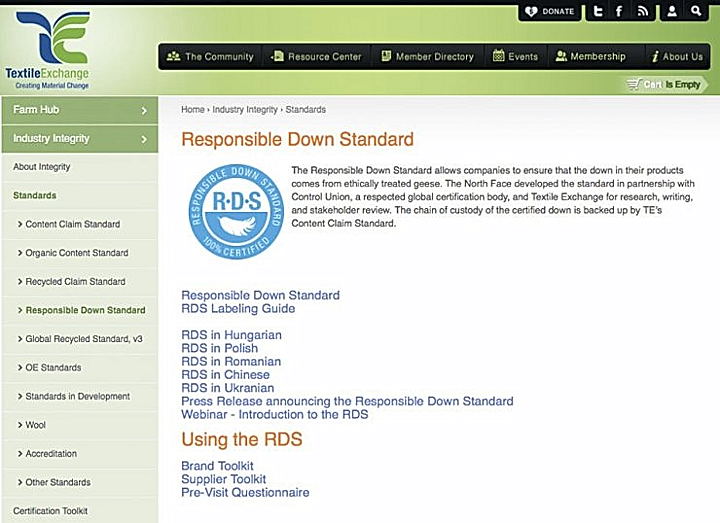 For more on the RDS see the website here… http://textileexchange.org/RDS
[1] About Textile Exchange
Textile Exchange is a membership-based non-profit dedicated to accelerating sustainable practices in the textile industry. We envision a textile industry that protects and restores the environment and enhances lives. The Industry Integrity team's work in standards and certification is foundational to the work of Textile Exchange. Other TE standards include the Content Claim Standard, Organic Content Standard, Recycled Claim Standard and Global Recycled Standard.