Remember last Summer?
July 2nd; 2016
Against the (weather) odds Jon Clark has just notched-up a rare repeat of Kumquat on the lost crag that is Chee Tor East.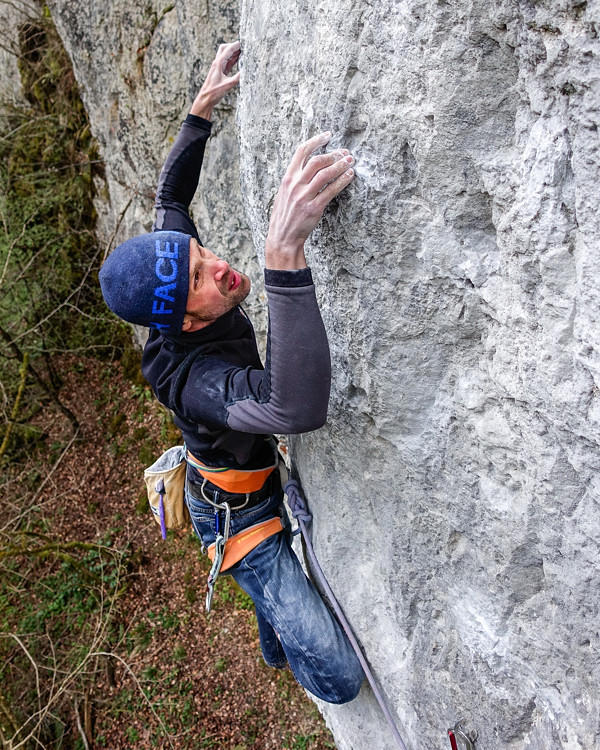 Jon Clark on Kumquat (F8b). Photo Jon Clark collection
It's nearly a month now since Alex Megos scooped up a rack of UK's testpieces in double quick time. As we all know since he departed much of the country has faced repeated dousings from a seemingly endless succession of jet-stream powered downpours. Crags which should be dry are now seeping and crags that should be drying are still utterly soaked. Yet some – Kilnsey for example – have escaped the worst of the weather systems. Paradoxically, whilst many of the Peak's sport crags are wet, the old favourite trad venues such as High Tor and Chee Tor are not only dry but have seen something of a revival given they are quick drying.
Whilst many Peak-based climbers have headed back indoors to top-up their strength and power in the hope that the autumn will be good, not all have turned tail. Jon Clark, a Matlock-based climber/photographer, in particular has been toughing it out. Jon hung his climbing shoe up a few years back having done many of the Peak's hard routes – as well as a bunch of his own - but he's back in action this year and against the weather Gods he's notched up a rare repeat of Kumquat on Chee Tor East. Bolted originally by Mark 'Zippy' Pretty, John Hart eventually succeeded on the first ascent in 1997 and gave it F8a+. At the time it got a few repeats from locals such as Al Murray and Keith Sharples but it was a bit off the beaten path and was never popular. Like many routes, Devonshire Arms, Albatrossity Direct, Love Amongst the Butterflies – Kumquat was 'yet another hard F8a+'.
Fast forward to the present and Jon has cleaned up Kumquat and reckons it's not only one of the best routes in the Peak but it's worth F8b as well. There's not many routes over on Chee Tor East but if you're in the area and it's your grade then take a gander.
Meanwhile, here's a smashing short video by Dan Cheetham of Chris Taylor climbing Bricktop (F8b) on the Chee Dale Cornice shot during last year's dry autumn. Here's hoping…