Randall makes first ascent of Dina Crac (E9 7a)
Thursday 28th August 2014
Crack wizard Tom Randall recently made the first ascent of his long term project at Dinas Rock in South Wales. The meat of the route is an 80 degree impending finger roof crack and according to Tom 'The sequence through the roof is around V10 and involves amazing spins on finger jams, an undercut mono-style move and some funky heel action. All of this has to be stopped in the middle of though, to place two micro nuts, which caused me problems on a few occasions!'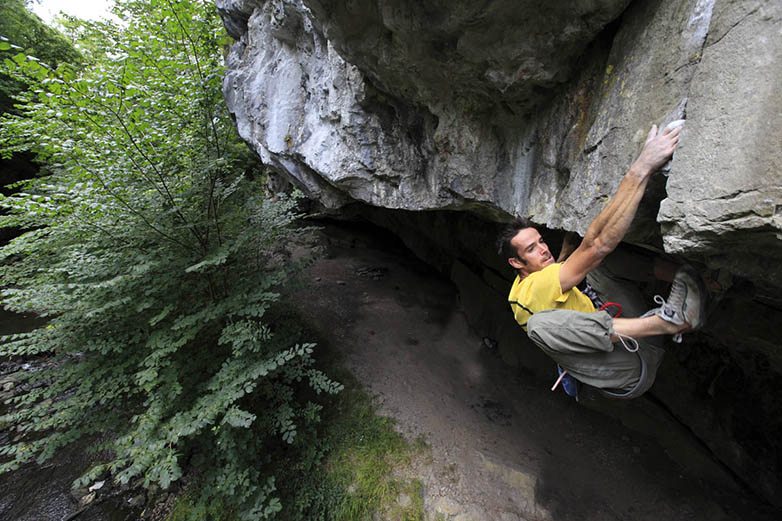 Tom on the moves around the lip of the roof on Dina Crac (E9 7a). Photo: Mike Hutton
He attempted the route a number of times, spread over 3 years in total, and admitted that this project had been particularly testing due to a combination of factors: The long distance to get there from his home in Sheffield and then sleeping in his van, the condition of the route when condensation would set in and make it unclimbable (the route is close to a river in a wooded valley) and of course it was hard with a complicated sequence that he would have to re-learn on each visit.
Tom came close a while ago
, falling off from the last move,
before headed
Squamish, Canada to climb the world famous Cobra Crack – a route given F8b+/8c. This time he managed close to the end of his latest visit when 'just having a little look'.
Regards grade Tom commented, 'As it's a trad limestone crack (although, granted there are 2 bolts from an old existing line at the start) I will stick with the proper UK grade of E9 7a and given it a token US crack grade of 5.14a. All gear was placed on lead (not a very easy prospect!) and consists of loads of those offset Wild Country micro nuts, including the top 30ft of groove climbing.'
You can read more about it on Tom's blog and how he compares it to other routes he's done at tomrandallclimbing