Puccio and Woods take their 9th ABS titles
Monday 16th February 2015
Feb 16th, 2015
Alex Puccio and Daniel Woods both picked up their 9th titles at the recent American Bouldering Series National Championships.
Both Puccio and Woods have hit amazing form recently; Puccio sending Jade (Font 8B+/V14) and other hard blocs we reported previously (see report here) and Woods doing the first ascent of The Progress, the world's first V16 (see here for that report).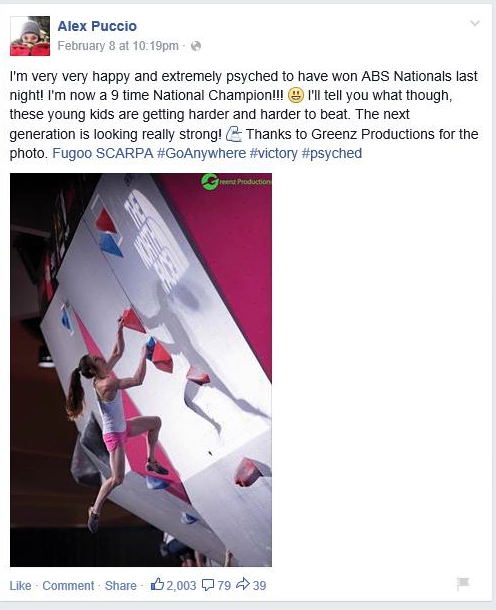 Alex Puccio's FB page after her recent win at ABS
Renowned for her strength, Alex Puccio dominated the women's event flashing no less than three of the four problems in the final. That no other competitor managed to even complete these blocs is testament to Puccio's strength and her comp prowess which she's been honing on the international comp circuit.
Daniel Woods also picked up the American Tittle but he was pipped in the comp to first place which went to Iranian Mohammed Jafari Mohmodabadi. Whilst Jafari has been around the international comp scene for some time – at 31 he was the oldest in the ABS comp – his most recent comp finish was a 9th place at the IFSC Asian Championships in 2008. Woods however took the US tittle as Jafari was competing on an Iranian passport. There is some speculation on the internet about how Jafari came out tops in the comp and one theory is that the lack of international comp experience of US men who don't travel/compete widely is letting them down in the comp-style climbing.
The ABS event also saw strong representation from younger climbers. Nataniel Coleman, 18, finished in fifth place in the men's comp having pulled 1st place in the semi's. The women's comp too saw three junior competitors in the top six; Megan Mascarenas, 17; Kyra Condie, 18; and Grace McKeehan, 16.
To see a video of the final click through here…