Post Vail: The Bitter Sweet of climbing
June 20th; 2016
Following the recent bouldering World Cup event in Vail the bitter sweet of climbing has seen Puccio confirmed with yet another major injury whilst Gelmanov has repeated Hypnotized Minds (Font 8c/+).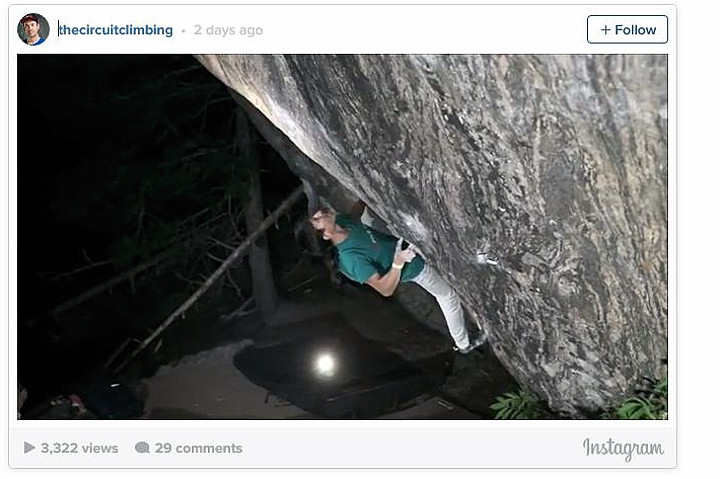 Starting with the bitter, those that watched the live stream will have seen Alex Puccio 'struggling' in the final. This was particularly evident after her stellar performance in the earlier rounds where she was at her strongest and best. At the end of last week she posted on FaceBook that she'd had an MRI scan which revealed that she had a "very bad herniated disc in between C5 and C6 Vertebras" which was causing the pain and numbness in her arms. She added that the intention is to operate ASAP and fuse C5 and C6 together. The cause of the injury is unknown but we wish her well in her recovery.
The flip sweat side of the post Vail week saw Russian athlete Rustam Gelmanov stay on in the Rockies and make the long-awaited first repeat of Daniel Wood's Hypnotized Minds in the Rocky Mountain National Park. Originally graded Font 8c by Woods, Hypnotized Minds has repelled all suitors. Wood himself has repeated a number of Font 8cs since and has been reported as thinking it was more likely to be Font 8c+.
Eddie Fowke (of The Climbing Circuit) was there to witness Gelmanov's send which came after three days of work on the problem. Fowke's reports; "It was such an impressive send. He rested all day, then pulled on the holds a few times, got on and almost sent first try. 8C+ warm up...
Previously, Gelmanov's stand-out achievements have been a repeat of Action Directe (F9a) in 2012 and various blocs up to Font 8b+.
To watch Gelmanov on the successful send click though here. Video by Eddie Fowke/The Climbing Circuit
See Daniel Woods on the first ascent below.