Pope and Slaney 2020 Plywood Masters
Friday 28th February 2020
Jim Pope and Hannah Slaney took the top spots in the fiercely competitive but super-friendly 2020 Plywood Masters bouldering comp last weekend.
Having moved over from their form base in Blackburn, the all new and super-duper Boulder UK has continued with the long-standing tradition of hold their annual competition – a.k.a. Plywood Masters. Just for the record, the Plywood Masters first started back in 2003 at the old site of Boulder UK Blackburn.
Under the influence of the two long-standing and masterful setters, Ian Vickers and Jamie Cassidy, the Plywood Masters has gained something of a fearful reputation for blocs of a certain style - ie relatively basic moves frequently requiring the use of the crimp. In Boulder UK's own words "With Ian and Jamie setting, this event has become renowned for its basic pulling and outdoor-style of problems that you just don't find at other climbing competitions."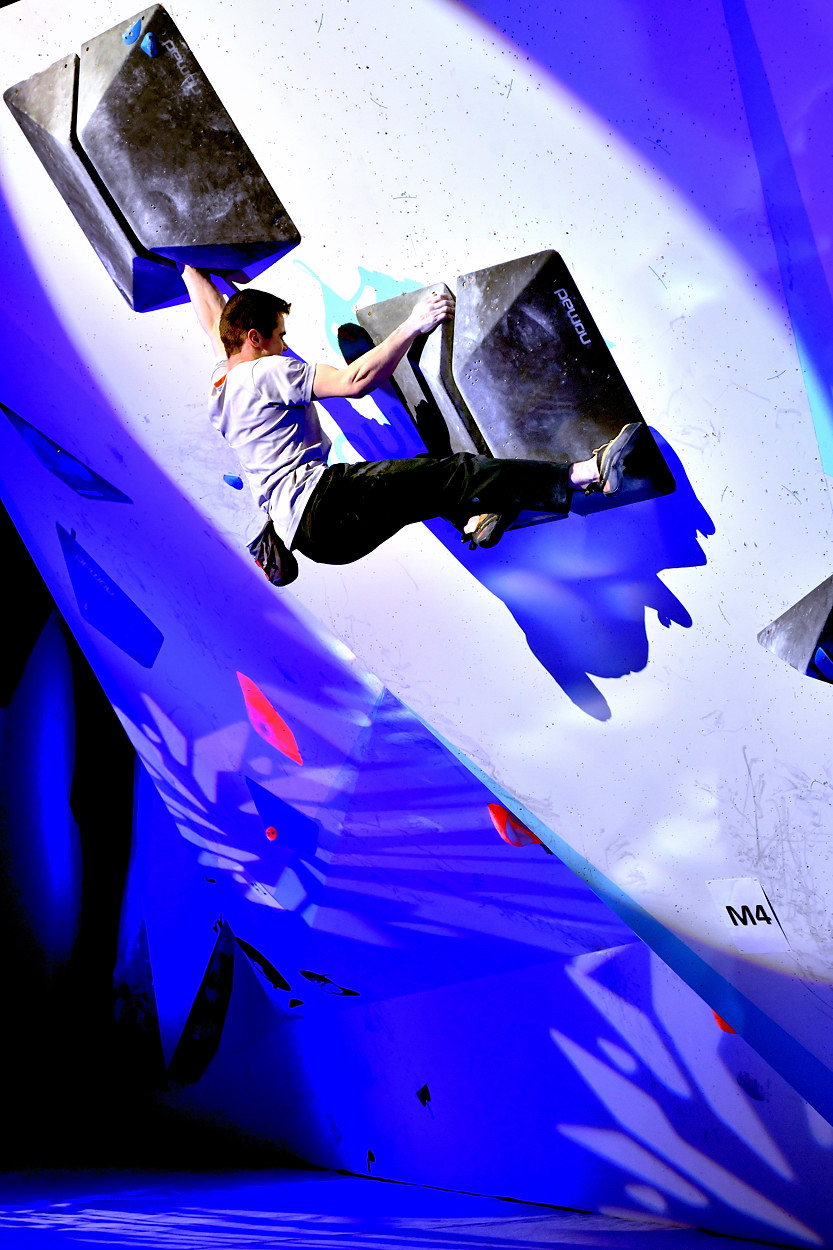 Competitors for the 2020 Plywood Masters were, no doubt, expecting more of the same. However, and at the risk of letting the cat out of the bag, that wasn't all they got! Ian and Jamie were joined by another of Boulder UK's directors Neil Mawson, as well as James Garden and Jamie Swales to form a five-man setting team. In the end, and still whilst containing some traditional dirty crimps, blocs with the now almost ubiquitous dynamic parkour style were set along with a jamming crack! It's probably fair to say that the blocs the setting team actually served up for the 2020 Plywood Masters probably caught some competitors a little off guard?!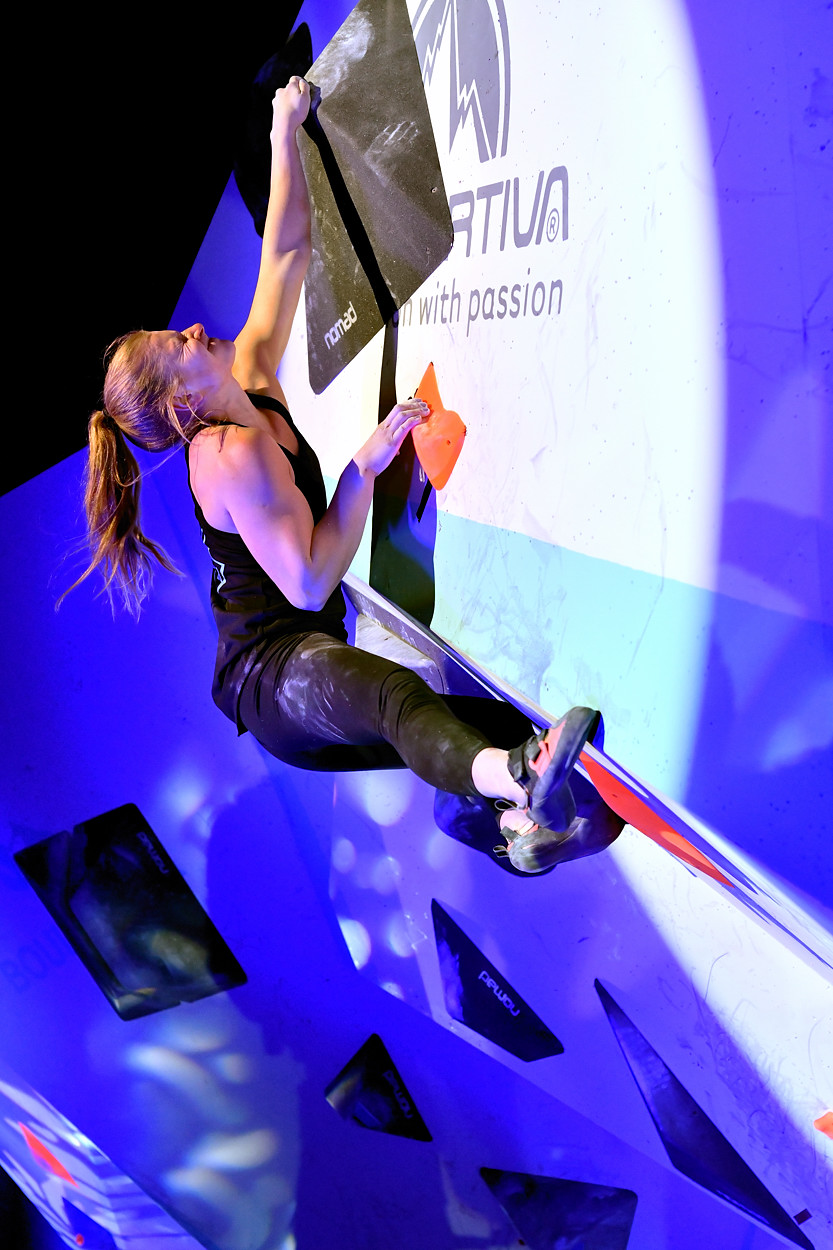 Another big change was that the 2020 Plywood Masters switched to a two-day format. Saturday comprised two qualification rounds on the same 30 blocs. The highest scoring 20 male and 20 female competitors, regardless of being senior, veteran or super-veteran, progressed into the Sunday morning semi-final where they faced just four blocs in an IFSC semi-final style round. The six highest scoring male and female competitors then progressed into the Sunday evening four-bloc final. Finally, both the semi-final and the final were livestreamed by TechNative via YouTube.
The women's podium places at PWM 2018 and 2019 were taken by Hannah Slaney (1st), Jen Woods (2nd) and Holly Toothill (3rd). Remarkably, that was also the result for this year! One can only wonder what odds the bookies might have given for that result?! Hannah Slaney turned on the style and power and promptly flashed all four blocks in a totally solid performance that was unmatched. Holy Toothill, the 2019 British Bouldering Champion, must have thought she was in with a chance of usurping Hannah when she finished the semi's in a top place but it wasn't to be. In the end, both Jen and Holly, finished in second and third-place respectively, flashed two blocs apiece, did a third bloc on their second attempt and failed to top a fourth. Jen however took second place ahead of Holly by picked up an additional zone. Fourth-placed Frances Bensley was only a smidgen behind Holly. Completing the women's finalists were PWM regulars Emily Phillips and Zoe Peetermans who placed fifth and sixth respectively.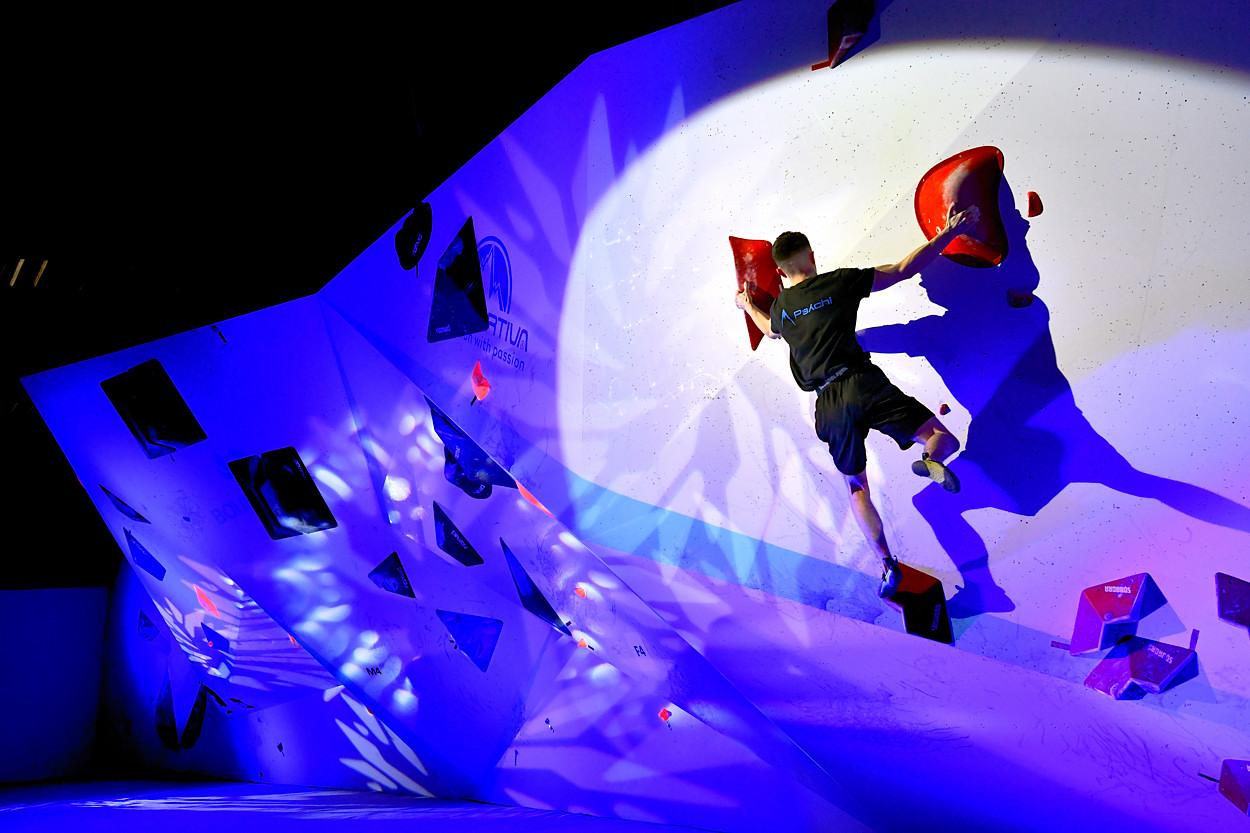 The men's podium at PWM 2018 and 2019 had been dominated by Nathan Phillips and Dave Barrens; Aiden Roberts coming runner up in 2018 and Hamish McArthur in 2019. However, a plethora of young guns had once again gathered for PWM 2020 determined to challenge for the top spots. Amongst their number was a certain Jim Pope. Somewhat remarkably, Jim proceeded to blast the qualification round taking just 45minutes of the allotted 3hours to do all 30 blocs! Although Jim didn't flash two the problems his was most certainly the fastest round. Sam Butterworth and Nathan Philips – both of whom opted for a slightly more conservative approach – topped all 30 blocs.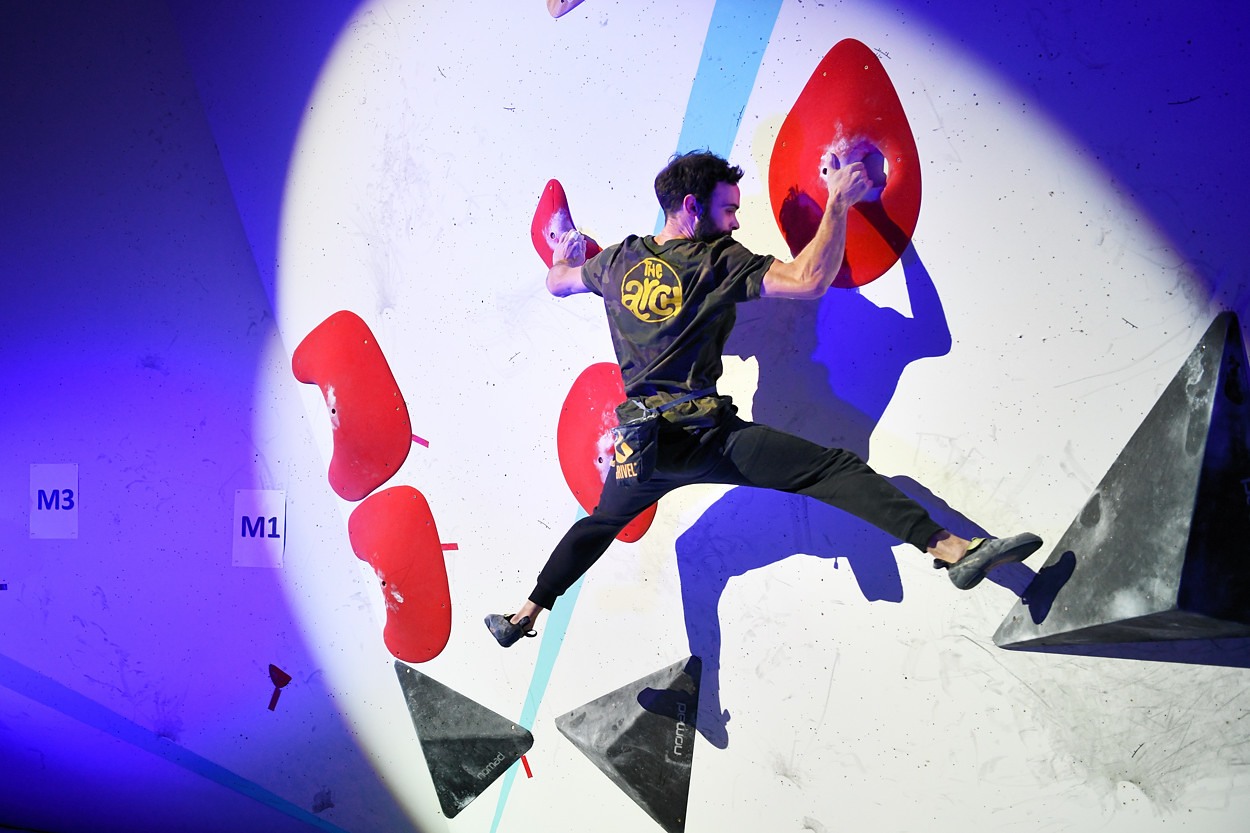 Following a pretty savage semi-final, M3 and M4 were especially powerful and crimpy, the four-bloc final tested all the male finalists in different measure. All four of the blocs were flashed and all saw multiple tops by the finalists. However, M2 - a tricky slab with a coordination start - was perhaps the most decisive. Impressively it was flashed by Hamish McArthur but half the field were pretty stumped by it and despite taking multiple attempts they didn't really get to grips with it. Those of a grit/sandstone persuasion must have thanked their lucky stars for M4; a jamming crack! Interestingly, whilst it was flashed by half the finalists the other finalists made little impression on it. It's somewhat hard to fathom that given the current 'Crack is Back' movement that not everyone on the circuit hasn't taken the time to learn to jam better!
Interestingly it seems that the men in particular are 'gifted' the jam cracks in climbing comps. The women have escaped unscathed for now but it can surely only be a matter of time before they too are tested in what for many is a most venerable form of climbing! Stomping to victory Jim Pope commented that the crack was "about E3 – maybe?" Maximillian Milne come in second and Matt Cousins came third. Incidentally, all three podium places went to climbers that flashed the crack; just saying!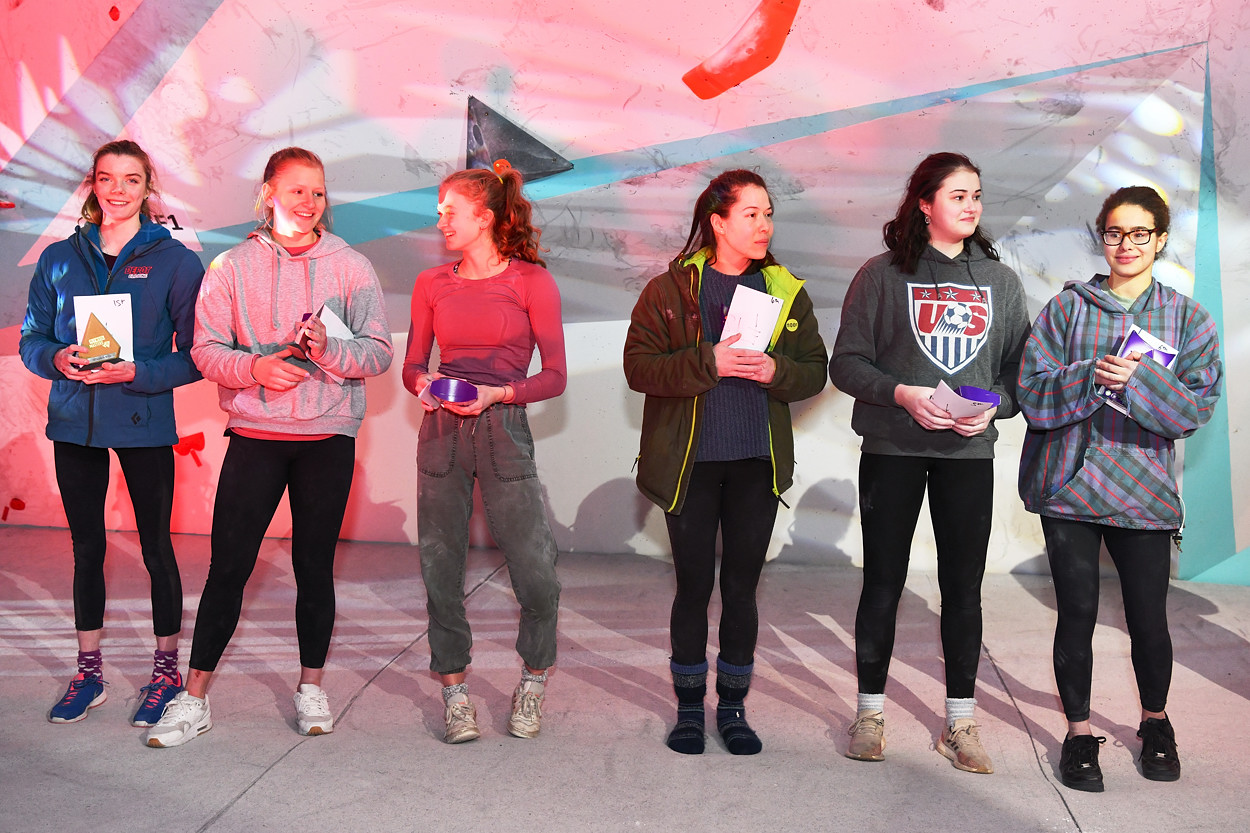 Watch the semi-finals here…
Watch the final here…