Planned Winter Attempts on major peaks
Saturday 27th December 2014
Dec 27th, 2014
With the official 'winter mountaineering season' now well and truly underway, we have a round-up of the planned winter attempts on the major peaks.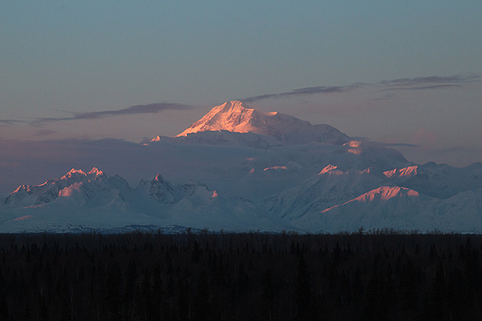 Denali Photo Monovita
We're already posted about Andy Kirkpatrick's planned attempt on the West Buttress of Denali. Although Denali in Alaska, North America is only 20,237 feet – nowhere near as high as the other major peaks being attempted - its position is such that the weather and apparent altitude is more severe. Kirkpatrick's solo attempt is planned for February but American Lonnie Dupre, is already on the mountain carrying loads and establishing lower camps. Dupre is on his fourth attempt on Denali's West Buttress having reached the 17,200 high camp twice on previous attempts. The first (winter) ascent of Denali was made in 1984 by Naomi Uemura however, sadly, he died on the descent. Subsequently, Vem Tejas was the first to make the successful up and down trip in March 1988.
Meanwhile in the Himalaya's, teams are planning attempts of K2 and Nanga Parbat. Nanga Parbat has historically been one of the most popular of the Himalayan winter objectives so it's perhaps not surprising that it will see a number of teams in action this winter. Firstly, Tomek Mackiewicz from Poland, is back again – having been to 7,400 metres previously. This time however, he will be attempting to solo the 1978 Messner Route on the Rupal side. Italian Daniel Nardi and Frenchwoman Elisabeth Revol also are returning to Nanga Parbat. It is believed that Nardi will be returning for a third attempt on the Mummery Rib. Revol may be joining forces with Mackiewicz for an attempt on an unfinished line first tried by Reinhold Messner and Hanspeter Eisendle back in 2000. Reports are that a strong Russian team of Nickolay Totmjanin, Valery Shamalo, Serguey Kondrashkin and Victor Koval left for Pakistan on Dec 22nd. The team will be attempting Schell route, albeit with some variations, on the Rupal side. Finally, it's also believed that a three-man Iranian team comprising Reza Bahadorani, Iraj Maani and Mahmoud Hashemi will also be heading to Nanga Parbat in January. Although it is understood that they will be climbing on the Diamir side their exact route is not known.
K2 – the world's second highest mountain - will see an attempt by a three-man international team comprising Adam Bielecki from Poland, Dennis Urubko from Russia/Kazakhstan, and Spaniard Alex Txikon. Whilst they have had some difficulty in getting their permits they hope to attempt K2 by a partial new route. Initially, they will approach from the Chinese side and then climb the left side of the north face to reach the northeast ridge thereby staying in the lee of the prevailing winds as long as possible. Dennis Urubko has been on K2 previously when he reached 7,700 metres on the North Ridge but had to turn back when his partner fell in and had to be evacuated from a high camp.
To follow Dennis Urubko click through here for his blog…
For a comprehensive history of winter attempts/successes in the Himalaya, as well as updates click through here …
Finally, for Denali updates click through here for updates on Lonnie Dupre's progress or here for Andy Kirkpatrick's blog…