Phillips and Slaney are Plywood Masters 2018
Wednesday 21st February 2018
Feb 21st, 2018
Last weekend, the all new Boulder UK in Preston (which opened 1 September 2017) hosted its signature competition, the Plywood Masters. Over 200 competitors from all around the country, including 15 athletes from the Great Britain comp teams, took part in the Senior and Junior events. Throw-in some local Lancashire legends, two of Britain's top route setters, some tasty Lancashire hotpot and local ale and you possibly have all the ingredients for the best Plywood Masters competition ever!
The Plywood Masters is one of the most long-standing bouldering-only competitions in the UK, with the first event being held way back in 2003, when Boulder UK Blackburn first opened its doors. The Plywood Masters is much more than just another bouldering competition; it is a community event, where new and experienced climbers have the opportunity to climb alongside some of the biggest names in indoor and outdoor climbing in the UK.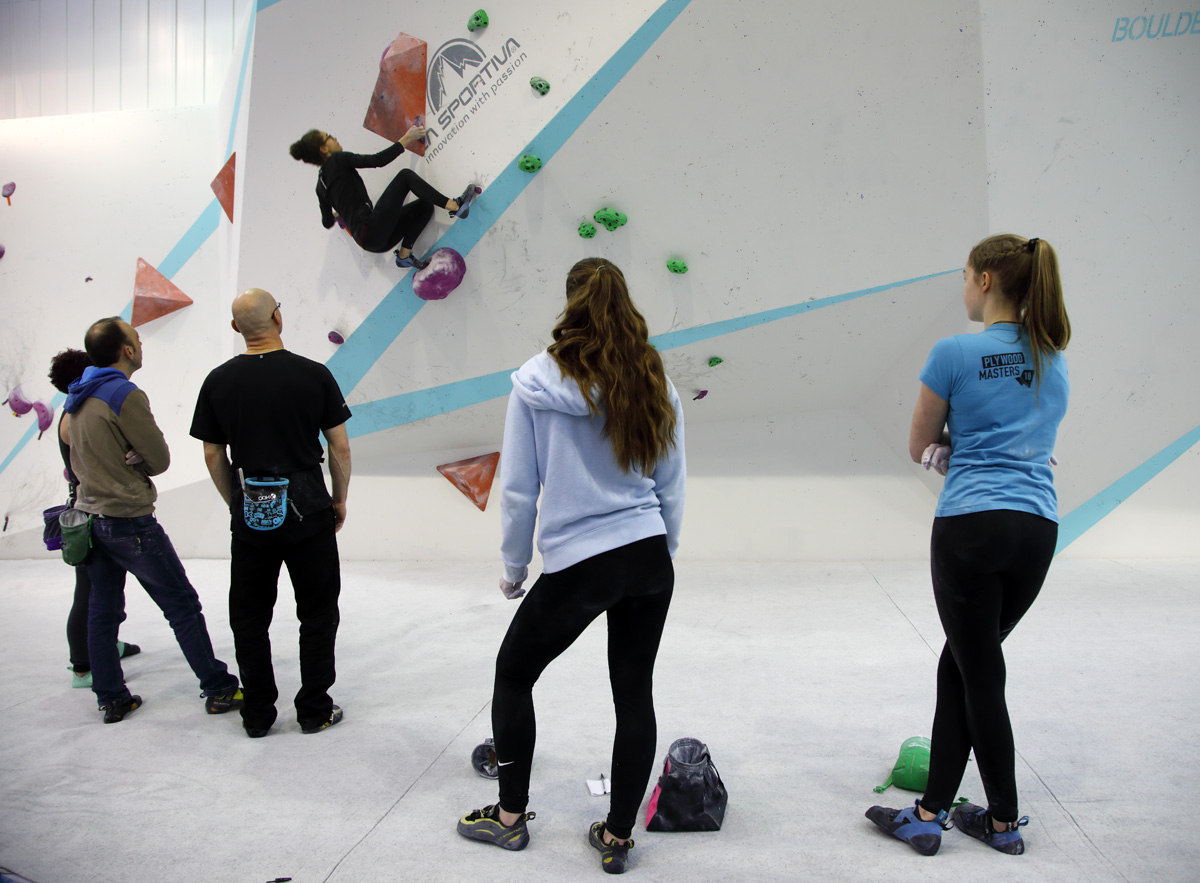 The Plywood Masters is very much a community event with everyone encouraging each other. Photo: David Simmonite
The Senior event took place on 17th February with the Junior event taking place the following day; during the weekend we had climbers from aged 9 to 70+ taking part. The usual suspects from the competition scene were there on Saturday to battle it out for the title of Plywood Master; little did they know that the strong youth would be there in force, making it a very tough competition indeed. The Senior finals took place on the stunning La Sportiva competition wall, built by the Climbing Wall Company. The finals included six junior athletes (all under the age of 17) who had opted to participate in the Senior event rather than the Junior event the following day. 16-year old local lass Rebecca Stephens even qualified for the Senior finals in 1st place.
The setting at this year's event was consistent with tradition and included plenty of problems that required brute strength and technique rather than the more modern-day parkour-style that is seen at many other competitions including the IFSC World Cups. Ian Vickers and Jamie Cassidy set an impressive set of blocs:
Ian Vickers commented, "Although the wall is much different from Blackburn, I wanted to ensure the Plywood Masters kept its reputation of a basic hard pulling comp as this is what attracts the locals as well as the non-comp climbers. With the addition of our massive new comp wall, we were able to put on a fantastic show!"
As well as an impressive list of climbers competing at this year's Plywood Masters, plenty of other superstars contributed to the success of the event, such as trad climber Maddy Cope who took to the mic to commentate for the Junior finals. Lancashire legend Liam Lonsdale hosted the senior event and was super psyched to be doing what he loves on home turf commenting, "I can't wait to take a microphone in my hand, open my mouth, speak, and know that everyone in the room understands what I am saying!… This will be something of a homecoming for me. I'll be bringing my A-game. And maybe even a flat cap. It's going to be a bobby dazzler."
The legendary Dave Barrans was of course amongst the male finalists, having held the title of senior male Plywood Master since way back and competed in every Plywood Masters event we've held. Unfortunately for him, Dave was bumped off the top spot, into second place, by Nathan Phillips who took the victory in the male event, being the only competitor to top all four problems. Aidan Roberts took 3rd place, 17-year old Maximillian Milne came 4th, followed by Matt Cousins in 5th place and then up-and-coming super star, 16-year old Hamish McArthur who took 6th place.
Rebecca Stephens and Maximillian Milne competing in the Senior finals. Photo: David Simmonite
The women's event was dominated by young superstars from Team GB with Hannah Slaney taking the win overall, successfully topping all four of the final problems. Giving her a run for her money, Jen Wood (or Jen Wad, as we prefer to call her) took second place with three tops, closely followed by 16-year old Holly Toothill in 3rd and Team Boulder UK member Rebecca Stephens in 4th. 16-year old Zoe Peetersman took 5th place after an impressive start with a flash on the Beastmaker wooden holds only problem. 6th place went to young Scottish superstar Hannah Smith.
Over 100 young climbers came to the Youth event on Sunday 18th, with climbers from age 9 to 17 years old representing their various academies and clubs. Youngsters were split by the IFSC age categories A to D with the top three qualifiers advancing through to the final to battle it out on the competition wall for the top spot. Special shout out for Boulder UK team members Izzy Fowler and Ben Stephens who took 1st place in their categories and Tilly Vasic and Rosie Stobbs took 2nd and 3rd place respectively in their categories.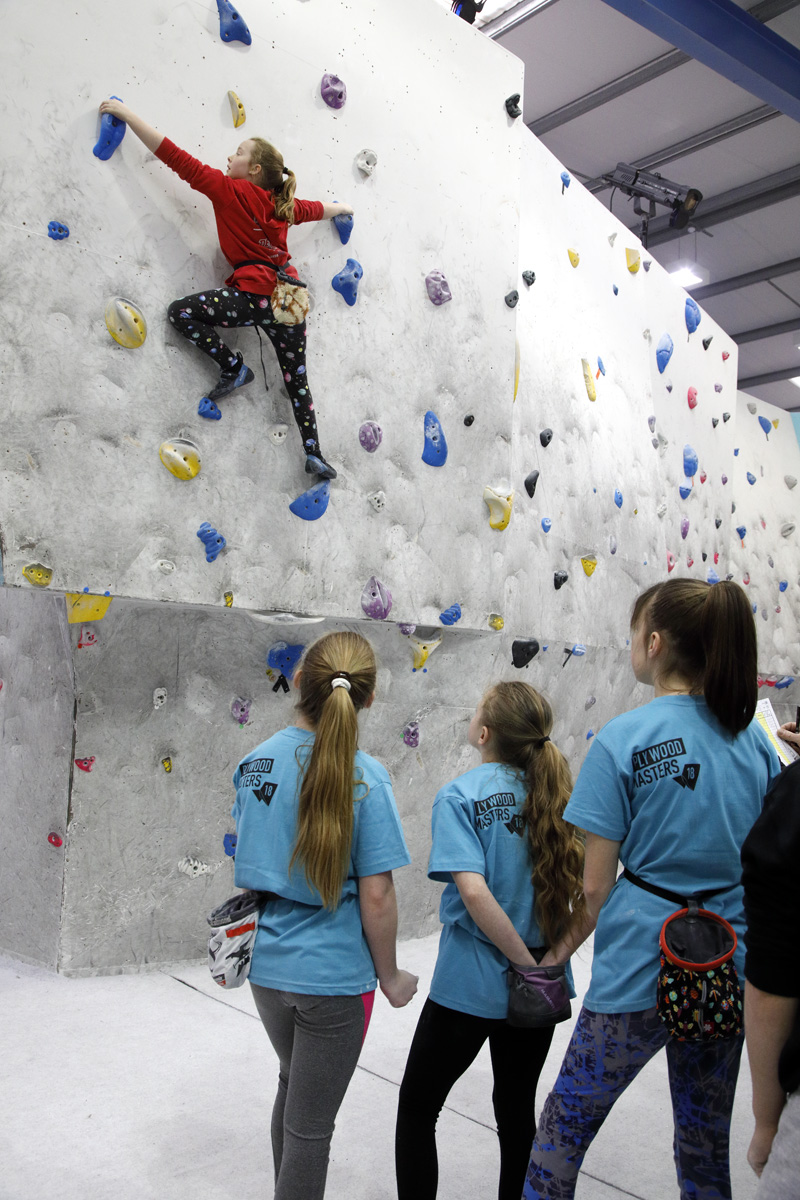 Director and head coach Gill Peet said, "The junior event is getting bigger and bigger each year. There are very few junior bouldering comps for children at grass-roots level through to advanced and the Plywood Masters creates a very relaxed fun competition for young people, to gain valuable competition experience. We encourage our local kids who have just started out to participate as they will hopefully be inspired by the more experienced kids."
Highlights from across the weekend were captured on film by Alistair Lee and his son Simon – we're looking forward to seeing the awesome footage which we can't wait to share with you all.
For a full list of results for both the Senior and Junior events, please visit the Boulder UK website at www.boulderuk.co.uk
The event has been a huge success and was made even better thanks to our main sponsors La Sportiva, Beyond Hope, Holdz, Wild Country and Beastmaker. Special thanks to our other supporters: Black Diamond, Richard Trenchard Communications, Epicurium, Serious Climbing and Scarpa.
Over 100 young climbers took part in the Youth event. Photo: David Simmonite