Pete Dawson talks about his eighth ascent of Rainshadow
June 4th; 2018
As previously reported, Pete Dawson ticked off the eighth ascent of Rainshadow (F9a) at Malham over the weekend.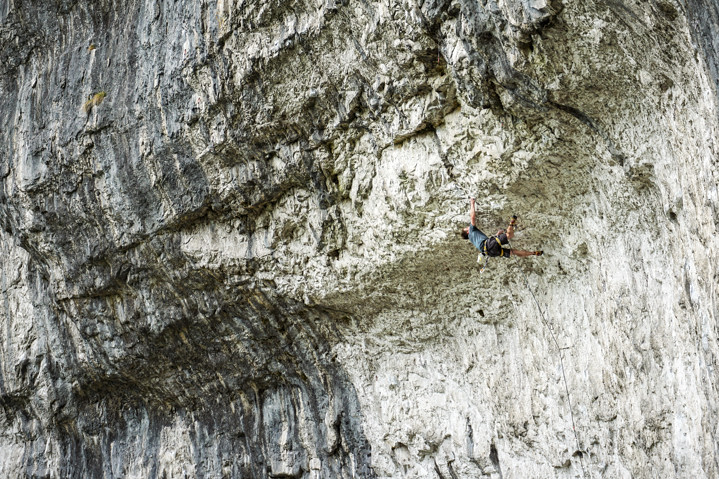 Pete Dawson on the cricial bulge of Rainshadow.
Hailing from Devon, Pete and his elder brother Luke, hit the news headlines when they returned from a Spanish trip in 2013 having climbed a stack of hard routes; Pete aged just 14 notching up a couple of F8b's whilst Luke (aged 16) ticked F8b+.
Two years ago Pete moved north and began his studies in Manchester; he's been recording a catalogue of impressive repeats ever since. As if that wasn't enough, Pete typically nails his projects super-fast too – so much so that it's one of Pete's trademarks. Take True North (F8c) at Kilnsey, for example, Pete polished that off in under two hours – one of the fastest ascents ever.
Having done a number of F8c+, Brian at Anstey's as well as Blomu and Joe Blau at Oliana, it was inevitable that Pete would be drawn to push for F9a. His is the eighth ascent of Rainshadow, coincidently climbing it on his eighth day of trying. Few have done it faster, most taking quite a bit longer.

CLIMBER have been in touch with Pete for the low-down…
The eighth ascent of Rainshadow – how good is that?
Yeah I'm pretty psyched to be on the list for such an incredible route.
Since moving up to study in Manchester you've been ripping through the testpieces in the Dales with some regularity; was it always your game plan to get involved with Rainshadow?
Since I was small I've always wanted to climb F9a so it's been on the game plan from a lot earlier than moving to Manchester!
How was Rainshadow from the get-go?
Trying Rainshadow I went from barely being able to pull the crux to falling off the head wall. At the very start I found the Font 8A crux nails but I knew the more I tried it the easier it would become. Therefore in the early sessions I gave every go my absolute all and had as many goes as possible.
Connies haven't been the best recently – did you think you'd missed the boat?
Yeah conditions weren't great and I had to climb late in the evening to maximise my chance and on the day of the send it was raining and sweaty. I think a more professional climber might have waited but I'm impatient and optimistic so I decided to try. I think this might have been beneficial as I climbed faster to avoid sweating up! I was more worried about missing the boat because I was leaving for Frankenjura in a week.
What was the hardest aspect of trying Rainshadow for you?
The hardest part of trying Rainshadow was repeatedly falling off the crux, I think I spent three days doing this and I had doubts about being able to do it. Then the time pressure kicked in which was stressful but I think this focussed me to make each go as good as possible.
You're off to the Frankenjura soon; what else have you planned for the year?
Yeah after Frankenjura, I'm planning to do another trip with my brother to the Alps in September. I visited this area last year and it was amazing to climb in such stunning scenery so we decided to head back.
Pete is sponsored by The Depot Climbing, Black Diamond and La Sportiva.