Perseverance pays off for Nick Bullock on classic Alpine icefalls
March 6th, 2015
Continuing what seems to have become the 'theme of the week', we can report that perseverance has just paid off for Nick Bullock who has just ticked-off a long cherished personal dream. Climbing with Andy Houseman and Adam George respectively, Nick has recently repeated both Alpha Säule and Crack Baby - two classic alpine icefall's - within the space of a few days.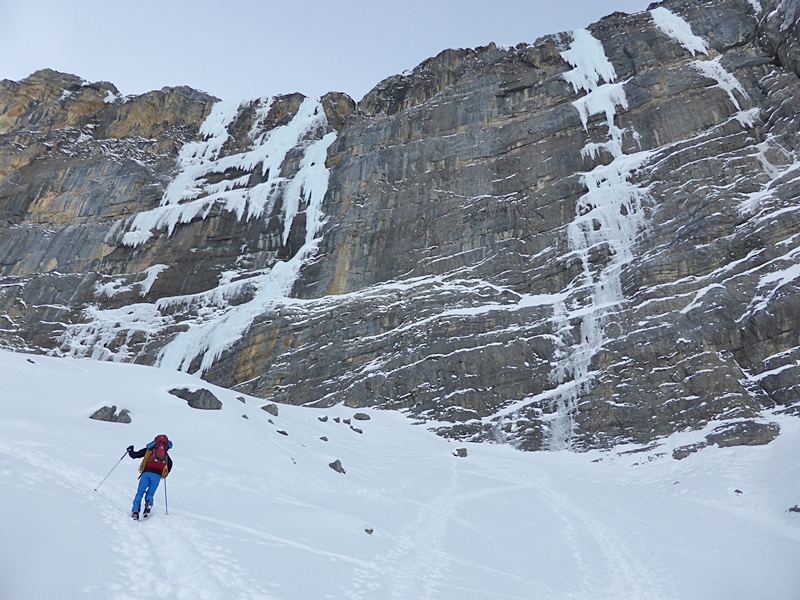 Adam George approaching Alpha Säule (on the left) with Crack Baby in great condition above. Photo Nick Bullock
Nick's success on these two routes is less a story about cutting-edge, out-there climbing for which Nick is frequently associated, and more a story about how perseverance (often) pays off in the end. For some time Nick has wanted – he describes it as craving – to do Crack Baby, the classic 340m WI6 at Kandersteg. With considerable disappointment Nick had previously bailed-out – or rather not opted-in – of an ascent of Crack Baby on account of what turned out to be a broken wrist. As if to taunt him, his would-be partners, Neil Brodie and Kenton Cool, reappeared a day later with big monster ear-to-ear grins that told Bullock all he needed to know. Ever since what Nick describes as his "broken wrist" winter, his ambition to climb Crack Baby has remained high.
Adam George on Alpha Säul. Photo Nick Bullock
Earlier in mid-February, Nick Bullock and Adam George arrived at Kandersteg. Their mission however wasn't Crack Baby, which Adam had already done, but the adjoining icefall, Alpha Säule. Nick records his satisfaction in his blog after they repeat Alpha Säule and also his frustration that he then to walk away from an 'in-condition' Crack Baby.
Less than a week later, Nick Bullock was back in Kandersteg – this time with Andy Houseman. Conditions had deteriorated however and rain was falling and the temps were rising. Bullock was aware that the slopes above Crack Baby are avalanche prone so when they left Gemmi Lodge to head-in the following morning and it was snowing heavily he was all too aware that it wasn't 'ideal conditions' and that the upper slopes threatened danger. To compound his anguish Bullock, who had cut the skin at the base of his middle finger whilst cutting his breakfast baguette, was bleeding in his glove.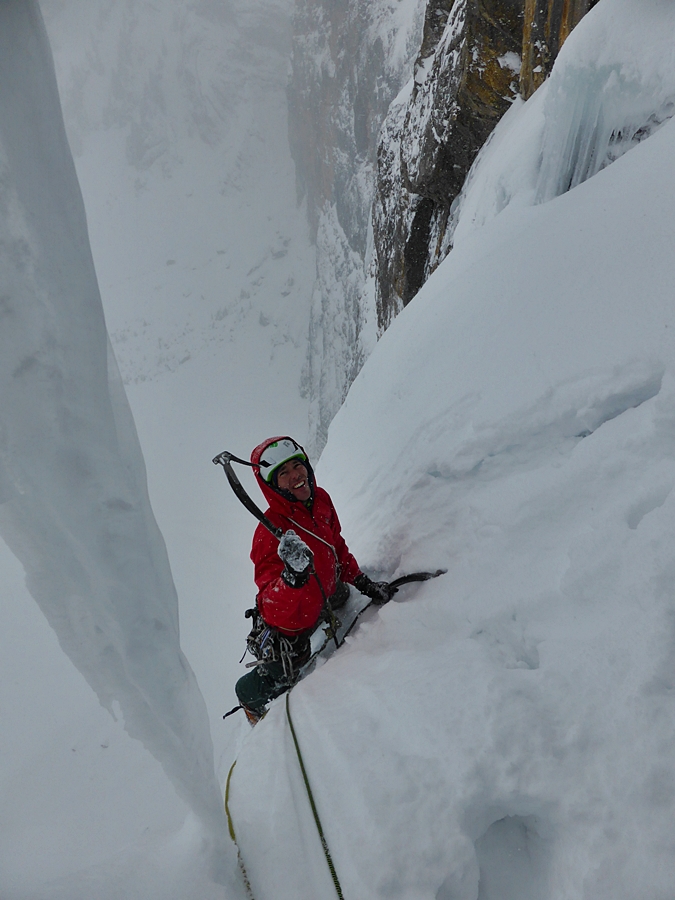 Andy Houseman, in 'full conditions' arriving at the belay after the third pitch. Photo Nick Bullock
Three pitches into Crack Baby a large avalanche swept down Alpha Säule. Andy Houseman arrived on the belay and drove a stake through Bullock's dream - "Right, that's it; let's get the fuck out of here." Having failed to pass the avalanche off as "strong slough" Bullock resorted to desperate measures to get Houseman to continue; "I took the only option available and dropped to my knees and held up my hands in a praying action and began wailing, "PLEEEEEEEEEEEEEEESE CAN WE CARRY ON, TWO PITCHES, TWO PITCHES, THAT'S ALL, TWO PITCHES, I'LL LEAD THEM, YOU CAN STAY HERE SAFE AND SOUND – I'LL LEAD THEM – PLEEEEEEEEEEEESE?"
The scene sounds somewhat comical but Bullock must have very persuasive because rather that retreating they continued. Two pitches later they topped out and then began the descent. Bullock again; "I'm sure my relief was more than Andy's as I began to slide downwards, down toward the next obsession, down towards the depths of my madness, down towards the next shining."
From the comfort a safe environment it all sounds perhaps a bit 'over-the-top' - but that's climbing for you. Who amongst us hasn't had the 'red-mist' come down when a cherished objective seems to close? Experience – and maybe a dash of luck – are two of the many things which divides success from failure or indeed living from dying. Perseverance too is another essential ingredient in this game we call climbing. Congrats to Nick – as well as Adam and Andy – for their part in help Nick finally nail Crack Baby in the face of adversity.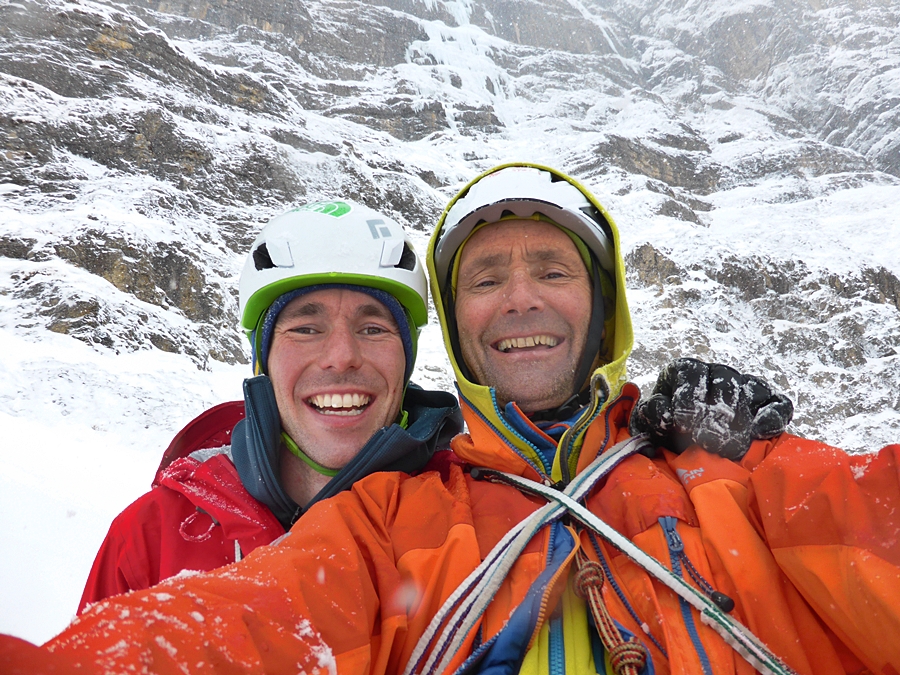 Nick Bullock and Andy Houseman after their ascent of Crack Baby. Photo Nick Bullock
To read Nick's full account of the two classic icefalls click through here…