Pearson flashes E9 in Pembroke: Short interview and photograph
Friday 5th September 2014
James Pearson recently made a flash ascent of Something's Burning (E9 7a) at Stennis Ford in Pembroke. This route was first climbed by Charlie Woodburn in 2012 and until now had waited for a probable second ascent.
Something's Burning takes the blank wall left of Internationale by a series of long moves on small edges culminating in an all points off dyno. The route is protected by questionable small wires, key locked in little pockets and is sustained with climbing at around F8a/8a+.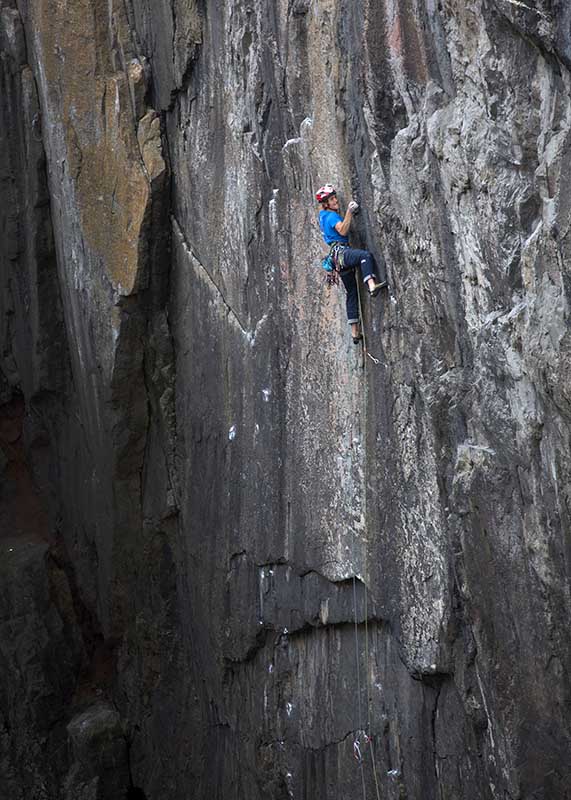 James Pearson on Something's Burning (E9 7a). Photograph: David Simmonite (not to be reproduced without permission)
We caught up with James in Pembroke to talk about the route and his ascent.
What brings you back to Pembroke?
A little more than a year ago Yuji Hirayama asked me if I would teach him the way of UK trad. Like most he had only heard of the Gritstone, but since he could only come in summer, and I didn't want to be responsible of breaking Yuji's legs, I told him Pembroke would be a better idea. After all, where sums up wiggling in wires and using double ropes better than Pembroke.
How did you prepare yourself for the route?
I decided to try to flash the route as opposed to attempt an onsight, as I figured I had a realistic chance of the former. There is a massive difference between two styles, especially on a route like Something's Burning, which comes down to a very exact sequence, and rather specific gear. I decided to try the route after Caroline (Ciavaldini) checked it out on abseil rope and told me it looked easy. It seemed too good to be true, and it was. Over the next couple of days she made a more detailed inspection of the route, figuring out the gear, and actually trying some of the moves. She changed her original opinion, several times in fact, finally telling me it was going to be hard, and that there were a couple of moves that would rely mainly on luck. Just before I tried the route, I abseiled down the line with Caro to watch her try some of the moves, and more importantly place the crux gear. Caro is really aware of my climbing style, and she's become quite good at choosing a method that works for me. Basically she climbs things with big moves, and avoids using small, precise footholds.
What was the climbing like?
The climbing on the route was much harder than expected, despite convincing myself it was going to be tough. There were several points I was sure to fall, but each time managed to find a way through… in fact the whole experience was rather surprising. I really like that about climbing now I have a little fitness in reserve. A pump is not the death sentence it once was, and as soon as I can get some weight on my feet, or find a reasonable hold, I can recover and continue, or even climb with the pump.
I climbed the route with a slightly different sequence to the one Caroline had suggested, and the one Charlie used. We could say it was a sequence made out of desperation, rather than the perfection of a head point. It might not have been pretty, but it did the job, and kept committing, dynamic moves to a minimum. Having said that, the last move is an all out, 4 points off dyno! I knew it was coming, but hadn't thought too much about it beforehand. Perhaps I assumed I would fall below? Whatever the reason, it wasn't a big worry until the moment I had to make the move, when suddenly the final hold looked to be a mile and a half away. There was nothing to do but commit. To jump, to catch, and just try not to let go.
The last time you were in Pembroke you came very close to flashing Muy Caliente (E10 7a), how did this route and ascent compare with that?
Flashing Muy Caliente was something I had planned for a long time. For 6 months or so I had been training specifically for the goal, and visualising what the route might be like. This meant I was way better prepared for the challenge, but also way more nervous. In comparison, I'd been thinking about a flash of Something's Burning for a little more than a few days, and so I had relatively little pressure to crumble under. It was the icing on the cake in addition to seeing Yuji again, and showing him around this amazing place.