Papert and Smith-Gobat summit fifth ascent of Riders On The Storm, Patagonia
March 3rd; 2016
Following a major effort spiced with rock and ice fall as well as the usual challenging Patagonian weather, Innes Papert and Mayan Smith-Gobat summited Torres Central on February 6th via the extremely difficult Riders On The Storm.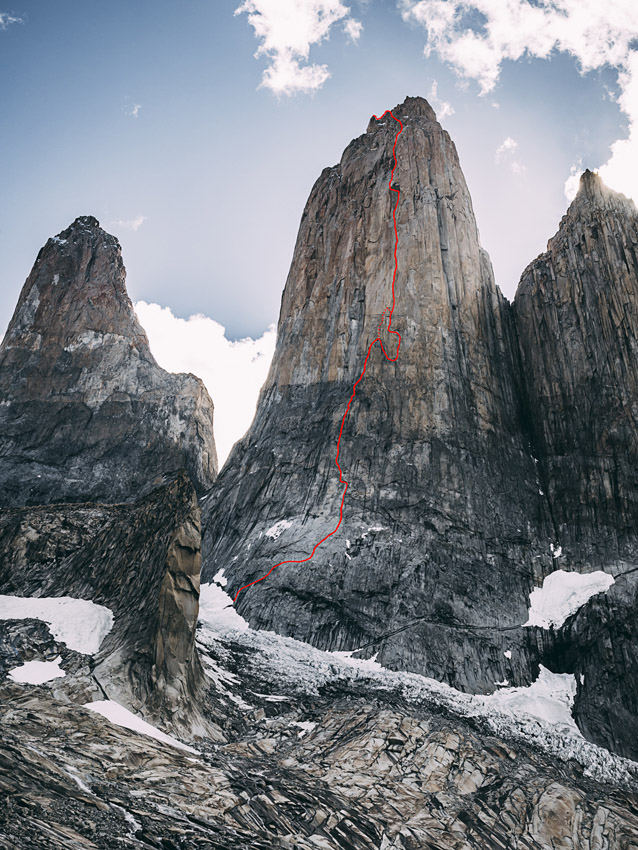 Topo of Rider On The Storm. Photo Frank Walter
Located in the Torres del Paine National Park in Chile, Riders On The Storm was first climbed 25 years ago by Wolfgang Güllich, Kurt Albert, Bernd Arnold, Peter Dittrich and Norbert Bätz in January 1991. The first ascent of the 1300m east face of Torres Central took the team 15 days of climbing over a five-week period. At F7c and A3, Riders On The Storm was then one of the hardest multi-pitch climbs in a challenging mountain environment. The climbing was reported to be very varied and demanding, ranging from delicate and runout face climbing to wide cracks and roofs, which were often entirely iced up. To date, there have been no free ascents of this route despite a number of attempts from strong and capable teams.
Arriving on January 20th, Innes and Smith-Gobat's objective was the first free ascent. Their ascent – thought to be the fifth overall ascent of Riders On The Storm – considerably increased the free-climbing on the route. When the Patagonian weather called a halt to their operations, Papert and Smith-Gobat had free-climbed all but 4 pitches of the 38 pitch route including two upper pitches that hadn't been freed before. They also found a new 5-pitch free variant to avoid another section of the original route which used aid.
During their time on the climb they faced considerable challenging conditions. Papert climbed Pitch 18, a F7b+ off-width, using a rock shoe on one foot with the other clad in a mountain boot and crampon! Smith-Gobat further qualified the stressful conditions; "Finger and hand jamming directly against ice proved to be a new and very unpleasant challenge. I strongly dislike climbing with no feeling in either hands or feet, yet on this route this was mostly a distant dream. It forced me to pull on all my climbing knowledge to push past pain and succeed in freeing the difficult 29th and 30th pitch with no sensation and profusely bleeding fingers."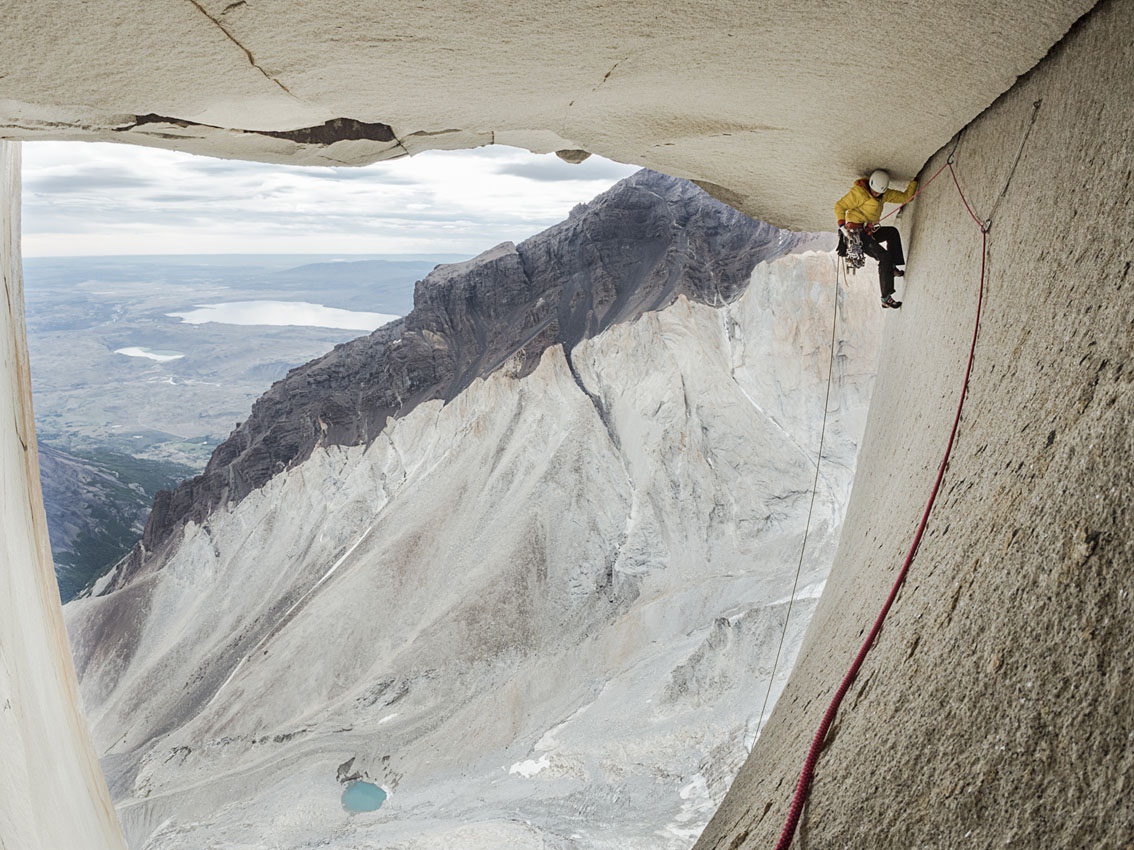 Innes Papert on Pitch 27 on Riders On The Storm. Photo Thomas Senf
The pair started their climb in unusually settled weather and managed to summit on a 'blue-bird' day but the weather then worsened considerable preventing further attempts at free-climbing the remaining pitches. The team also faced considerable danger from falling rocks – one rock fall narrowly missed their tent – although in another incident Papert's helmut was shattered by a piece of falling ice. Papert had a further scare when she found herself jumaring on a fixed rope which had been cut through by rock fall. Papert has said that she won't return for another attempt to free the entire line but Smith-Gobat is resolved to return.
Click through here for further details and photos of the ascent.