Osprey's PackSizer app scoops award
Tuesday 2nd December 2014
Osprey's multi award-winning digital pack fitting tool passes 10,000 downloads.
Osprey PackSizer™, the world's first digital pack fitting tool has added the 2014 'Highly Commended' award for Innovation of the year from The Great Outdoors magazine to the ISPO 2015 Communication award (mobile App category), which honours the most creative and innovative projects in the sports industry.
The recognition comes on top of the runaway public success of an App that recently broke the milestone of 10,000 consumer downloads despite only launching in March 2014 and continues to receive hundreds of downloads every week.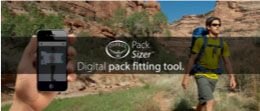 Using the camera in your device, the Osprey PackSizer™ will measure and match your torso size and gender to your ideal pack size across the entire Osprey range - in 3 easy steps:
1: Take a full-length photo of your body
2: Mark your height on the photo
3: Locate your upper and lower torso points
For first time users, PackSizer™ includes step-by-step video tutorials which demonstrate how to use the app. Once your size has been determined, you can view the sizing results of every Osprey pack that ideally fits your body measurements. PackSizer™ can send your personal results to you via email if you desire.
Your search for a comfortably fitting pack is over with Osprey PackSizer™ – now you are ready to start your next adventure.
The app is available in English, German and French. To download the PackSizer™ app for free visit www.ospreyeurope.com or search 'Osprey PackSizer' on the Apple app store or on Google Play.