Orrin Coley ticks New Base Line
Oct 27th; 2019
Having visited Magic Wood several times before Orrin Coley changed his strategy for his latest trip during which he sent New Base Line (Font 8b+).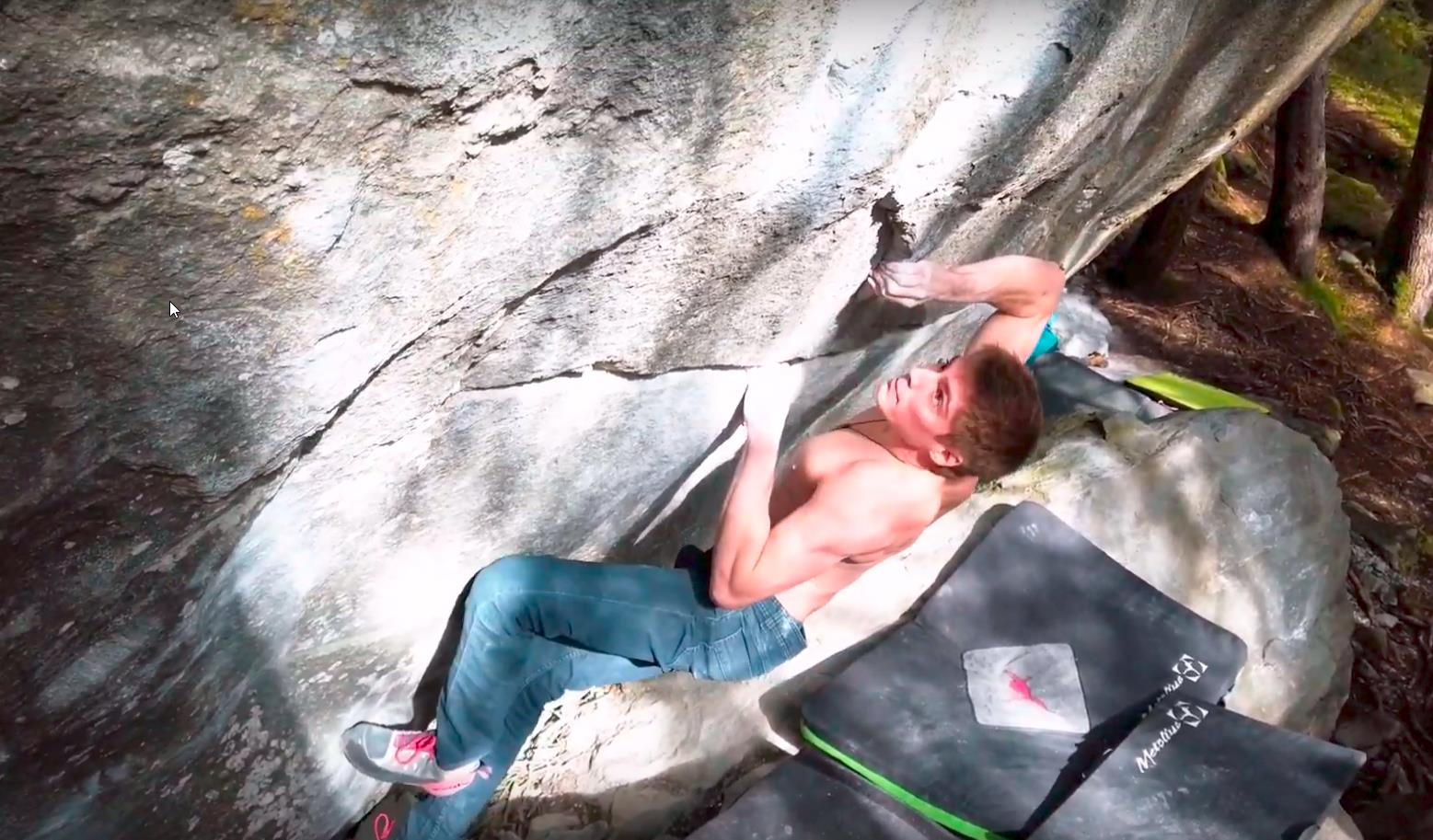 Orrin Coley on New Base Line (Font 8b+). Video grab.
Orrin's intention was to project New Base Line as he explained in an Instagram post some days into his trip; 'The idea of this trip to Magic Wood was to project this climb - New Base Line 8B+. It's been an interesting experience, I've never travelled with the intention of projecting, the process and my head space feel quite alien to me.'
Despite that, by October 8th Orrin had got the measure of New Base Line; 'Matched my high point multiple times today which is good, yet perhaps becoming a bit frustrating. On a more positive note, during my last attempt I pulled back on 25 seconds after falling, stuck the move I fell off and continued to the top.' His confidence high, it seemed now that it was a matter of careful time/effort management; ' Any doubts I had about being capable of this line have well and truly been thrown out the window. Now to use my remaining time carefully to get the best chance before heading home on Friday!'
Updating his Instagram feed three days later Orrin posted; 'A perfect ending. The best movement, hard moves and fun to try. This sat in my dream boulder ticklist and I couldn't be happier to finish it off yesterday on the last day of the trip.'
Reflecting back on the trip since his return he commented; 'I've projected plenty of climbs over the years where I've spent day, weeks, months and even years on one climb. But they've always been close to home and convenient. This trip was a step into the unknown for me, I had to be prepared to walk away empty handed and be okay with that. And that was a scary concept. If you've never projected a climb close to your limit, I encourage you to try for one simple reason. You will become better because of it.'
A video of Orrin's latest trip is live on his YouTube Channel featuring Sofa Surfer Direct 8B, Massive Attack 8A+, Psych Club 7C+ FA, New Base Line 8B+ plus a long term project. Watch the video below.