Orrin Coley's Ace day at Stanage
Wednesday 31st January 2018
Jan 31st; 2018
On a rare day of good connies Orrin Coley recently sent not one but two classic blocs at Stanage; The Ace and Careless Torque.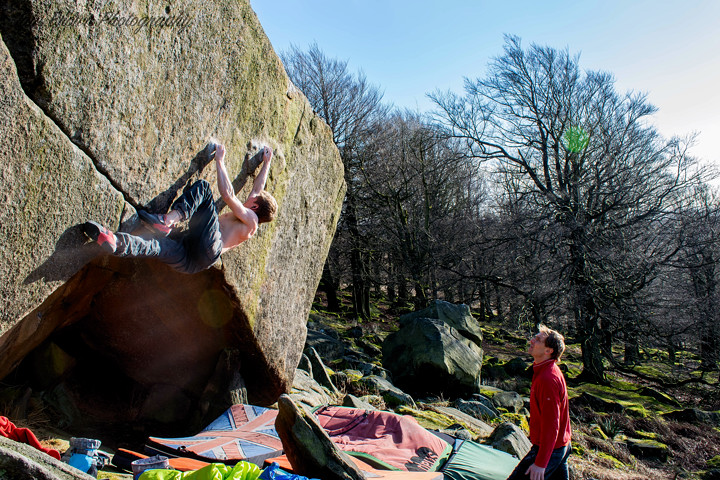 Orrin Coley on The Ace. Photo: Iain Brown Photography
Orrin, who has been training hard under the watchful eye of Ollie Torr, has been able to keep his psych high and his training going well after his trip to Magic Wood in the autumn. Taking fully advantage of one of the only decent grit days of the year so far, Orrin visited the Stanage Plantation at the back end of last week keen to get back to work on The Ace and Careless Torque, two lines he'd tried previously. As it happens, Orrin notched-up ascent of both classics making what we think is the fourteenth ascent of The Ace. CLIMBER have been in touch with Orrin with a few questions:
Great working getting The Ace and Careless Torque nailed in the same day - pretty happy egh?
Thanks a lot! Yeah, I'm super happy to get them both done. They were the first hard boulders I ever saw actually on my first trip to Stanage Plantation. I barely believed such things could be possible at the time, so it's nice to see my development from then!
Did they come together pretty quickly or has it been a battle?
In fact, just two years ago I was saying to my coach Ollie (Torr) that The Joker was too hard for me to do. In all honesty they came together super quick, no major drama, siege tactics or projecting. I climbed The Joker last winter and tried Careless Torque that same day, only to get past the tricky start once and was left confused and lost up the daunting arete. After warming up I tried the moves for The Ace and figured them out pretty quickly, but once I started going for that magic go I realised I was lacking that real try hard mode in my head. I tend to be alright at flicking that switch if I focus enough, so I put my headphones in, listened to some music, found where I wanted to be then nailed it the next go. I had no interest in trying to do Careless Torque ground up like previous ascensionists had, I admire their courage but after weighing up the risk and reward I decided to practice it on top-rope first. Once I had the holds cleaned and a good sequence dialled I figured it was time to go from the bottom. It took a little while but I eventually got past the tricky start section, although I did the most insane barn-door of my life trying, I still have no idea how I controlled it. Yet that same go I somehow finished the problem!
It's been bad connies in the Peak for ages - any probs keeping motivation high?
Conditions have seemed to be pretty poor lately, I haven't really got out much this winter. Just been getting on with training mostly and sieging board projects instead which has kept psych high. These were meant to be winter projects for me, I was setting and training at The Ballroom the day before and had a good laugh about the fact I'd never do them both in a session and how optimistic it was to even try.
Back to training now or do you have other stuff lined up?
Back to training now before the comps start soon, although I might try and find a good long term project again to get stuck into again. I like having something to chip away at for long periods of time. Just need to figure out what that climb will be first!
Watch Orrin sending The Ace below: