Orrin Coley repeats Voyager Sit
Wednesday 9th January 2019
Jan 9th; 2019
Orrin Coley has joined the Font 8b+ gang by repeating the Ben Moon classic testpiece on Burbage North, Voyager Sit.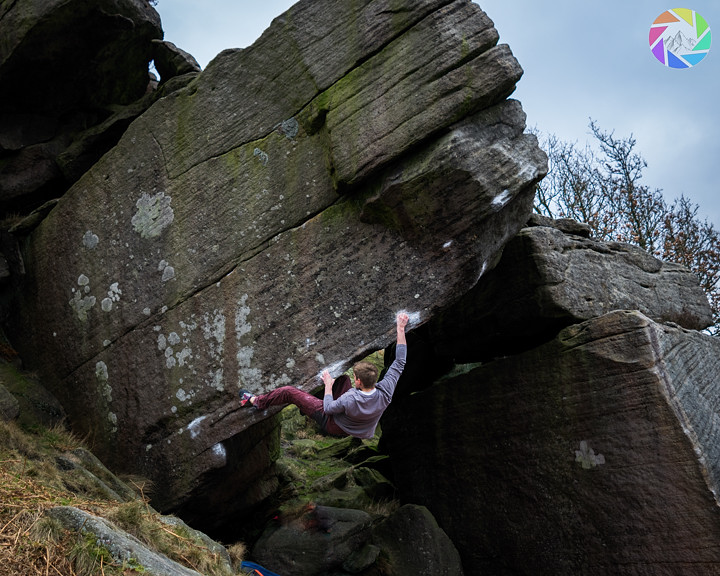 Orrin on the middle section of Voyager having done the sit start. Photo Iain Brown Photography
Originally climbed in 2006 by Ben Moon, Voyager Sit Start is one of the hardest and most sought after problems in the Peak. It lay unrepeated for nearly a decade until Niccolo Ceria did the second ascent in Oct 2015. Since then it's had further ascents from Ned Feehally, Dave Fitzgerald, Dan Turner and now Orrin Coley. Famed for being super conditions dependant and skin-wrecking, typically Voyager Sit involves a protracted campaign; the first repeat by Niccolo proving the point – click here for that report.
So, fast forward to Orrin then who has notched up the sixth ascent of Voyager Sit. Orrin has been consistently adding a considerable number of hard blocs to his CV for the last few years now, mixed in like many with a variety of comp appearances. His 8a.nu scorecard records 34 problems of Font 8a and harder last year with successes on both The Ace and Voyager.
Orrin explained his current feeling to CLIMBER having sent Voyager Sit; "It hasn't really sunk-in yet, it's one of those dream lines. I almost don't believe that I did it to be honest!
Orrin holding crucial tension on Voyager. Photo Iain Brown Photography
We fired Orrin some questions about his ascent…
For starters, just let's back-up to last October when you did Voyager. Can you talk us through how that went please.
I'd decided earlier in the year, that when grit started to get in season I'd get working Voyager as a sort of winter project.
I went with a friend one day to see how I'd fare and surprised myself by getting it done in about an hour.
I definitely got lucky, conditions where good. I just happened to get the holds right and flow through the moves a bit. Voyager is the sort of climb where execution is key, you have to make every move right, get each hold spot on. There's a very very small margin for error. And that day, luck was on my side.
So having done Voyager at what stage did you start thinking Voyager Sit?
I enjoyed the moment for a bit and when I was back home I just figured since I did the stand I may as well set the sit as my winter project instead.
Unfortunately about a week after, I injured my shoulder and neck pretty badly while competing. I ended up having to take over a month off climbing all together. It felt like a long process building back up, gaining my strength and shoulder stability back. But with the support of my physio I got back to climbing. The thought of trying the sit didn't really cross my mind, but after a while I was instructed to begin testing myself more on harder stuff. So I just sort of figured, why not Voyager?
I had a suprisingly good session, getting well into the stand start. It was a super good moral boost, so basically I figured I'd go to font for a week!
Just how much more of a step-up was Voyager Sit for you?
The Sit is certainly a step up, but I think it's safe to say the whole thing suited my strengths, so thankfully it wasn't the huge battle I anticipated it to be. I also found for whatever bizarre reason my skin held out on it pretty well, I'd been told countless times that people only get three attempts max on it. But my fingers decided to give it a fight I guess!
Did you get involved with any specific training for the Sit?
I didn't really do any specific training for it, just my physio exercises and climbing. The whole process was really just about getting back to strength and to feel like myself again.
I just kept going back to trying it, building up the muscle memory, learning the intricacies of the holds and moves. Every session I got a new high point and learned something new. By the fourth session I just felt like I was going to do it. I got there and knew it was on. I felt amazing while warming up, the rock felt good, I just knew.
Billy arrived with extra pads, dropped them down and I just went for it. First try of the day. Done.
As well has being the hardest problem you've done Voyager Sit must be one of the most striking and best you've done as well?
Climbing is a funny thing, I guess yeah it could be the hardest thing I've done. But like I said, it played to my strengths. There's things I've done that I'd say felt harder, but I don't believe that necessarily means this is easier? Just because a climb feels "easier" to you doesn't mean it will be for everyone.
But it's for sure one of the best most striking lines I've ever done. I think the only climb I've done that'd trump it could be Careless Torque.
Check out Orrin's 8a scorecard here and follow him via his IG page here…