Ondra goes big in Canada
July 28th; 2018
Adam Ondra in Disbelief (F9b) has he wraps up a month-long trip to Canada.
Adam reported his first ascent of Disbelief (F9b) at Acephale on his IG page commenting it was "probably at the upper end of the grade"!
Adam Ondra was in Canada for over a month trying, as usual, some of the hardest routes around as well as few unclimbed projects. Fight Club (F9b), the Alex Megos testpiece, was one of Ondra's targets but that didn't stop him looking at other projects as well.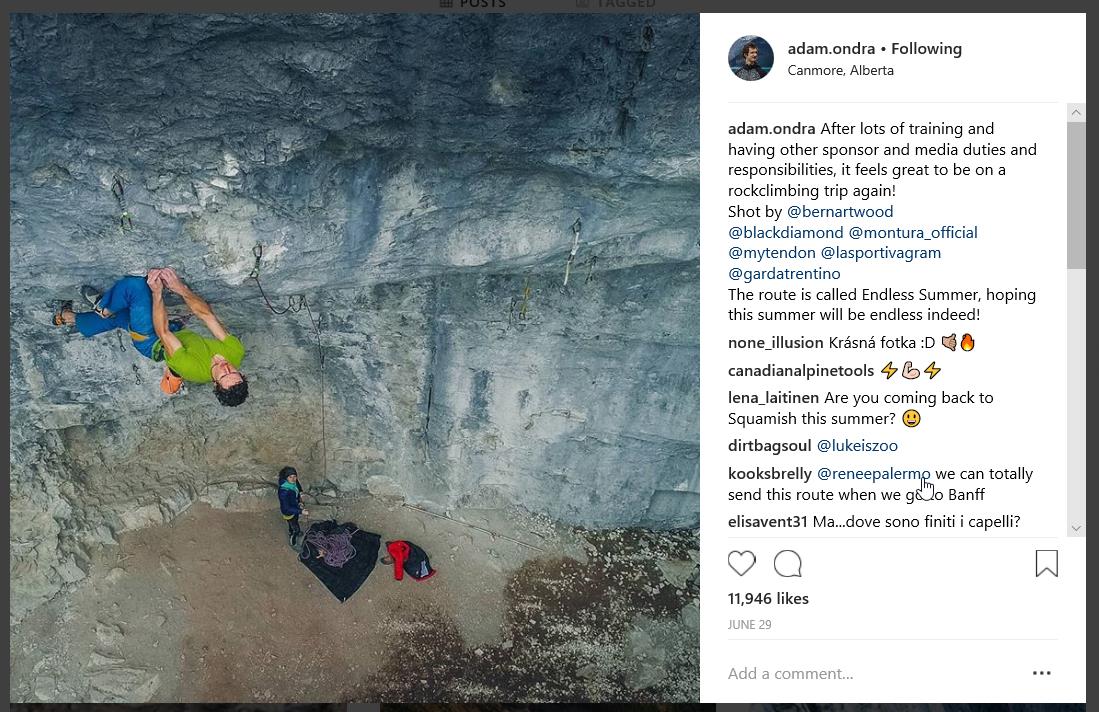 One of Adam's earlier posts showing him climbing Endless Summer at Acephale.
Opening his account at Acephale, one of the major sport climbing destinations in the Rockies, Ondra kicked-off with onsights of Endless Summer (5.13d/F8b) and Existence Mundane (5.14b/F8c). Taking (roughly) parallel line through the steepest section on the far right of the Upper cliff at Acephale, Endless Summer and Existence Mundane are some of the harder routes on the cliff, topped only by Lev Pinter's Bunda de Fora (5.14d/F9a). Ondra also checked out some of the project on the Upper Wall at Acephale. Sadly, however, seepage hampered some of his earlier activities somewhat.
Whilst things dried out Adam checked out other crags. He amazed locals by onsighting Ojas, a 5.14a/F8b+ slab and then Fight Flight (F8c+). Honour and Glory was another target Adam had set his sights on – it being one of the few F9a+ that he thought looked flashable and that he hadn't already tried. Sadly, a wet hold passing the 4th bolt caused Adam to slip. Lowering off he rested for a few minutes and then promptly did the 45m route 2nd go! Commenting on his Instagram page Adam said; "my opinion is that it fits more into 9a (5.14d) range."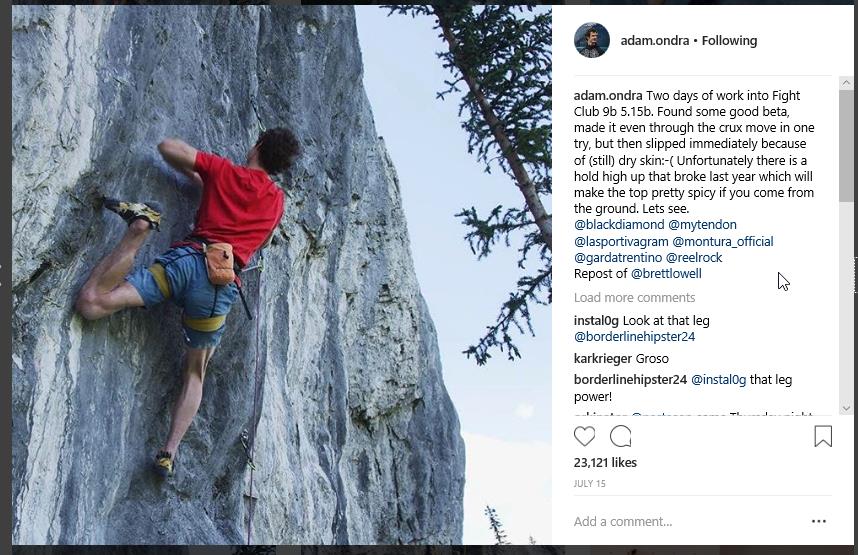 Adam's Fight Club post.
Fight Club at Raven Crag remained one of Adam major targets. By the middle of his trip Adam had sunk a few days into trying Fight Club. He made good progress – even getting through the crux once - but was being hampered by poor skin as well as wet rock. Torn between trying Fight Club or the project at Acephale, Adam concentrated on the latter. However, it wasn't giving up without a fight; a low percentage move was causing him major problems. Finally Ondra stuck the move and topped out – Disbelief (F9b) was added to the world's hardest routes. "I cannot think many other routes where I climbed so close to my limit" was Adam's conclusion!
With his trip coming to an end, Adam returned to Raven's Crag to give Fight Club another burn. Once again however, he was denied. Ondra's game plan on this was to try – despite the recent hold breakage - and repeat the route in the minimum number of days possible. Leaving Raven's Crag empty-handed Ondra confirmed; "[The line] is amazing and worth returning for, one day. On the top of that, a possible extension could make it a sure 9b+!"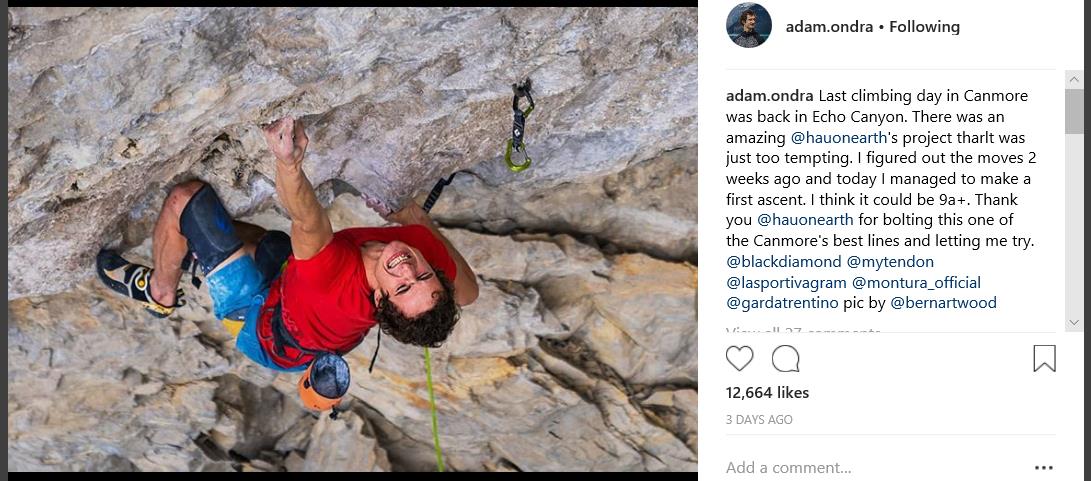 Adam's IG page showing him on the first ascent of the Echo Canyon project which he thinks could be F9a+.
Ondra's last climbing day in the Rockies however, gave him something of a consolation prize; the first ascent of a project in Echo Canyon which went at possible F9a+. Not a bad trip all round!! He left Canada and travelled to Arco where he is competing in the Acro round of the IFSC Lead World Cup, the final lead event before the World Championships in Innsbruck later in the summer.
Stay in touch with Adam via his IG page here...