Ondra gets very close to Dawn Wall repeat
Monday 21st November 2016
Nov 21th; 2016
After a considerable fight, Adam Ondra has now climbed the crucial pitches on The Dawn Wall and has pushed on up to the Wino Tower where he is now resting before tackling the final 'easier' pitches.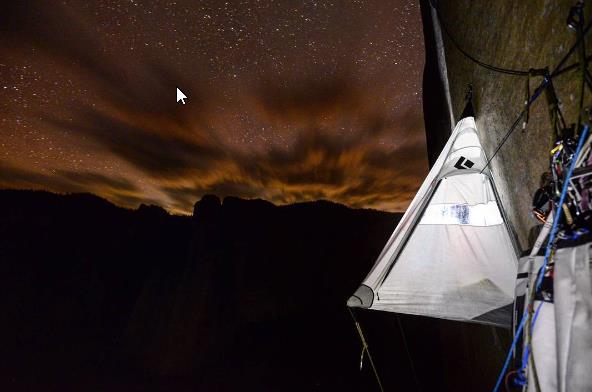 The view from The Dawn Wall – waiting for the expected bad weather to passs thru. Photo Pavel Blazek
Starting his final push on The Dawn Wall a week ago, click here for that report, Adam Ondra quickly fired the initial pitches making a perfect start to his Dawn Wall campaign. Apart from Pitch 10 which took him two attempts and Pitch 12 which caused him some 'heartbreaking goes' Ondra was quickly ensconced beneath the crucial pitches (Pitch 14 through Pitch 16) and it was all looking under control with only three climbing days on the clock!
Day 4 however saw Ondra stopped dead in his tracks; The Dawn Wall was metaphorically fighting back! Posting on Instagram Ondra sounded like he was having a 'Jorgseson Experience': "Damn! Climbed super poorly, so much pressure, so nervous! Needed 7 tries to make it through the first boulder problem on pitch 14, a boulder problem that I never really found very hard before, but somehow felt really hard today. I slipped on my first try, then on my second try, then just freaked out and felt so insecure with my feet trying to climb as carefully as possible but kept slipping nevertheless. Then, on my 7th try, I did the boulder problem, and fell from the last move. Hard to find some optimism, but I will try it again. Tomorrow and hopefully with better mindset."
Ondra fighting the crucial mid-height pitches on Dawn Wall. Photo Pavel Blazek
Looking like he was human after all, The Dawn Wall was making Ondra fight. Day 5 however was far more productive – although Ondra's success wasn't without a fight: "Day 5. As day 4 was a complete disaster, I still felt a lot of pressure, as I knew that sending pitch 14 is almost a must. But today, my mindset was different. I tried to make jokes, being relaxed and focused only just before the climbing. I was lucky enough to be precise and send pitch 14 (5.14d) on my first go after a little warm up.â €
"Pitch 15 (5.14c or d) was next. This pitch is much longer and has a very nice and enjoyable 5.13c intro (with a few normal holds and even footholds) and a heinously sharp boulder problem at the end of the pitch. After chalking up the holds, I had a heartbreaking fall, a few moves below the jug of glory... and I had to face a hard decision. Should I give it one more try and try risk cutting my skin open or wait for tomorrow? It was rather unsure whether my skin would be better the next day. I took the first option. I started climbing again and despite feeling strong, my skin was really soft and sweaty. On the jug below the boulder problem, I almost thought my decision was wrong. I kept going nevertheless and somehow made it through the crux, where I had to improvise with my beta, as I was unable to reach with my foot all the way due to my sliding fingers from the razorblades. Getting to the anchor was emotional of course. Let's continue tomorrow. Still quite a few exciting pitches, but none of them are as sharp and hard as these two." Ondra finished the day – in his words "On Cloud Nine!" – business as usual for the Czech super-star.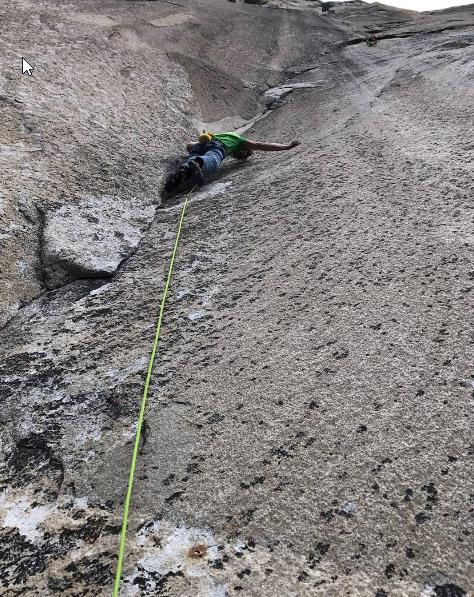 Ondra pushing-on to the Wino Tower on Dawn Wall. Photo Pavel Blazek
By Saturday Ondra had pushed through Pitch 16 and 17 and then all the way up to the Wino Tower although not without incident however on Pitch 16 and 17. Ondra explains: "Pitch 16 can be climbed via the dyno or the loop. If I am not wrong, the dyno was given 5.14c (8c+), and the loop is probably easier—I heard something about 5.14a— but due to the crazy character of the climbing, the grade is not relevant. The loop pitch or dyno pitch is followed by a 5.14a layback. In between, there is no belay, only a no-hands stance. My original goal was to connect the loop pitch into the layback, making a 60-meter mega-pitch at 5.14c at least.â €
"The loop pitch is an extremely hard pitch mentally. The down-climb is awkward, powerful and insecure and is the crux of the pitch for sure. At the bottom of the loop, there is a good ledge, but I could not sit down. As you start climbing, you get into a tiny layback with pin-scars, which is super easy to slip on. This section is probably at 5.13c, but it is really devastating if you slip and have to climb the down-climb again. I was lucky to fight through the down-climb, took a rest at the ledge and climbed super carefully through the layback into the no-hands stance—the end of the loop/dyno pitch. I continued into pitch 17 (5.14a layback), but after climbing for 45 mins, my feet were just gone. I took a little rest and did pitch 17 from the no-hands stance. Doing the whole 16 plus 17 link seemed impossible at that moment."
So safely through pitches 16 and 17, albeit without linking them together into one super-pitch has he'd originally planned, Ondra describes how the next few pitches went up to the Wino Tower. "In the next 4 hours, I climbed pitch 18 (5.13c) in possibly the biggest fight of the day. My feet were so painful & weak that I was shaking so badly on the second half of the pitch. But I made it. Pitch 19 is very short & bouldery (5.13c, but I think 5.13b is better) & pitch 20 (5.13c—one of the best pitches on the wall) went very smooth. Pitch 21 (5.13d) is the last hard pitch. I had never worked on this pitch very carefully and it got dark in the meantime. I switched on my headlamp and headed towards the Wino Tower. I climbed slowly, took my time & hoped I would not pump out. It turned out to be a good tactic & at 6 p.m. I was at the Wino [Tower]."
Once suitably rested, in final obstacles facing Ondra are eleven 'easy' pitches between 5.10 and 5.12. Ondra's intention was to rest Sunday and then after the forecast rain push-on to the top today (Monday). The latest forecast however is for colder temps and rain. It's not over till it's over but hopefully Ondra will get a decent weather window to finish off his remarkable second ascent of one of the world's hardest multi-pitch routes. Watch this space…