Ondra and Schubert back in the game
Adam Ondra and Jakob Schubert are back climbing outside again and have polished off an F9a+ and F9a respectively.
Depending on how hard they were affected by the pandemic various countries across Europe are lifting lockdown. In the last few days, Austria has eased back on restrictions and people are allowed out again. The Czech Republic opened nearly two weeks ago now. We understand that some areas of Germany have similarly been climbing outside for some time. Sweden, as we all know, took a different view on the pandemic and stayed 'open' throughout; reports are that many of their climbers have remained active outside throughout the pandemic.
Ondra's 174th route of F9a and harder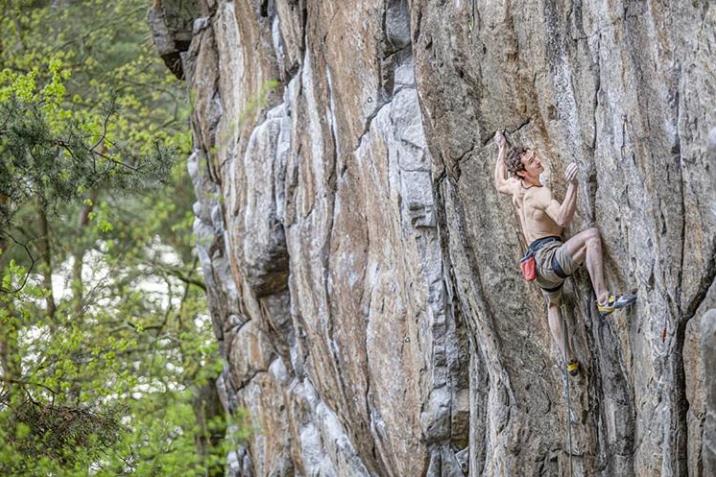 Adam Ondra wasted no time in getting back into action choosing to hit his local bouldering area to open his account with. Iceberg (Font 8c), a new Martin Stranik problem which was added just before lockdown, was quickly dispatched by Adam. A film of that has already been released by Adam as part of his ongoing video series.
Following that, Adam posted that he'd been spending some time climbing at Roviště, a granite area close to the Vltava river where he played as a youngster. His latest route, Bohemian Rhapsody (F9a+), is – according to Adam – a hard and pumpy link-up. By his estimation, it's now the hardest climb in Bohemia – the western part of the Czech Republic. Reports are that this is Ondra's 174th route of F9a and harder by his reckoning. It would, apparently, by close on 200 if his personal down-grades were also included.
Schubert sends Weiße Rose (F9a)
Three days ago, Jakob Schubert notched up the third ascent of Weiße Rose (F9a) a famous route at Schleierwasserfall – the first ascent of which was done by Alex Huber back in 1994. After his ascent, Jakob commented: 'it feels so good to crimp hard on rock after all the pull-ups and backyard training.' Schubert's ascent follows the second ascent which was done by Adam Ondra. Originally, Huber graded Weiße Rose XI or F8c+/9a. Ondra said it was hard F9a or even harder after doing the second ascent.