Olympic Qualification - Toulouse Report
Dec4th; 2019
Against a backdrop of confusion, rule changes and a pending lawsuit another 12 athletes, six per gender, emerged from Toulouse last weekend adding their names to those already going to the Tokyo Games.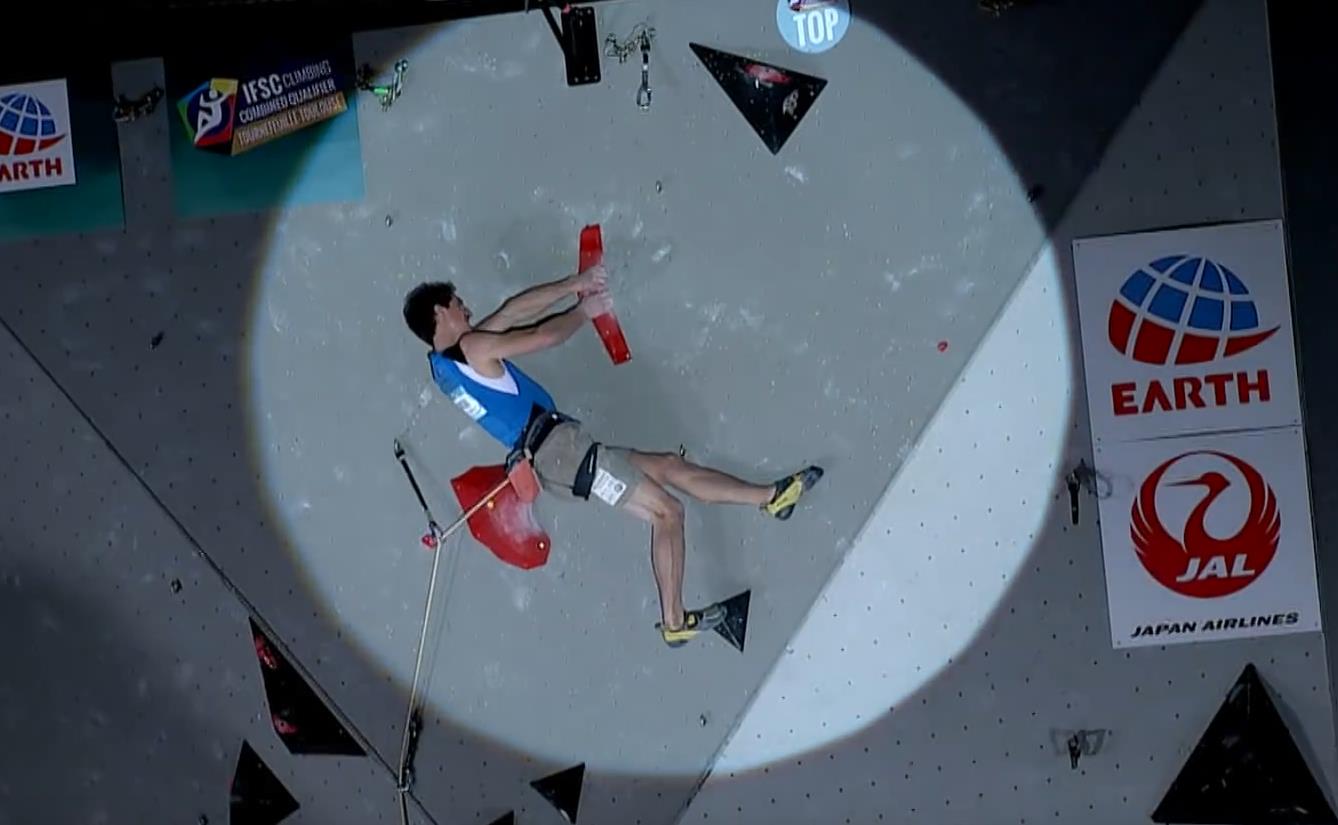 Adam Ondra; perhaps the biggest name in climbing qualifying for Tokyo, at his high point on the qualification lead route
The 2019 IFSC competition season has been brutal; long, arduous as well as emotional and divisive. Starting back in early spring the first World Cup at Meiringen seems a long, long time ago. Since then, there's been six Speed, Boulder and Lead World Cups plus the World Championships at Hachioji and the European Championships at Edinburgh. Last weekend, no doubt to the relief of the athletes, the 2019 season culminated in the second Olympic Qualification event at Toulouse.
For the athletes contesting Toulouse it was undeniably a make or break competition; the second and arguably the best remaining opportunity to qualify for the Tokyo Games. And as if that wasn't enough drama, then the angst added by the confusion surrounding the invitations to Toulouse and the last minute rule changes did nothing to calm the jagged nerves of the competing athletes.
The Toulouse timetable mirrored exactly that which is intended for the Tokyo Games themselves; a qualification day – comprising three separate qualification rounds – for Speed, Boulder and Lead to shave the field down to just eight finalists. Following a rest day, the finalists would then contest a quick-fire tripartite final starting with Speed, then Boulder and then finally Lead. The final positions of the athletes were simply calculated by multiplying their ranking positions in the individual events; an athlete finishing Speed in 6th, Boulder in 4th and Lead in 2nd, for example, finished with 48 points (6x4x2). The simple system not only gives equal weight to all three disciplines but also makes it impossible to 'predict' an athletes final position until all athletes have concluded all events – literally the final positions go down to the wire! That's exciting for viewers but nerve-racking for the competitors.
Thursday was men's qualification day. Speed specialists Bassa Mawem (5.687sec) and Alfrian Muhammad (5.726secs) took first and second place respectively in the Speed whilst Jan Hojer in third was the highest placed of the non-speed specialists with 6.456secs. Finishing close behind Hojer were five athletes all with sub 7 second times. Sadly, Will Bosi came in with 7.311secs – significantly slower than his PB - and placed 12th. Adam Ondra stopped the clock at 7.464secs – enough for 14th place. If the men's Speed round was tight then the Boulder round was another level with the ten highest placed climbers all getting three tops and four zones each so attempts to tops and zones became critical. YuFei Pan, Adam Ondra and Meichi Narasaki finished in in the top three slots separated on attempted to the zone holds only! Amidst the very strong competition Will Bosi had a storming bouldering round and came within an ace of latching the top on the fourth bloc which would have catapulted him to the top of the table; sadly having tickled the final holds Will couldn't hold them and finished in ninth place in what was one of his best ever boudering rounds at this level.
Jernej Kruder ducking and diving to avoid the flying volume; fortunately he ducked to the right rather than to the left but even still it was a very close encounter!
Then came the Lead, the final qualification round. To the amazement of everyone, boulder ace, Jernej Kruder pulled a volume clean off the wall on his run! Instinctively he ducked down and covered his head as he fell. The volume – a smallish triangular shaped unit with some pretty pointed edges – went hurtling past both Kruder and the belayer; amazingly, and thankfully, neither were hurt but it could so very easily not have ended that way! Kruder, having climbed to hold 11 was given 11 minutes to recover before he was allowed to climb again – in the meanwhile, the setters re-fixed the volume back onto the wall! Presumably, and despite this being an unprecedented occurrence, the IFSC are looking into this incident and will take steps to ensure that an this can't happen again! The standard of lead climbing is such that on any given day numerous competitors can top out depending on the route; such was the case here when Adam Ondra, Stefano Ghisiolfi, Albert Gines Lopez and Sascha Lehmann all topped the route; ultimately they were separated by time taken to climb the route – Ondra being the fastest. Will Bosi, delivered another excellent performance and climbed solidly but finished in 9th place.
Will Bosi at his high-point in the Lead Qualifier
Once the points had been calculated Ondra finished the Qualification day in top place; his 14th place in Speed, 2nd in Boulder and 1st in Lead giving him a well-deserved 28 points overall. YuFei Pan finished in second place on 49 points and Alberto Gines Lopez in third on 302.5 points. The remaining finalists were Bassa Mawem (420pts), Kokoro Fujii (448pts), Nathaniel Coleman (450pts) and Meichi Narasaki (486pts).
Devastatingly for Team GB and Will Bosi, Will finished in 14th on 972 points. Playing with the math, had Will recorded a c.7sec speed time and finished that round in c.9th place he would have finished on 729 points in 11th place and hence still outside the final. It will be cold comfort for Will that, alongside the likes of Stefano Ghisolfi, Sacha Lehmann, Yannick Flohe, Jerej Kruder and Alex Rubstov, his Olypmic dreams now rest on winning the European Championship – and/or the Tripartite Invitational place if he is to get a ticket for Tokyo next August.
Day 2 of Toulouse saw the women in action starting with the Speed event. Iuliia Kaplina stormed the event and took first place with a PB of 7.370secs beating ex World Record holder YiLing Song into second. Aries Susanti rahayu took third place with 7.643secs. The spread of women's speed times even at this level is quite remarkable; last placed Ai Mori's time in the Speed was 14.375secs – almost twice that of Kaplina's! Likewise there was a big spread of results in the Boulder round with three athletes, Lucka Rakovec, Ai Mori and Mia Krampl all finishing with four tops each; separation as with the men's Boulder Qualification round, came from the number of attempts to get said tops and zones. Qualification day for the women finished with the Lead event. Lead specialists Margo Hayes and Jain Kim both finished on hold 43+ and were separated on time only to settle in fifth and sixth respectively. Mai Krampl, Lucka Rakovec and Laura Rogora all fell off move 45+ so again their climbing time was used to separated them into second, third and fourth. That left Ai Mori who alone battled through a number of mistakes and what was clearly a ferocious pump to top the route and take first in the Lead.
With Ai Mori, Lucka Rakovec and Mia Krampl heading into the final in first, second and third the rest of the women's finalists were Laurua Rogora, Futubo Ito, Julia Chanourdie. Iullia kaplina and Kyra Condie. Discounting the two Japanese climbers, Ai Mori and Futabo Ito, because Japan had already filled it's two per gender quoto that meant that all the six other finalists were already through to Tokyo with the exception of Lucka Rakovec or Mia Krampl who needed to battle it out to take the second Slovenian place after Janja Garnbret who had qualified and been allocated a quota place at Hachioji. Ninth placed YiLing Song also picked up a qualification place as only the winner between Rakovec and Krampl would go through.
Saturday was men's final day and although all eight finalists were pitching hard in reality it was for little more than bragging rights given that Japan had already filled their two athletes maximum quota back at Hachioji so Messrs Ondra, Mawem, Hojer, Pan, Gines Lopez and Coleman all automatically booked their tickets for Tokyo just by finishing as the six highest placed athletes – once Kokoro Fujii and Meichi Narasaki had been passed over. First off was the Speed leg and Bassa Mawem was clearly the favourite having recorded 5.687secs in the qualification round. Staying on-message, Mawem went guns-out all the way to the final run which he took with a winning time of 5.727secs. The rest of the field – perhaps looking for security rather than out and out performance - generally recorded slightly slower times than in qualification. Jan Hojer and YuFei Pan took second and third respectively. News was that Adam Ondra had come down with an overnight bug and was feeling pretty shocking and opted to duck out of all but the first of this speed runs and hence placed 8th.
The Boulder round was next and, unlike the qualification round where the top ten climbers were all very close, the Final Boulder round really split the field thanks to a bump-up in difficulty from the setters. In the end, the eight finalists only topped seven blocs between them! Despite feeling un-well, Ondra put in a stout performance picking up a third place finish with one top behind Kokoro Fujii who got two tops. It was however Meichi Narasaki that took first place with two tops albeit with fewer attempts. He also came super close to nailing M2 as well; three tops would have been special but a top on M3 eluded him.
Finally then, it came down to the final Lead round to close the men's competition and decide all the eventual places. Despite being well-placed for a podium place Meichi Narasaki didn't handle the lead element well and fell relatively early leaving the door open for Jan Hojer and YuFei Pan to sneak ahead. Following an energetic running-jumping start Nathaniel Coleman climbed solidly until he fell at the base of the headwall. Alberto Gines Lopez fell at the same point as Coleman but Lopez took 3rd having climbed faster. Kokoro Fujii was looking like he meant business but fell trying to match a particularly slick looking 'baguette' hold high on the headwall. Adam Ondra, despite feeling off colour, took the win in Lead albeit by the slimmest of margins; even ill, Ondra is a formidable lead climber it appears.
Men's Overall Results
Meichi Narasaki's early fall in the Lead cost him dearly but his third place finish was an excellent result nevertheless. Adam Ondra took second and Kokoro Fujii scoped the top spot. It might well have been different had Ondra not been ill but crucially he had already qualified for Tokyo so his second place finish at Toulouse was academic. With Japan's two climbers per gender quota already filled from Hachoiji, Kokoro Fujii and Meichi Narasaki aren't in the running for Tokyo so the other finalist picked up the Tokyo places as we said earlier.
Sunday at Toulouse was the women's final. As reported earlier the real battle was between the two Slovenians, Mia Krampl and Lucka Racovec, but that didn't stop the rest of the six finalists doing their very best. Iuliia Kaplina looked especially focused on winning the Speed element and whilst that was exactly what happened when she stopped the clock at 8.057secs Kyria Condie's finishing time (8.722secs) won her second and considerable respect. Julia Chanourdie (8.940secs) wasn't that far behind either.
The women's Boulder round saw a considerable spread of results but only Futaba Ito, Al Mori and Lucka Rakovec all topped all three blocs. In amongst the attempts there were a number of impressive flashes on the boulders; Laura Rogora on W1 – a super techie slab, Lucka Rakovec and Julia Chanourdie on W2 – an overhanging wall, whilst W3, a vert wall, was flashed by Ai Mori, Lucka Rakovec, Lara Rogoria and Futabi Ito. Lucka Rakovec's two flashes boosted her standing considerably. With two events down Rakovec (18pts) held a significant points advantage over Mia Krampl (49pts) going into the Lead but her Olympic qualification wasn't a gimma. Futaba Ito's first place win in the Boulder round meant she went into the Lead element in first place on just 4pts; Ai Mori trailed behind on 16pts. The Lead round saw Kaplina, Ito and Condie all fall early. Rogora, Mori, Rakovec and Chanourdie all fell at move 31+ leaving the door open for Mia Krampl to nudge the win by taking hold 32.
Women's Overall Results
Despite finishing lead in 7th place overall Futaba Ito (28pts) finished the overall in first place ahead of Julia Chanourdie (30pts). The battle for the crucial second Slovenian allocation place was duly resolved when Krampl's Lead win meant she finished on 49pts whilst Rakovec's third place finish in Lead meant she finished behind Krampl on 54pts. Krampl therefore goes to Tokyo to climb alongside Janja Garnbret.
The men now qualified and with an allocated place (Toulouse climbers pending acceptance by their respective NOC's) for Tokyo are:
Hachioji: Narasaki, Schubert, Khaibullin, Harada, Mickael Mawem, Megos, Fossali and McColl

Toulouse: Ondra, Bassa Mawem, Hojer, Pan, Gines Lopez and Coleman
The women now qualified and with an allocated place for Tokyo are:
Hachioji: Garnbret, Noguchi, Coxsey, Miroslaw, Nonaka, Klingler, Raoutou and Pilz
Toulouse: Chanourdie, Krampl, Kaplina, Condie, Rogora and Song
Watch the highlights from the men's and the women's finals below…