Oli Grounsell nabs 4th ascent of Megalopa F8c+
April 20th, 2015
Hot on the heels of a certain James McHaffie, Oli Grounsell has just redpointed the fourth ascent of Megalopa F8c+, the rapidly emerging 'must-do' at LPT.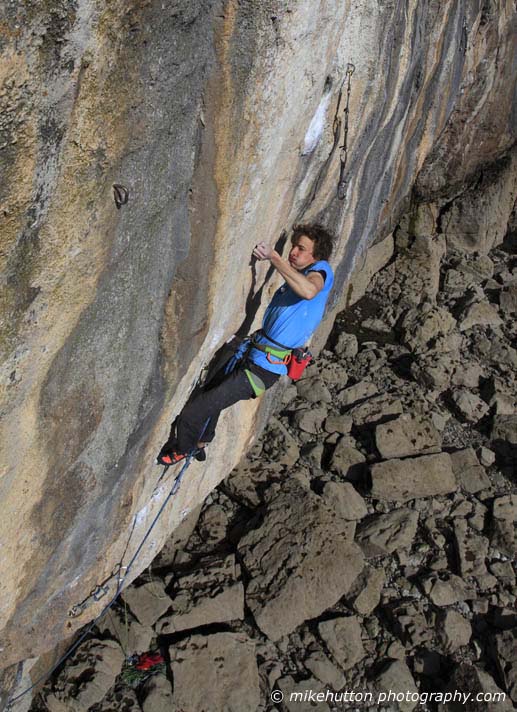 Oli Grounsell on Megalopa F8c+ at LPT. Photo: © Mike Hutton (not to be used without permission)
As reported recently, James 'Caff' McHaffie, got the third ascent of Megalopa at the end of March – click here for that report. Oli is perhaps better known for doing hard grit/trad stuff but in fact he's been ticking away on the limestone and quietly building up his CV.
Keen to hear more about his ascent of Megalopa, CLIMBER have been in touch with Oli for some details:
Congrats on getting the fourth ascent of Megalopa. How long have you been trying it? Thanks! I've had 12 sessions on it this year, including some rather cold and keen ones at the start of March. I'd climbed Walking Mussel, the 8b+ it starts up this time last year, in perhaps 3 sessions, so that gave me a little head start I guess.
It's a tough route with some big numbers involved. What was your driver for getting involved and at what stage did you think it was game-on? I'd had a play on some of the other hard routes at LPT last year, including quite a lot of time spent on Liquid Ambar. Caff had the clips in when I went down LPT for the first time this year so it only made sense to have a play. I really enjoyed the moves on the top wall and with it being a bit longer than some of the other routes it was more endurance based, something else I also enjoy. After a few sessions knew I would definitely climb this route at some point, and perhaps on my 8th session I realised it would be sooner rather than later.
What was the hardest aspect for you and how/where did you prepare for it? Having to do Walking Mussel again and again was hard as it's powerful but also quite insecure so easy to mess up, you can't just pull down and climb it fast. In terms of training I didn't really train much for it. I just did a load of bouldering over the winter, and just got fit by trying the route over and over. Pretty simple, so much more fun.
How does it compare to the other hard routes you've done? I haven't really done many other hard sport routes, I guess I have never really invested much time into one before, apart from like I say Liquid Ambar last year. Generally last year I probably didn't do myself justice with my sport climbing, picking perhaps the wrong routes to try or trying them at the wrong time. So I'm obviously happy with this.
What's next? Well I got straight back on LA after climbing Megalopa, so I guess that. But I'd also like to do some trad routes which are physically hard, apart from just mentally. And just climb lots, obviously.
Click through here to go to Oli's blog…
Finally, many thanks to Mike Hutton for his photo of Oli on Megalopa. To see more of Mike's images click through here…