O'Driscoll makes historic solo ascent of Reverse Fitz Traverse
Friday 12th February 2021
Renowned Belgian climber Sean Villanueva O'Driscoll has astounded the mountaineering world by soloing the second ascent – in reverse - of the famous Fitz Roy Traverse.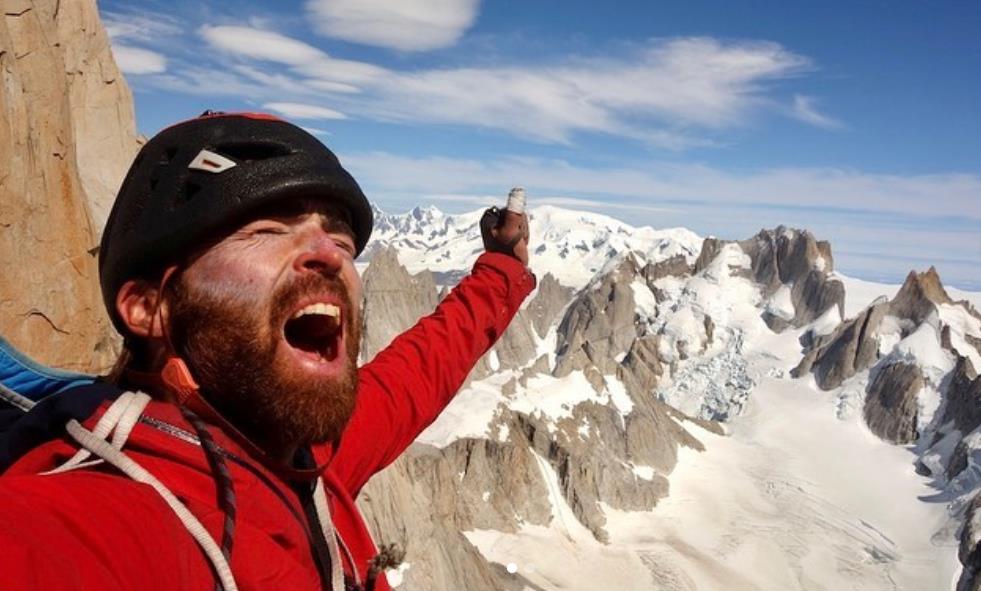 Hyperbole aside, O'Driscoll's ascent is breathtakingly audacious. Some of the world's best climbers have piled-in to congratulate O'Driscoll on his achievement commenting on the Patagonia Instagram feed.
"Oh my god! So savage!!! Congrats Sean" Tommy Caldwell said.
Sonnie Trotter, added: "This is some unreal news right here 😳 Whoa!!! Way to go Sean."
Fellow Belgian and long-term climbing partner of O'Driscoll, Nicolas Favresse added: "Boooomm!!!! 🔥I am incredibly happy! It's no other than an achievement at the height of his incredible skills! Over the years and expéditions done together I have been blessed to have him as an exceptional partner and soul and have been constantly impressed by his outstanding skills in the adventure terrain! Congratulations!!!!"
However, perhaps the most striking assessment and complement came from another member of renowned Patagonia cognoscenti, Colin Hailey. Hailey, posted a lengthy Instagram post of his own as the news broke on-line in which he was crystal clear about O'Driscoll's achievement: "There is no doubt that this is the most impressive solo ascent ever done in Patagonia, and I can't help but wonder if it isn't simply the most impressive ascent ever done in Patagonia in general."
Public comments from others can sometimes be tainted by a faint air of jealous; Hailey said this on exactly that subject: "As someone who has done a lot of my proudest achievements in Patagonia, many of them solo ascents, I could be at risk of feeling jealous. However, overwhelmingly I feel happy for Sean, rather than jealous. I think that is partly because I got to know Sean a bit down there last season, and he's simply an awesome person. I think that another reason I don't feel jealous is that, unlike some other high-profile solo ascents of recent years in Chaltén, I know that I simply couldn't have done what Sean just did. Congratulations, Sean, on a truly incredible achievement! I'm still trying to wrap my head around it…"
Details are, as yet, especially meagre. Just about all that is known as yet is that O'Driscoll climbed the Fitz Roy Traverse in reverse so in order; Aguja de l'S, Aguja Saint-Exúpery, Aguja Rafael Juárez, Aguja Poincenot, Aguja Kakito, Cerro Fitz Roy, Val de Bois, Aguja Mermoz, Aguja Guillaumet.
When Tommy Caldwell and Alex Honnold did the first ascent of the Fitz Roy Traverse over a five day period in February 2014 they simul-climbed the 5km long ridge climbing up to 15 hours a day. "It was the most tired I've ever been," Caldwell said after his ascent with Honnold. Their ascent earnt them a prestigious Piolet d'Or.
Heaven knows what the award committee will make of his sole ascent of the Fitz Roy Traverse but O'Driscoll is no stranger to the award having previously won the honour back in 2010 along with Nicolas Favresse, Oliver Favresse, Ben Ditto and Bob Shepton for the first ascent of a Greenland big wall. O'Driscoll has climbed extensively in the Patagonia range having repeated Riders on The Storm in 2006 as well as numerous first free ascents - often with Nicolas Favresse.