Nims and Project Possible team now on Everest/Lhotse
May 21st; 2019
Nirmal 'Nims' Purja and his Project Possible team have now started their Everest/Lhotse climb having already summited Annapurna, Dhaulagiri and Kanchenjunga since late March!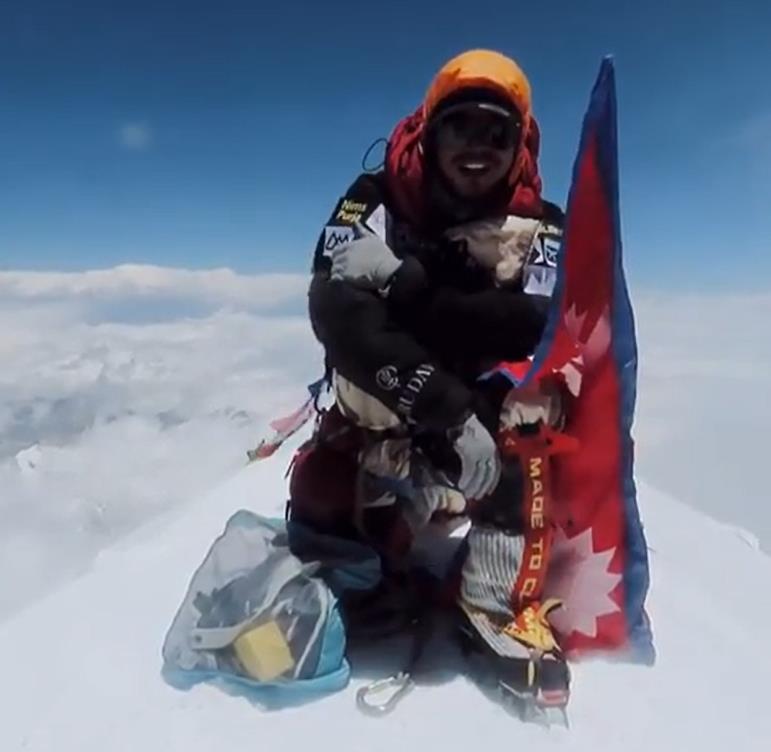 Nims on the summit of Kanchenjunga on May 14th just before he was involved in the second rescue mission.
When we last posted about Nims and his team he had just summited Annapurna 1 on April 23rd and then been involved in a dramatic high altitude rescue of an injured climber. Click here for our earlier report. Since then, Nims and his team have the summited Dhaulagiri and just recently Kanchenjunga. Two days ago he was at Camp 2 on Everest and hoped to summit on May 22nd. Following Everest he will go for the adjacent summit of Lhotse and then descent to base camp after which he will fly immediately to Makalu. Nims' plan is to do Everest, Lhotse and Makalu in just three days! Assuming he is successful that will complete Phase 1 of Project Possible; Nims' bid to climb all 14 of the world's over 8000m mountains in just seven months!
Annapurna 1, which hadn't been climbed for some years, was hard enough but the dramatic rescue which followed clearly put considerable strain on Nims and his team when they had to re-climb part of the route again to evacuate Dr Chin.
On May 7th Nims posted an update on IG: 'Looking to summit Dhaulagiri on [May] 12th. There's no other team climbing the route we are taking so, we will be climbing the majority of the route alpine style.'
By May 10th Nims and his team had been able to establish Camp 2 having spent the day climbing through 60-65km/hr winds. Nims' IG update explained their timescale; 'We had to make a move on higher camps today so that we could fit Kanchenjunga summit by 16th May. Now, it's all about time calculations, risk assessment, team work and pure field leaderships now.' Nims explained the conditions they were climbing in: 'Today was hard work for all of us. We are not only carrying our personal gear, but also team tents, 3 days' worth of food, cooking equipment, 1km of ropes, snow bars and all necessary fixing gears.' The day after, ie May 11th, they pushed onto Camp 3 carrying heavy loads and again climbing through winds of 70-75km/hr.
Nims' IG post showing some of the conditions on Dhaulagiri
Nims and his team summited Dhaulagiri late on May 12th. In a subsequent IG post he explained how the summit day went:
'If I'm honest Dhaulagiri was probably 5 times harder than Annapurna due to the weather conditions.
We summited quite late (1800hrs) on the 12th of May. We would only climb few steps when the wind is a bit slow and then embrace when it's at its speed, we did this pretty much the whole day. We started our descent to base camp at 1900 hrs and had to climbed down all night in order to catch our Heli flight for Kanchenjunga on the 13th.
Big thanks to @sobitgauchan for picking us up at the Dhaulagiri base camp even in a doozy weather conditions and dropping us at Kanchenjunga base camp.'
On May 14th Nims and his team flew via helicopter to Kanchenjunga base camp landing at 11:00am. By 13:00 pm they set off for the summit. Amazingly by 11:19am local time on May 15th Nims and his team had summited Kanchenjunga. On their descent however, they discovered two climbers from other teams in difficulties. Again Nims and his Project Possible team became involved in a high altitude rescue. Nims posted on IG an outline of his ascent of Kanchenjunga and the rescue that followed. Both are little short of remarkable:
'Myself and @mingma_david_sherpa were dropped at Kanchenjunga base camp at 11am (14th May). We went for the summit push directly from the base camp at 13:00 that same day. With 5 sleep deprived days and battered by the weather summiting Dhaulagiri, we still made it to the summit of Kanchenjunga on 15 May 11:19.
Whilst descending we met an Indian climber (Biplop) at 8450m with his guide; both had ran out of oxygen(O2) and needed rescuing. We gave them our spare O2 and started the rescue mission.
We immediately requested for a back up team from camp 4, with extra O2 if possible. After descending 150m, we found another climber (Kuntal), who was left behind by his guide and his team. Both were clients of Peak Promotion. I gave him my own O2 and continued with the rescue mission. After descending a few more meters, our guide @gesmantamang then had to give his O2 away. So by 1430 all my team had given away our own O2 to the two climbers.
If you can imagine how hard it is to operate a rescue mission at 8450m without O2. Every 15-20 mins, I was on the radio asking for help with O2.
I was told 3 Sherpa's were coming up with O2, this never happened. I was told this every time I radioed asking. This seriously impacted my team and was a huge risk to life.
@gesmantamang started developing mild HACE and his feet started to freeze. I sent him back down. By this point we had sadly lost Kuntal due to no back up with the extra O2. The wind started picking up, but we continued rescuing Biplop.
Now the strongest Sherpa, I have ever known @mingma_david_sherpa appeared to be having HACE. We could not afford to have another casualty with NO HELP coming up so I sent Mingma down. Leaving just Dawa and myself with NO O2 performing the rescue.
There were many climbers, approx 50 on Kanchenjunga this season. Both lives could have been saved if someone from that many climbers had dared to help. The Project Possible team needed help to save lives but got none.'
The latest post from the team on May 20th was that Nims had started his final leg of Phase 1 to climb Everest and Lhotse (and then Makalu) and was at Camp 2 on Everest. Their intention is to summit Everest on May 22nd – weather depending.
CLIMBER will bring you an update when there's more news. To follow Nims, and watch some incredible clips of the climbing, click through here to go directly to Nims IG feed.