Wild Country's revolutionary new belay device – REVO.
Thursday 13th August 2020 at 2.56pm
May 26th; 2016
Wild Country announce new Revo belay device with revolutionary safety and intuitive handling.
Wild Country sent out this information, "Continuing nearly 40 years of innovation in climbing gear manufacture which began with the legendary Friend camming device in 1977, Wild Country today announce the first ever bi-directional, auto-locking belay device.
This is an innovative safety design that overcomes one of the most common causes for belay related accidents; mis-loading the rope. No matter what orientation the rope is fed in, The Revo will pay out, lock and keep the rope aligned for smooth and precise operating. Add to that a patented inertia reel panic-proof locking fall arrest mechanism; The Revo stands out as the safest auto - belay device available.
The advanced geometry of the inertia reel has been optimised to activate the system and arrest the fall without damaging the rope, completely bidirectional this is the most advanced system ever created. Developed to accommodate a range of rope sizes, from 8.5 -11 mm, The Revo is compatible with any locking karabiner design.
Wild Country Design Engineer James Wilson says: "In designing the Revo our focus was to create a practical, purposeful tool that would instil confidence and support an improved belaying experience. Innovative design enabled us to incorporate an additional layer of safety, whilst retaining the intuitive handling a basic belay plate offers."
Wild Country Head of Marketing Steve Foster says: "Wild Country aim to produce climbing products that facilitate a pure climbing experience. The Revo's simple yet sophisticated design will make it easy for novice and expert belayers alike to provide exactly what their climbing partner needs, the moment they need it."
It was announced to a gathering of journalists from around Europe at Awesome Walls in Sheffield. Climber had the chance to use the device and first impressions are very promising. The REVO was easy to use and resulted in both a safe and soft fall for the lead climber and a similar experience for the belayer. We had the confidence to jump off the wall and take a leader fall with people we had only just met using the device to belay, not something that most people would normally do.
The REVO is planned to be in the shops in the New Year and we will have a more in-depth review on the device later in the year when we get our hands on one.
Q&A with Wild Country Design Engineer James Wilson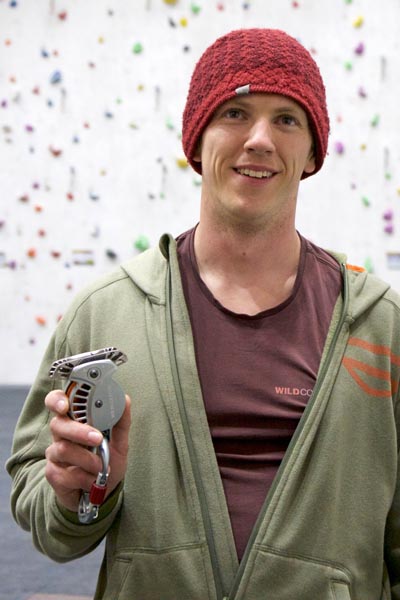 Why did you start out on the journey to design a new belay device?
Wild Country had looked at creating an auto-belay device for many years but fundamentally it had to be innovative. Once we had the concept and it was clear the REVO could be better than anything else on the market, it wasn't so much why do it but when could we start.
What did you learn on the way?
To bring something truly new and innovative, solving problems which others have attempted and left unanswered is very challenging. It truly has been a rollercoaster ride but it was worth the effort.
In what situations can this be used?
Any situation where you would use a traditional belay device but with the added confidence of an assisted locking mechanism.
Did you have any major breakthroughs during the design process that you hadn't planned for when setting out?
There were many new manufacturing processes where we had to push the limits of current techniques and as the development process evolved we realised how special and safe the device was, you could deliberately try to make the REVO fail and still it would perform safely.
How does the REVO sit alongside iconic products such as the Friend?
Wild Country transformed climbing back in the late seventies and over the years has brought a huge number of new products and manufacturing techniques to market. The REVO is another moment, like the introduction of the Friend; a true climbing revolution befitting for one of the most iconic climbing equipment manufacturers.
You can stay in touch with Wild Country via their website here or their FB page here.