New Pembroke hardest route for Neil Mawson
Tuesday 23rd September 2014
The latest news from South Wales is that Neil Mawson has completed his long-term project in Pembroke, Choronzon, graded E10 (or F8b+).
James McHaffie said of the route: "It's one of the hardest three trad routes in Britain." No small opinion from a man of James's talent and experience.
This has been a long-term project that Neil has tried on and off since then, for various reasons, not least its difficulty but also: "It was so hard with the conditions, the British summer weather and the fact that it's a five-hour drive from where I live. I made a real effort this year to get on it as much as I could and it took 10 days of effort this year alone. After I repeated Muy Caliente! (also originally graded E10) in 2011, I wanted to find a route in Pembroke that would test my sport climbing fitness more and I found this line. It climbs straight up the middle of roughly a 30-degree overhanging wall for about 30m, around the same angle and length as the North Buttress at Kilnsey.""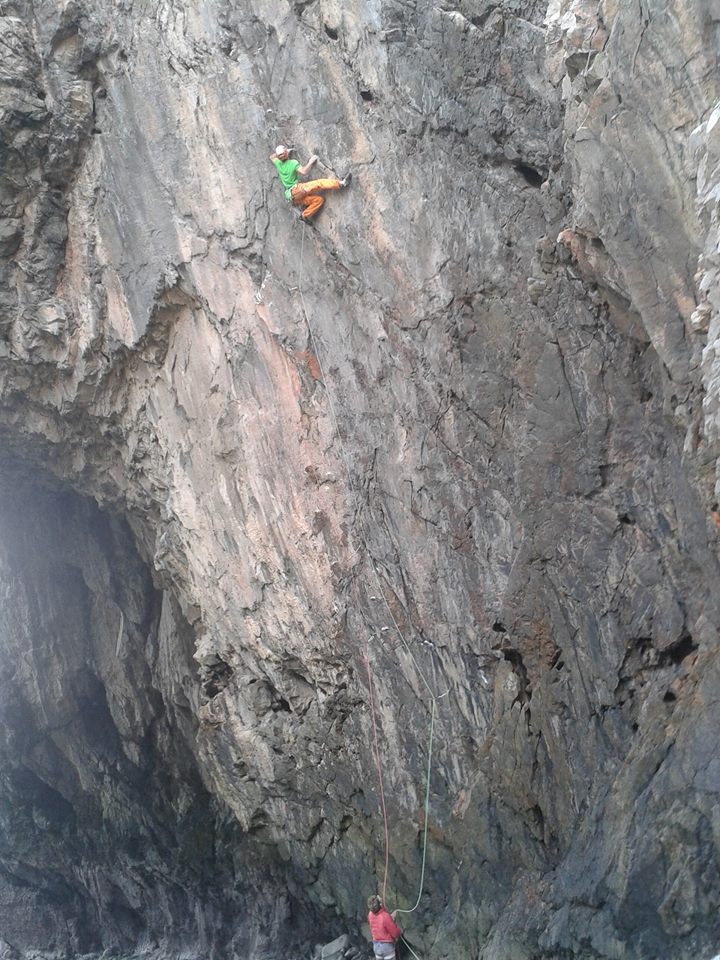 He gave Climber a detailed breakdown of the route and said: "There is good but spaced gear, only being dangerous where it's easy. The route breaks down into a cruxy F7c+/8a that is bold to a shake-out and a cluster of gear. Then it's a nine-move font 7b+ to some pumpy-to-place gear. A few more tricky moves lead to a no-hands rest in a small cave at just over 20m. After that it's around E4/5 to the top."
Neil is no stranger to hard ascents repeating some of Pembroke's hardest routes including Muy Caliente! (E9/10), Chupacabra (E8/9 6c), San Simeon (E8 6c) and Brothers Karamazov (E8 6c) to name but a few. Away from Pembroke he's climbed Parthian Shot (E9) at Burbage, Gaia (E8) at Black Rocks and Impact Day (E8) Pavey Ark. He has also redpointed up to F8c including the first ascent of Raining Bats and Dogs (F8c) at Malham.
Regarding the grade of Choronzon Neil's opinion is that: "It's by far the hardest trad route I've ever done or tried, so I think it's E10 but only repeat ascents will confirm that. It's certainly the hardest route in Pembroke with a sport grade of F8b+ just to top rope it. I've redpointed three F8b+s this year and it's at least as hard, if not harder, than them. I'm so psyched to have done the first ascent of such a great line in Pembroke. My aim when I went looking for this route in 2011 was to find a difficult challenge on traditional gear and I certainly got that."
Neil on an earlier attempt of the route. Photo: James McHaffie
Neil is sponsored by Marmot, Petzl, Beal, La Sportiva, NourISH Me Now and The Climbing Works