New Mountain Heritage Trust exhibition at Keswick Museum
Thursday 23rd January 2020
The Mountain Heritage Trust (MHT) are pleased to launch their new exhibition entitled Peak Preview: Recent Arrivals into the Mountain Heritage Trust.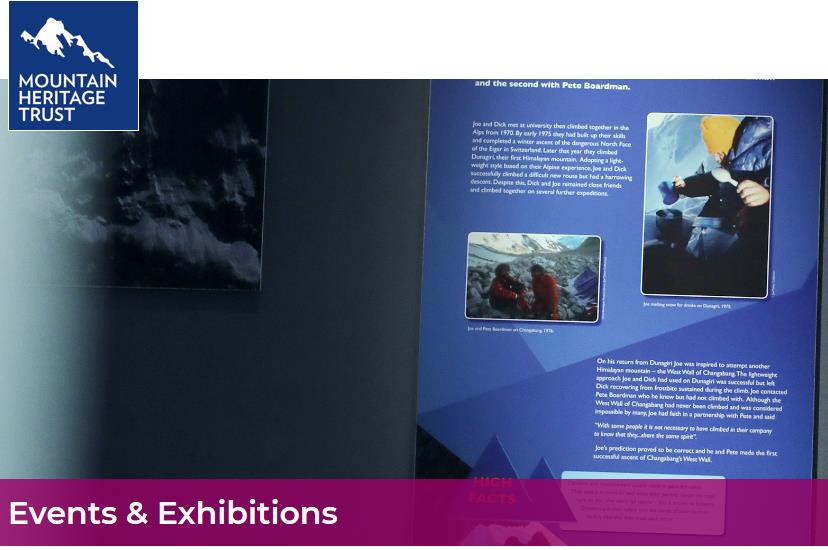 The new exhibition will be installed in the Mountain Heritage Trust zone at Keswick Museum following the museum's complete reinterpretation of its collections for 2020. The exhibition will be on display for a year and opens on February 1st 2020. Sponsored by Needle Sports of Keswick and The Climbers' Club, the exhibition features artefacts, documents, photographs and reproductions of paintings that have been donated to the Trust over the last few years. There will be displays relating to rock-climbing, mountaineering, guiding and training – and also a section celebrating the 50th anniversary of the first ascent of Annapurna's South Face featuring a fun yeti hunting trail.
Curated by Ian Smith (MHT Trustee) and Kelda Roe (MHT Collections Manager), the exhibition is a first look at collections not yet made widely accessible. Kelda notes that: "It can take a long time to make collections accessible because sorting, repackaging and cataloguing them takes a lot of work. This exhibition is a brilliant opportunity to have an early look at collections which have been donated to us over the last few years by the families and friends of many prominent British mountaineers and rock-climbers."
These include: George Band (who made the first ascent of Kangchenjunga and was the youngest member of the team that made the first ascent of Everest in 1953); Jim Curran (painter, writer and filmmaker); Johnnie Lees (who qualified as one of the earliest British Mountain Guides in 1955 and became one of the very few to receive the guiding qualification in winter mountaineering; he also took a key role in the development of the RAF Mountain Rescue service and in 1958 after a particularly difficult and dangerous rescue on Craig yr Ysfa was awarded the George Medal); Ian McNaught-Davis ('Mac' was part of the team that made the first ascent of the Mustagh Tower in 1956, and went on to be appointed as President of the British Mountaineering Council and the UIAA, the International Climbing and Mountaineering Federation). We also have items on display from: Pete Boardman, Joe Tasker, John Porter, Don Robinson (DR Climbing Walls), Graham West, Ron Kenyon, Chris Craggs, Tom Price, JEB Wright and many more.
Keswick Museum is open every day 10am-4pm (closed 24th-27th December and 1st January).
For further information please contact the MHT at their office: Tel 01768779911 or enquiries@mountainheritage.org
The Mountain Heritage Trust is a registered charity and is dedicated to preserving and sharing Britain's mountaineering and climbing heritage. Based in the English Lake District, the Trust is the custodian of historic collections of local, national and international significance, and is responsible for ensuring the public have the best possible access and engagement opportunities with these treasured assets. The Trust is governed by an active group of Trustees who work closely with a small team of dedicated staff and volunteers.