New Manchester Depot to be biggest bouldering centre in Europe
Friday 19th December 2014
Dec 19th 2014
News just breaking is that The Depot Climbing Centre is to add a monster bouldering centre in Manchester to its current portfolio of walls in Leeds and Nottingham.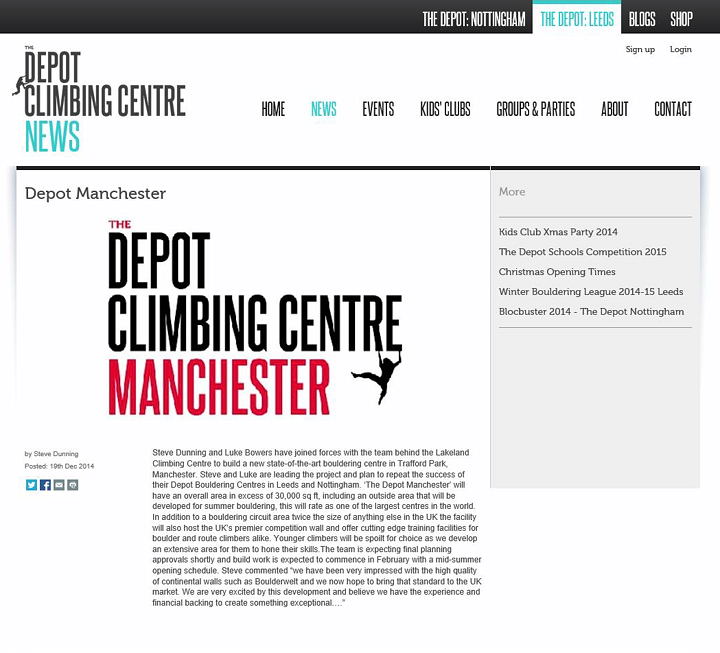 The Depot Climbing Centre News page breaks the news...
Depot gurus', Steve Dunning and Luke Bowers, will be collaborating with the team behind the Lakeland Climbing Centre for the Manchester Depot plans for which are now well advanced. The new "state-of-the –art" bouldering centre will be located in Trafford Park, Manchester.
Dunning and Bowers will be leading the project which they say will "have an overall area in excess of 30,000 sq ft, including an outside area that will be developed for summer bouldering…". They add "this will rate as one of the largest centres in the world. In addition to a bouldering circuit area twice the size of anything else in the UK the facility will also host the UK's premier competition wall and offer cutting edge training facilities for boulder and route climbers alike". It is expected that the final planning approvals will be granted very soon and work is expected to begin in February. The centre is expected to open mid-summer.
The team are basing the design for the new centre on facilities they've seen in Europe; "we have been very impressed with the high quality of continental walls such as Boulderwelt and we now hope to bring that standard to the UK market. We are very excited by this development and believe we have the experience and financial backing to create something exceptional…."
Click through here to go to the Depot Climbing Centre website and watch out for further info as it's released…