Nepal Earthquake; Update #4
April 30th, 2015
Five days after the earthquake in Nepal the country is locked in an ongoing battle to bring the situation under control as soon as possible. One of the crucial aspects is how to get the rescue effort and aid to where it is needed. And whilst the Nepalese Government and the aid agencies wrestle with this logistical nightmare the number of casualties and killed continues to rise. The latest reports are that the death toll has now risen to over 5,500 with double that number injured. In a rare moment of hope amongst the never-ending bad news, a teenage boy has just been rescued from the rubble in Kathmandu after being trapped beneath a collapsed building.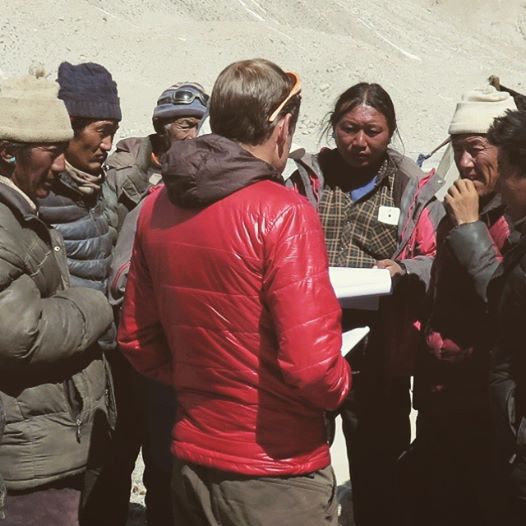 Mass exodus – teams prepare to depart. Photo Sean James
Although definitive news is still scarce, the situation meanwhile in the mountains appears to have reached, or is rapidly approaching, stability. Following the biggest air-lift off a high mountain ever earlier in the week when nearly 200 climbers were evacuated off Everest, most teams appear to have re-grouped in their base camps and are now making preparations to evacuate.
The leader of one of the Everest expeditions on the Tibet side, Sean James, comments on FB; "Another day of negotiations and shifting logistical planning with the CTMA and yak drivers, apparently spooked by the recent tremors". Earlier this week he confirmed that he was working closely with the Chinese authorities on the evacuations and now confirms that the bulk of his expedition will be leaving Base Camp on the 3rd May and walking out to Lhase were they hope to arrive on May 5th. Some have already left to assist with the situation across the region.
Chris Harling, leader of the Adventure Peaks 2015 North Ridge Expedition which was based on the south side of Everest, has also posted that his focus over the last few days has gone from evacuating his team off Everest to getting them home.
Adrian Hayes
Adrian Hayes, who was leading a Makalu expedition, has posted his intention to stay on in Nepal and assist the rescue effort. A former Gurkha officer, Adrian speaks Nepalese and knows the country well. He writes; "I decided days ago that I wouldn't continue with my Makalu expedition and, instead, try and use some skills and tools I have to help the country in any small way I can – i.e. my Nepalese, knowledge of Nepal, an excellent satellite communication systems with the Thuraya IP Plus and Thuraya XT, acclimatised to 6000m and a comprehensive medical kit and former Paramedic qualified.
My plan is therefore to spend the next week, weeks or month, if necessary, trekking to the remote and high altitude settlements of Central/Eastern Nepal that are without any road access or communications and almost certainly devoid of any attention - being many days trek from a road head and with relief agencies pre-occupied with the most severely hit areas of Kathmandu and Langtang.
Aim will be to compile reports on any damage or needs of every village visited and send to the Gurkha Welfare Trust and Kadoorie Foundation who am in contact with; allow villagers to speak to missing loved ones in the rest of Nepal on my satellite system; treat any minor ailments or injuries; and call in rescue for any serious cases. Very similar to the welfare treks I carried out whilst I with the Gurkhas, except today is a disaster situation."
In contrast to Tibet where the head of the Chinese Tibetan Mountaineering Association, Nima Tsering, has confirmed that the north side of Everest and all the other Tibetan mountains are to be closed for the season for fear of instability, the Nepal Mountaineering Association and head of the Ministry of Tourism have granted permission for at least one team to continue on Everest. Russell Brice, team leader for the London-based guide company, Himalayan Experience Limited, said in a blog post yesterday; " Our Himex team will stay at Everest BC for the next few days and we will then decide if we will continue or not. Talking to Phurba he tells me that the Sherpas are ready to go back to BC and to assess the conditions in a few days' time and will then make a collective decision." He added further; "This morning when I was at the airport I had a meeting with the NMA and the Minister of MoT and he gave us permission to fly loads to C1, but only after the helicopters come free from rescue operations which we of course totally agree with". This over-turns a previous decision when they refused a previous request to use helicopters on the basis that the mountain environment was too fragile.
Following the tragic events last year and those of this past week it seems as though there will be a number of questions to consider/answer ahead of future climbing seasons.
Finally, and as we listed in our earlier report, anyone looking to donate to the aid agencies can click through these links below: