Neil Gresham talks about Final Score (E10 7a)
Wednesday 30th September 2020
Nearly twenty years after doing the second ascent of Equilibrium, Neil Gresham has just added Final Score (E10 7a) to Iron Crag in the Lake District.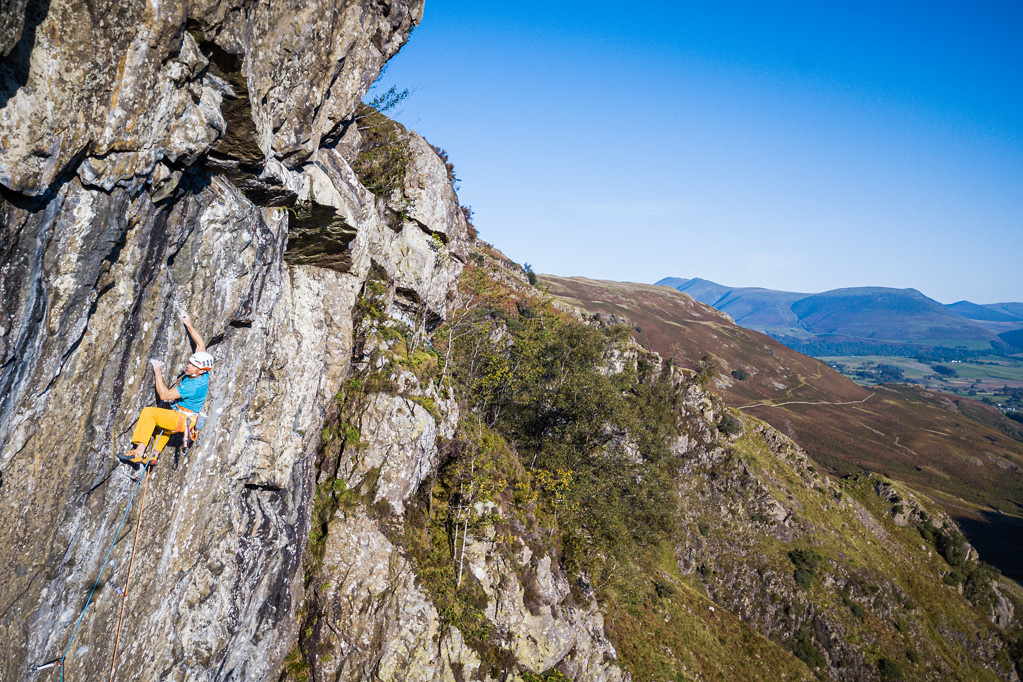 Like Equilibrium, Neil's latest new route, Final Score, features both technically hard and bold climbing; you might think as such that it's the preserve of the young. Although, as Neil wrote in his post, "As a father of two, hard trad feels very different to me these days…" Neil's experience as one of the best all-round climbers in the UK means he's very well placed to prepare and manage the risks/issues involved. Notwithstanding, Final Score tested Neil to the max; "I think it might just be the hardest route I've ever climbed" he wrote on his Instagram feed after doing the first ascent early on Sunday morning. Coming from someone who has been climbing as long as Neil and has a CV like his that's quite a statement!
Neil described the route as "a direct start (climbed previously by Craig Matheson) and direct finish to Dave Birkett's notorious test-piece from 1992, If 6 was 9 (E9 7a). His Instagram write-up summarised Final Score succinctly; "The resulting route throws everything at you from safe boulder cruxes to atrociously protected boulder cruxes, to forearm-bursting endurance sections and monster runouts."
As we have reported previously, Neil has spent quite a bit of time at Iron Crag this year. Just after lock-down ended he was quickly in for two additions, Ironed Out (E8 7a/F8a+) and Way out West (E8 6c/F7c+ R) – click here for our report into those ascents.
Well, now we know why Neil has been focusing on Iron Crag so much! Having moved up to Kendal a few years ago from the big smoke, Neil spotted the glaring gap on the front face of Iron Crag. It's been a long term objective ever since.
Climber has been in touch with Neil for the details about Final Score: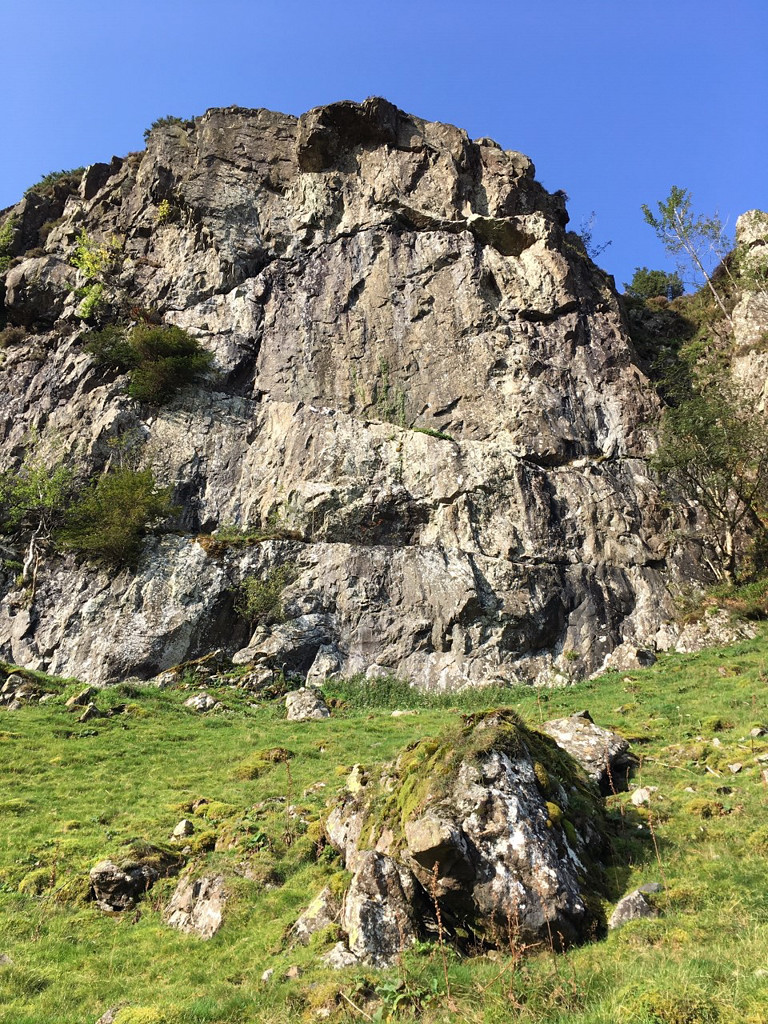 Congrats on Final Score; it's certainly a mighty fine set of numbers at E10 7a and a cracking end to the year! In the context of the pandemic did you think that Final Score might have slipped away this year given you have had less time on rock or do you think it's actually helped you by enabling you to train harder than ever?
It's certainly been a strange year and I don't think I would ever have predicted the outcome. No doubt there have been positives to take and we've seen countless climbers upping their game with home training and then cashing in on the results, so I suppose I'm one of many. Looking back on lockdown, I can see now that I was building up to something but I think I was playing the classic distraction game and pretending to myself that I wasn't!
When you repeated Equilibrium you said it had a V10 crux, F8b+ climbing and was a full grade harder than the other E9's that you'd done at that time. How do the numbers stack up for Final Score then in comparison with Equilibrium?
It's hard to compare routes of different styles but I definitely feel that Final Score took more out of me than Equilibrium. It requires a broader range of skills and you need to have sport fitness as well as bouldering ability and a cool head for the bold sections. You're on it for so much longer than a grit route and it's all about keeping it together and conserving mental and physical energy for the final headwall. Overall, I'd liken it to leading one of the big F8a+/bs in Yorkshire like Predator or The Groove, but with really spaced gear, some of which can't be trusted.
You describe Final Score as climbing directly up the centre of the main wall of Iron Crag; in effect adding both a direct start and a direct finish to Dave Birkett's already fearsome If 6 was 9 (E9 7a/F8a+). It's a very obvious – glaringly obvious in fact – gap on the topo; when did you first switch onto it as a possible line and what were your thoughts initially having inspected the route?
You're right that the line couldn't be more obvious and it appeared to be a clear challenge. I must say that I was astounded that it hadn't been done before but then on first inspection, I realised why. If 6 Was 9 is a tough proposition without having to add any additional climbing to the mix. I say this in the context of top-end British trad, which seems to have slowed down a bit recently (with the exception of the activities of a small few). There are countless international climbers who would eat this line for breakfast yet in the UK you can count the climbers who are doing this sort of thing on one or both hands. The focus definitely seems to be on other stuff at the moment but as we know, these things go in cycles.
Let's talk about the nitty-gritty. The start then; can you describe the start?
The new start is a really pleasant piece of climbing. It doesn't contribute to the grade and Craig Matheson suggested E5 6b after climbing it last November. It seems to stay cleaner and drier than the original approach, so it's a good way to go.
Having done the start you get to the ledge of If 6 was 9. Is there a good rest there then?
You can stand around on the big ledge all day but this only prolongs the agony. The main issue is that you need to go up to the first peg and then down climb to extend your runners and this turns out to be one of the hardest parts of the entire route. You have to do a tricky and powerful V7ish boulder problem, which centres around a sloping undercut and if you fall off this, you'll hit the ledge and bounce off it. You then have to clip a peg from a really tenuous position and then reverse to the ledge. It's the last thing you need when you're so anxious to crack on and get it over with, and of course, if you fall off the down climb you'll need to start again!
When Dave MacLeod made the second ascent of If 6 was 9 in 2007 he said the climbing was F8a+ sport but protected by three poor pegs and summarised it as "steep, physical and pumpy but positive." Is that how you found it?
I'd say that's spot on. You definitely do not want to test the top peg from the crucial last 'roll over' crux move. For the record, the original top peg fell out when a block detached itself (proving Dave Macleod's assessment to be pretty accurate) but Craig Matheson found a new placement for the shortest-length knife-blade just to the right, which is possibly even worse than the original peg. This can be backed up with a skyhook, which of course, takes extra time and effort to place and certainly doesn't offer guarantees. All told, this amounts to bodyweight gear that you can lower-off but it probably wouldn't take a shock-load.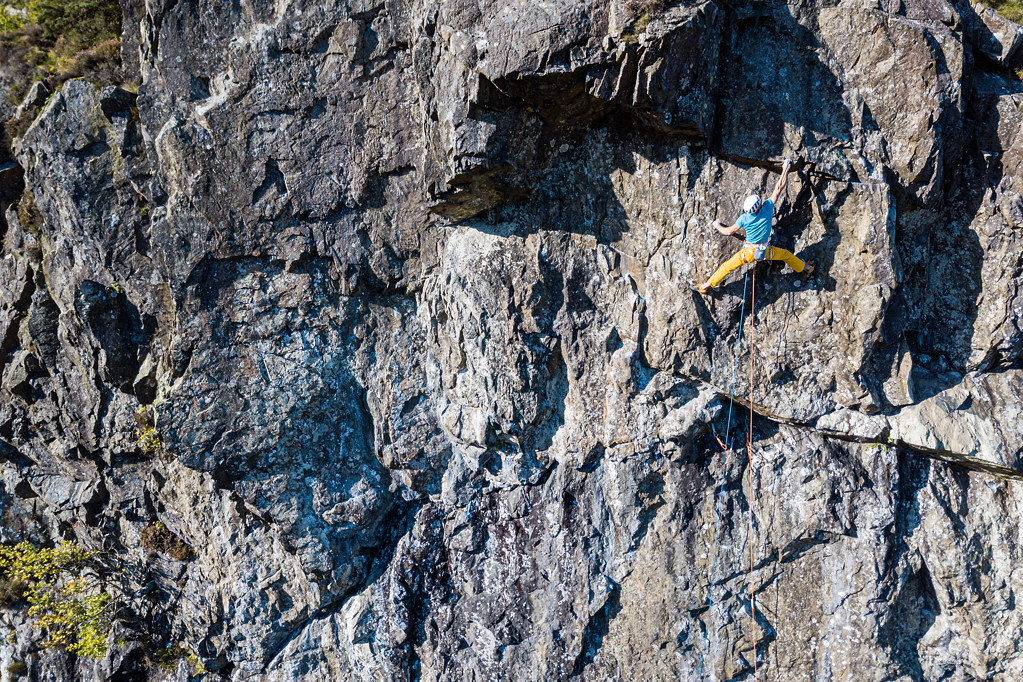 The direct finish you'd already done earlier this year when you added Way out West (E8 6c). Does Final Score take in all the hardest climbing on that?
Yes, for sure. I'd looked at a couple of alternative ways up the headwall but for me, this was the purest line as it is completely inescapable once you commit to it. You're effectively adding an E8 to an E9 and whilst I wouldn't say that this automatically gives you an E10, having led it, I felt that the headwall adds something significant. It was a very daunting decision to leave that rest, knowing that if I dropped the headwall I'd have to climb If 6 Was 9 again. And in fact, the last few moves of the headwall were the closest I came to blowing it, as I was pumped out of my mind.
Having ticked off a three-year project, are you having a well-earned rest for a bit?
Yes, I'm off my tough nutrition regime already and enjoying wine, cakes and more time with the family. Regarding future plans, I bolted a line at Kilnsey in 2018 that I'm really keen to finish next year and I think I might take a break from Lakes trad for a while. Or at least, a short while!
---
We will be sharing more of Neil's thoughts about his preparations for the big lead of Final Score and how he handles the mental pressures of hard trad climbing in a forthcoming issue of Climber magazine so keep an eye open for that.
Neil is sponsored by La Sportiva, Petzl and Osprey Europe. Click here to follow Neil on Instagram.
Click here to see more of Steve Ashworth's images on Instagram.