Neil Gresham adds Freakshow F8c at Kilnsey
August 4th, 2015
Just weeks after adding Straight Jacket F8a+ at Malham (click through here for our report) and proving that the Dales still has some quality lines left, Neil Gresham has added Freakshow F8c at Kilnsey.
Neil Gresham in 'victory pose' mode having sent Freakshow F8c. Photo Facebook
Following the time-honoured summer switch to Kilnsey away from the heat at Malham, Neil Gresham cast a beady eye on the monster capping roof that houses Mandela – amongst others - and promptly came up with a new line which he set to work on.
Neil, who is well-known for his training, cranked his own training handle – with a little help from Stevie 'tough task-master' Haston. By the end of July Neil was getting close as his long-time friend Charlie Woodburn said on social media: "Edge of seat scenes at Kilnsey yesterday as Neil Gresham gets as close to sending his project as you can get without clipping the chain. Looks like the burger and chips will have to wait for a couple more days."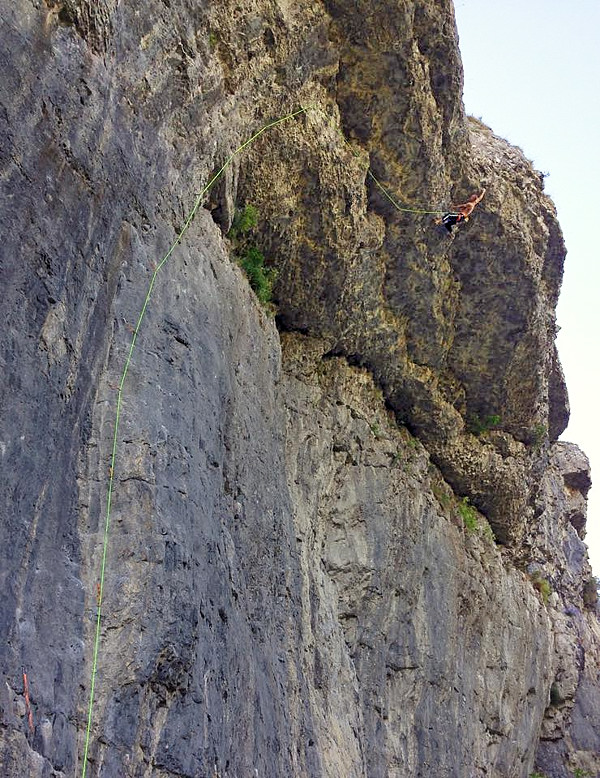 Neil high on Freakshow. Photo Charlie Woodburn FB Page
Success came a day or so ago. Neil was quick to thank his belayers as well as his wife for their patience before beginning a period of R&R: "I intend to be less boring & obsessive now."
By common consent, Freakshow looks destined for classic status and the hounds are queuing up for the second ascent. Watch this space – as they say…