Muy Caliente (E9) for Findlay
Hazel Findlay has made a successful repeat of Muy Caliente (E9 6c) in Stennis Ford, Pembroke.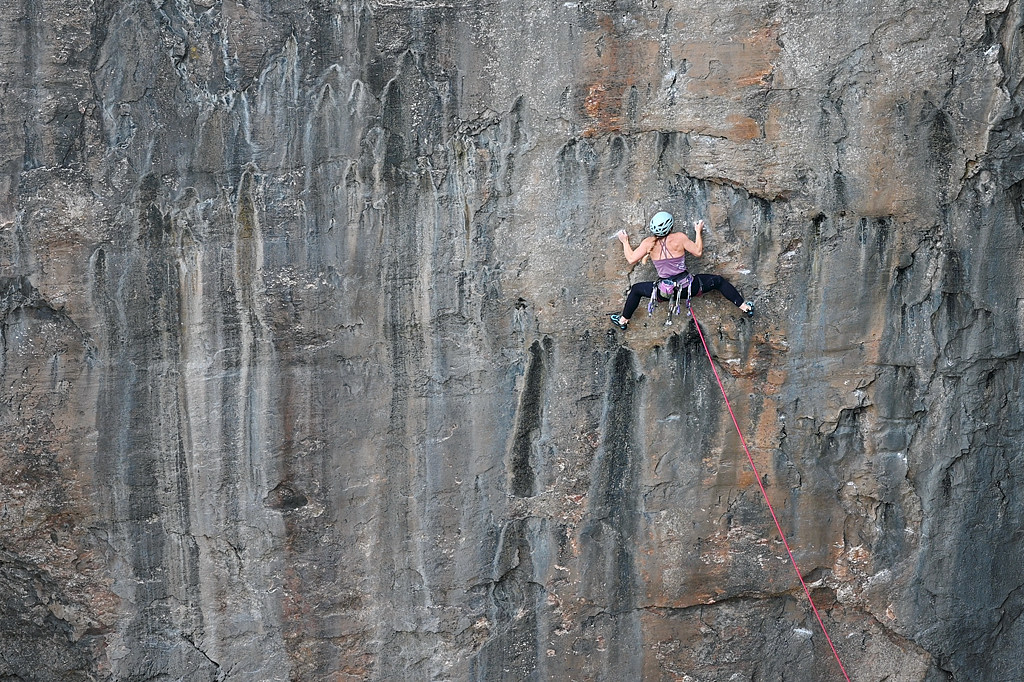 By her own admission Hazel Findlay's ascent of Muy Caliente – Tim Emmett's test-piece route in Stennis Ford, Pembroke – wasn't done in optimal conditions. Most climbers create a picture in their mind's eye about what their successful ascent will 'look like'. Findlay talks about exactly that in her online write-up saying; "I always thought that if I ever tied in to lead Muy Caliente (classic run-out E9 in Pembroke) I would make sure that everything was perfect: there would be no second-guessing, I'd feel fit and strong on the moves and the conditions would be ideal."
Like many, Findlay's ascent wasn't quite like that; "I almost fell off halfway through the runout on the short-person crux. This additional move for shorties is the hardest on the route and very insecure - a fall from here would be huge but hopefully safe, although I wouldn't want to test it! I had to line 3 wet pockets with tin foil to keep my fingers dry, which turned out to be a really useful trick borrowed from the Frankenjura! Who knew this was a thing?! 🤷♀️
I was so nervous before tying in, wondering whether I was making the right call to climb such a serious route with so many doubts. But sometimes you can't wait for everything to be perfect and you have to go for it anyway. I told myself I'd just climb the easy start and see how I felt, knowing deep down that backing off was unlikely. At the rest, before the runout, I used all the methods I know to lower my heart rate and manage the stress but my heart was still pounding. Setting off up the run-out and committing to the route felt like a relief in comparison to the uncertainty of pacing around beneath the route. I briefly considered down-climbing after feeling the greasy first crimp of the crux, but harnessed my inner @timemmett and decided to go for it. A power scream kept me on the rock and I managed to keep myself together for the rest of the route."
Before her ascent of Muy Caliente Findlay wrote about how she had been juggling with her personal climbing, coaching and doing an MSc. Heading down to Pembroke with a view to getting Muy Caliente ticked off requires more than a degree of tenacity; something which she has in spades! Findlay's is the second ever ascent of Muy Caliente by a female climber, the first female ascent was done by Babsi Zangerl in 2017. Having tried it first some time ago, Muy Caliente is Findlay's latest addition to her glittering CV which includes numerous hard trad/sport climbs such as Mission Impossible and Magic Line both of which she's climbed in the last couple of years. Click through to read the reports into her ascent of both these routes.
Tim Emmett did the first ascent back in 2010 and graded it E10 7a but it's 'settled' back to E9 6c since then.