Multipitch success for Vanhee and Berthe on Fly in Switzerland.
On Monday June 14th, Belgian duo Siebe Vanhee and Sébastien Berthe made a successful ground-up free ascent of the 20-pitch (550m) test-piece Fly (F8c) in Lauterbrunnen Valley, Switzerland.
Siebe Vanhee reports that this fairly new multipitch, opened by Roger Schaeli (2004-2008) and freeclimbed by Alex Megos (2014) and Cedric Lachat (2019), had been on his list since he's set his mind on climbing hard multipitches. Climbing with fellow Belgian, Sebastien Berthe, the pair left on June 12th to attempt a ground-up free ascent in as little days as possible. Having read reports of Cedric's ascent they planned to be on the wall for a maximum five days. Professional photographer Julia Cassou accompanied them to record their ascent.
Siebe reports on their ascent:
"Seb and I left the base at 7am in the morning, with our portaledge and haul bag fully packed for an autonomous sent. The aim of the day was to reach the ledge below pitch 17, swinging leads, climbing everything free and hauling our household with us. It seemed like an ambitious plan considering the heavy packs and the sustained grading in the high 7th grade. But the sooner we got on the ledge the sooner we could tackle the three upper crux pitches. The first nine pitches are slabby, hard to read and were quite dirty. This didn't hinder us to climb them almost all on-sight, except for two F7c's. We were surprisingly quick, at 2:30pm we arrived at the ledge, just in time to get roasted in the sun without losing precious skin on our fingers! That same night, Julia joined us on the ledge and installed some static lines to shoot our ascent from above the following days.
An early morning start was necessary to get as much shade as possible. This west facing wall gets sun at 2pm. This time Seb started off, he immediately on-sighted the F8b (pitch 17) off the ledge. Setting the bar high for the day! I was nervous but managed to quickly flash the route after my partner while Julia was dangling above us capturing every emotion. We continued the climb with a F7b+ pitch up to the start of the crux of the whole line, graded F8c. I took off first, for a long journey towards the anchor. Slowly I found the beta, brushed and marked all the holds to make it look like a climbable piece of rock. Tackling an F8c pitch on an alpine limestone multipitch can be quite intimidating. There is dirt, no chalk and an incredibly exposed atmosphere! After Seb worked the moves, I gave it a solid go but fell due to a hold that broke in the easier section. I gave it a third go. I felt tired, had no skin left and climbed nervous but dedicated to send, which I did! The sun started to hit the wall, a good reason for Seb to save his energy and skin for the next morning. We descended back to our portaledge camp and started our second sunbathing session.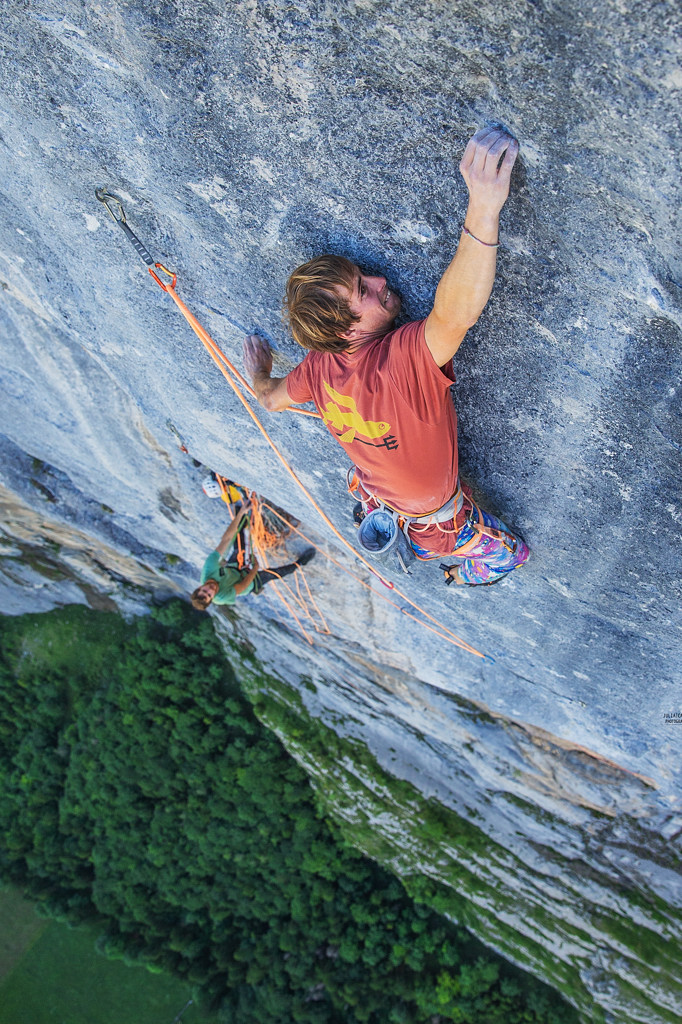 Day three, for me there was only one pitch left. Seb was in a more stressful position this time, having to still send the crux pitch. First thing in the morning, mentally strong as he is, he cruised the pitch up to the anchor. My turn again to work out the moves of the last, F8b+, pitch. This pitch is a 15 meter slab climb with one powerful move of a small flat crimp. Move by move I brushed and found the beta again, it didn't seem too bad in the end. Again, Seb took his turn and worked the moves. I gave it a try and fell after the crux move due to a microscopic edge that broke below my ring finger. I came down immediately and gave it a third go straight away. With two fingertips taped and two others completely cracked and bleeding I crimped through the section and send this last pitch! There was no option to recover skin or put on more tape. Anyway, for a last pitch of such a difficult and long multipitch I didn't care about the skin anymore. Although I reached the anchor, it wasn't over yet. Seb still had to send. Two more tries later he did and the joy was felt by all three of us! A third and fourth free ascent of Fly, an amazing adventure on the wall, quality images and some great vibes with a cool crew!"
Finally, Siebe shares his thoughts about the grade of Fly:
"Climbing a first ascent and grading it can be pretty complicated. A first ascent is often dirty, intimidating and requires a lot of mental strength. It's known that the grade of a climb needs several repeats before it can settle at his definite grade. So, it's logical that repeating difficult climbs like this always raise the question about the grade. With Fly it isn't any different.
Based on my experience establishing first ascents, the repeats of the most classic difficult multipitches in Europe by Seb and myself and some phone calls with first ascensionist Roger Schaeli and Cédric Lachat who made the second free ascent, we suggest Fly to be graded F8b+.
It is never easy to grade a multipitch climb because it depends on so many factors. We tried to grade the pitches how we experienced them on the wall, with dirty holds, no chalk and destroyed fingertips towards the end. Getting on the route ground-up, we didn't work the pitches in advance. Also, we took in consideration our personal strengths; being vertical and technical climbing on crimps and a good endurance. We think it is important to give correct grades so the route can be approached with the right intentions and gets an honest reputation. Nonetheless my communication with Cédric, we don't agree about the grading of the last pitch. This short technical pitch was graded F8b+ by Megos and Cédric. For Sebastien and I it honestly felt more like F8b. We also realize that we had favorable conditions on the wall for climbing such a condition depending route. But having good conditions seems to us the best way to correctly grade a climb. Anyway, we curiously wait the reactions of future repetitions!"