Mt Kinabula, Borneo hit by Earthquake
June 7th, 2015
An earthquake has hit the Malaysian island of Borneo. The latest officials reports are that 11 people have been killed and a further eight are missing.
The US Geological Survey said the quake happened at around 07:15 local time (00:15 BST) on June 5th, at a depth of 10km (32,800ft). The epicentre was 54km (33 miles) from Mount Kinabalu, which stands at 4,095m.
A Tweat from the tourism minister for Sabah state, Masidi Manjun.
Mt Kinabulu is a popular destination for trekkers who come to attempt the challenging "via ferrata" climbing route, where cables, metal rungs and bridges are set into the rocks on the steep terrain to help climb Mt Kinabula.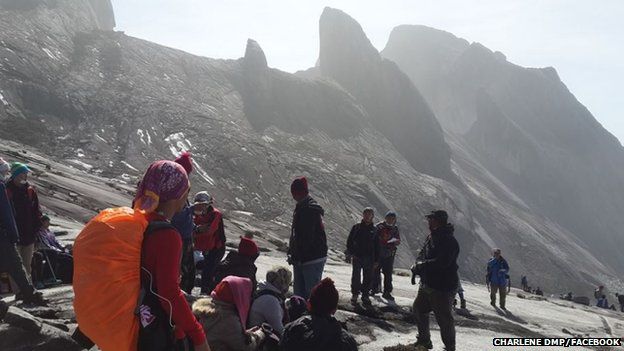 Groups on Mt Kinabula after the quake. Photo Charlene DMP/Facebook
It is believed that c.150 people were on Mt Kinabula at the time of the quake. Bad weather and falling rock is said to be hampering their descent off the mountain.
Earlier this week we reported that top climbers Yuji Hirayama and Sachi Amma had just returned from a successful climbing trip to Mt Kinabula. Click through here for that report.
It appears that the quake was strong enough to 'snap off' the topmost section of one of the impressive stand-alone features – locally called 'The Donkey's Ears' - that we believe Hirayama and Amma had been bolted and were attempting to climb.
Following the earthquake all activity on Mt Kinabula has been suspended.