Moran and Thomas "Boggled" by more Scottish Winter action
Monday 15th December 2014
Dec 15th 2014
Undeterred by their rope chopping adventure last weekend in Coire an t-Sneachda, Messrs Moran and Thomas were back in action again this weekend scoring a major first winter ascent on Triple Buttress, Beinn Eighe.
Storms had battered Scotland for much of the week and the SAIS (Scottish Avalanche Information Service) was reporting high avalanche risk on many of the Scottish mountains. Therefore, Martin Moran and Robin Thomas elected to go west to Beinn Eighe for the predicted weather window on Saturday 13th. Triple Buttress on Beinn Eighe is famous for its remote and beautiful setting as well as top quality routes on sandstone and quartzite cliffs up to 300m high. Of the c.200 hundred routes on Beinn Eighe, Moran and Thomas's target was Boggle. First climbed in summer by the late Robin Smith, Boggle is on the Eastern Ramparts of Beinn Eighe. Moran believes Boggle to have laid fallow for years except for an Andy Nisbet ascent 10 years ago after which it collected an E1 grade to go with its three-star status. It was one of the few routes which hadn't had a winter ascent and as such it was an obvious target.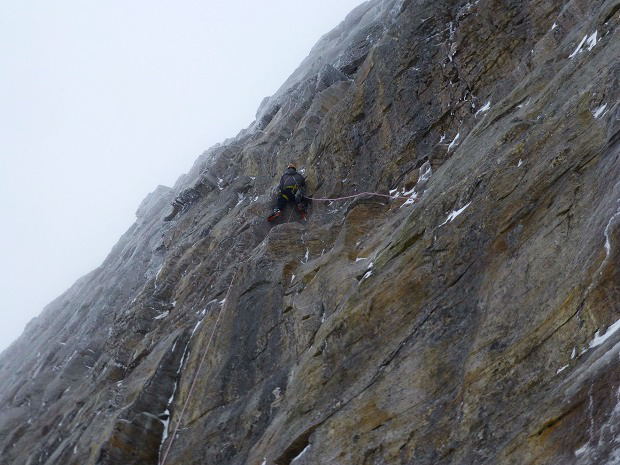 Robin Thomas on the first pitch of Boggle. Photo Martin Moran
Moran picks up the story from the head of Coire Mhic Fhearchair. "We left a sack and ski poles on the summit and dropped into the head of the corrie. With that commitment civilisation is left behind. This "into the wild" sensation is one of the enduring attractions of climbing on the Triple Buttresses. Deep beds of wind-drifted snow alternated with bare frozen areas where the vicious westerlies of recent days had scoured the ground. Traversing towards the Ramparts the morning mists cleared to reveal a light sugar-coating on the cliffs coupled with a lattice of snow streaks in every groove and crack."
Moran describes Thomas's efforts on the first pitch, "The climbing was fascinating in its sustained complexity" and the situation "an immensity of monolithic grey walls". Moran then led the second pitch commenting; "The flakes and corners were obvious, the flanking walls bare and smooth." The third and final pitch sounds equally engaging as well, Moran again; "Darkness was all but complete as Robin moved left then bridged deftly up the slot defined by two huge projecting capping blocks. He disappeared into a soaring chimney groove. Waves of sleet and a rising breeze marked the onset of the warm front due to hit that evening".
Martin Moran on Pitch 2 of Boggle. Photo Robin Thomas
They finally topped out just after 18:00 and then trudging back through the gathering storm managed to get back to the car at 20:30.
Robin Thomas setting out on the third and final pitch of Boggle. Photo Martin Moran
Boggle (VIII, 8)*** joins no less than four other routes graded VIII, 8 with three-star at Beinn Eighe - Sundance, Hydroponicum, Blood Sweat and Frozen Tears and Bruised Violet. Top honours however go to Shooting the Breeze (IX, 8), a Greg Boswell and Guy Robertson addition from 2013.
Boggle (VIII, 8)*** Route Topo. Photo Martin Moran
To read Martin Moran's full account of the first winter ascent of Boggle (VIII, 8) with Robin Thomas, click through here for his blog entry…