Molly Thompson-Smith talks about Mecca, comps and (shocker…) winter Grit!
Friday 10th November 2017
Nov 10th; 2017
As reported earlier this week, Molly Thompson-Smith demolished Mecca (F8b+) in just three sessions before jetting off to Kranj for the show-down Lead comp of the 2017 season.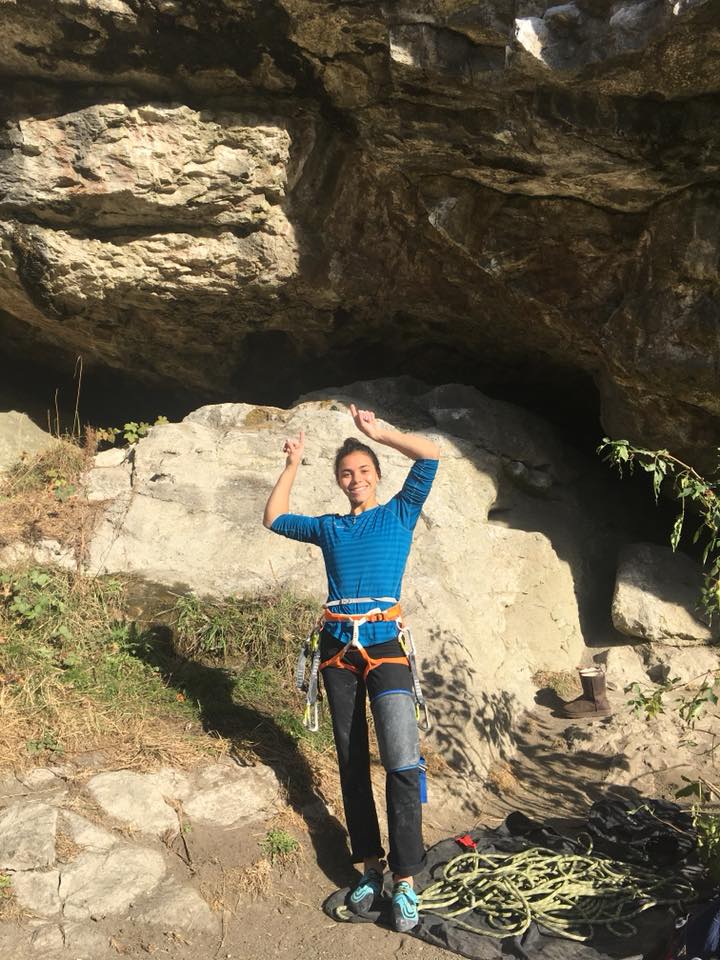 Molly standing beneath Mecca. Photo Billy Ridal

Mecca is one of, if not the, quintessential UK limestone test-piece F8b+'s seeing numerous attempts and ascents each year. Martin 'Basher' Atkinson's own last-minute ascent back in 1988 seemingly set the scene for Mecca following which there has been many 'stand-out' ascents - and 'non ascents' for that matter - over the years. The fastest ascent of Mecca ever goes to Alex Megos with his second-go ascent back in 2014. Jim Pope's three-day ascent, when aged just 15, remains the youngest ascent yet. Mina Leslie-Wujastyk added her name to the list when she became the first ever female to climb Mecca (and F8b+ in the UK) back in 2012. Molly's ascent should also get added to that list given that it only took her three days in total and it was her first ever route at the Tor! In fact her hardest route prior to Mecca was an F8a+ in Thailand! As we say, Molly's own ascent came just hours before leaving for Kranj for the final 2017 Lead World Cup comp. For whatever reason Mecca seems to be that test-piece that keeps on giving epic ascents!
Molly in comp mode. Phote Circuit Climbing
CLIMBER (metaphorically) sneaked a bunch of questions into Molly's hand-luggage as she was boarding the plane to Kranj and she's been able to get on-line and fire some answers back our way. Strap yourself in for an amazing ride aboard MT-S airways…
You've started climbing more outside this year; is there a particular driver for this or is it that you're spending more time in Sheffield and the climbing in the Peak District is just so good?
I've actually spent most of this year abroad; I started off the year travelling for my Gap Year with the intention of skipping the 2017 WC season, but I ended up coming home way early in April and playing catch-up for the start of the season two months later! After that I spent most of the year training for the competitions and then competing and staying out between competitions in Europe. I even had two weeks in China so I feel like I haven't spent much time in the UK this year! So I guess I haven't really had the opportunity to get outside so much, and during the competition season my focus is on training inside. However, I couldn't resist getting away from the wall and out to the Peak in the three weeks break I had between the China tour and the forthcoming final World Cup in Kranj. I have just moved to Sheffield so plan on making the most of the wonderful Peak District over the off-season and trying to squeeze in some sessions here and there before the competitions start!
Just recently you repeated Tsunami at Rubicon. That was your first Font 8A outside. What attracted you to that and can you see yourself doing more bouldering outside?
I wrote a few goals for the year once I returned from my travels in April, and bouldering an 8A in the UK was on there after I did my first 8 in The Grampians. The other week I realised I didn't have much time to get some of my goals ticked and so headed back to Rubicon to put some more work into Tsunami. My boyfriend Billy Ridal had introduced me to Tsunami last year as he thought it was my style - kind of basic and mainly pulling, and a test-piece. I had two sessions on it then but it felt a little above my limit and didn't get a chance to go back to it. I feel a lot stronger now than I did then so I wanted to see if that was actually the case and it felt a lot more reasonable this time around and I was able to do it first session back. I would most definitely like to make the most of living in Sheffield and get out more. I've done quite a bit more bouldering outside (though still not a lot!) than sport so would like to see how far I can push myself on a rope for now, but would love to venture into the world of Grit this winter!
Molly on Tsunami. Video grab (Billy Ridal)
Do you think that the fitness you have from comp climbing has helped you with climbing Mecca so quickly or is it the other way round and you think that climbing outside will be good for your comp climbing?
I think all the training I have done for the competitions definitely helped me on Mecca; I've been doing quite a lot of fitness and endurance work to be in shape for Lead so having that extra bit in the tank was useful. But I do think that climbing outside is improving my footwork and technique, and also teaching me about how much rest I need to feel good for a send burn - something I don't really work on in training.
With the final WC lead comp coming up (literally, tomorrow!) how's the preparation for that going?
I feel as prepped as I could be for Kranj, and have been training a lot, and hard for this last one. Kranj is always my favourite competition as it usually has a more powerful set of routes which I think route setters don't give to girls that often, although this is changing! I'm looking forward to seeing how I fare this year with the confidence boost of a good season and some more fitness and strength!
So … lets get to Mecca then. You nailed it on your 3rd day?
Mecca took me three short sessions: I had one go working the route from top to bottom and then waited a week before returning. In my second session I had one go familiarising myself with my beta and on my first redpoint go my foot slipped on the last move (for me) and I punted off going for the jug after the crimp! Coming so close so fast I was persuaded into giving it some more goes that day but falling off low down three times I realised I was far too tired to get through the bottom bit and was yet to go training that evening. I came back on my way home before leaving for Slovenia and again had one go to work out some beta so I didn't drop the last move again and then sent it next go.
You were seen romping across Ben's Roof the other day. Tell us about that; for example, is that the only other thing you've done at the Tor? Oh, and what was it that attracted you to Mecca?
Ben's Roof is the only other hardish thing I've done at the Tor yes! It took me three sessions (finished it in May 2017) and felt pretty hard! Climbing F8b sport outside was another goal I'd put down on my list for this year and again I realised I didn't have much time to put some work into something! Billy encouraged me to try Mecca even though it was F8b+ and thought I'd get on well with it. I watched some videos of people doing it but I can never tell how hard something is or if I'll get on with it from just a video. I decided to play on it whilst I had these three training weeks between China and Kranj and after doing all the moves on my first go I was hooked.
Your ascent of Mecca is one of the fastest ever. Did you think you'd do it quickly and how did it feel to you?
Before trying Mecca I'd done one F8a+ route in Tonsai and 2 other F7c+'s so thought a target of F8b for the year was fairly ambitious, especially as I feel like a bit of a novice when it comes to outdoor sport still. However after my first go on the route I got the feeling it was just my style so I knew it would be possible. How fast I could do it would just depend on me finding the best and most efficient beta and just having 'one of those goes'! With the weather getting colder and having to go away for more competitions I was worried it'd be too cold for me (soft southerner!) and potentially wet when I was finally able to focus on climbing outside. So the lack of time I felt I had pressured me into doing it quickly I think!
What was the hardest aspect for you?
I found two parts of the route more difficult than others - the first being the start of the route; the first big lock out left and then the next move up into the slot felt hard to me. Secondly finding feet that worked for me for the last move took some time - most people can keep their foot in the top of the groove and drop-knee for the finish but the groove is too low for me so I had to work out some new foot beta. But once I did the move felt much easier!
How satisfying is it to have done Mecca and what are the main points that you have taken from the experience? Do you think that will encourage you to get onto other hard routes at the Tor - perhaps one of the Mecca extensions?
I was relieved to finish Mecca off on my last day in the UK before knuckling down on competitions again - it certainly would've still been on my mind if I had left it unfinished business! I'm pretty psyched I could do it quickly and I can't wait to get into projecting and see how hard I can push myself outside - I know roughly where I'm at inside but outdoors feels like a whole new world with loads of opportunities. I'd definitely like to get on some other routes at the Tor and try and get some of the classics done. For now I think I'd like to try and get a few routes done and sample some more of the climbing at the Tor and in the UK, but in the future I'd like to go back and see what the extensions are like!
Thanks to Molly for the fascinating look into her inside/outside climbing world. Finally, CLIMBER wish Molly and the rest of Team GB the best of luck in Kranj this weekend.
Click through here to read about Molly's Sky Sports Scholarship, which we previously reported. Alternatively, click through here to keep in touch with Molly's FaceBook page and to watch her doing Tsunami.