Molly Thompson-Smith climbs her first Font 8B
Molly Thompson-Smith adds Keen Roof to her CV as her first Font 8B.
As anyone that follows Molly on social media knows she's been smashing out the bouldering of late with hard ascents on both the grit and lime such as Full Power (Font 8A) at Gardoms and a flash of The Hulk (Font 7C+) at Crag X. Molly has also taken a few scalps at the notoriously difficult School Room where she's climbed her first Font 8A and 8A+ in the same week.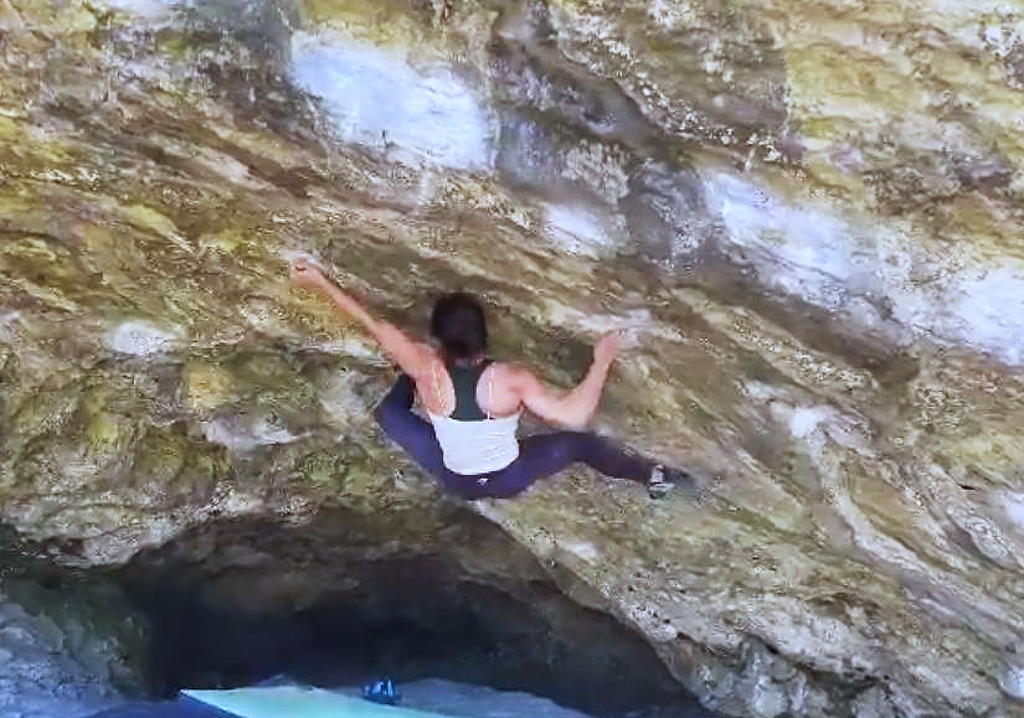 "Covid travel restrictions, cold weather, training focuses, no keen route partners have all led to me spending a fair bit of time bouldering locally in the Peak District! It's just been a lot easier to get out for a couple of hours after training and try a boulder or two." Molly told Climber. Known more for her leading, concentrating more on bouldering wasn't so much a deliberate strategy change more about taking advantage of the rocks on her doorstep. Molly again: "Considering I've lived in Sheffield on/off for almost five years I've barely climbed in the Peak - especially bouldered on grit! So I was really keen to change that after a year in Germany. I'd like to do some sport climbing too, but that might have to wait until I'm in Europe for the lead World Cups this summer... hoping for another Céüse trip."
Continuing her focus on bouldering Molly threw her mats down under Ben's Roof at Raven Tor earlier this week. On only her second session on James Pearson's testpiece Keen Roof, Molly cruised it. Weighing-in at Font 8B, it's Molly's first of that grade. She's now the fourth British female climber to boulder Font 8B or harder after, Shauna Coxsey, Mina Leslie-Wujastyk and Frances Bensley.
It seems that Keen Route fitted Molly like a glove; a great choice for her first Font 8B and a bit like a mini route almost? We asked her how it felt. "I guess it's not much shorter than some of the routes I climbed in the Frankenjura last summer ha! But it didn't feel so long for me - maybe because I've been doing a lot of base endurance training recently? I found the crux of the boulder the foot sequence before the big slap up to the lip - stepping my right foot down to release the heel and get set up for the big move was really tensiony for me and definitely took a little bit of power. It was all about finding the right body positioning for me and remembering how each move 'felt'. Once I had found each foot position and figured out where I needed to be for the release onto the lip it didn't feel so bad. I wasn't so much pumped on the lip, more really trying to keep focused and not relax - it's not over till it's over!"
So what other boulders does she have her eyes on? "I'd love to put some time into Superman after having a good day there a couple of weeks ago. It's getting quite warm so I'm probably going to stick to the lime for a while now. Otherwise, I'm not too sure actually - I expected Keen Roof to take a bit longer and be my focus until I really have to focus fully on comps in a couple of weeks. I'm open to any boulder suggestions!!"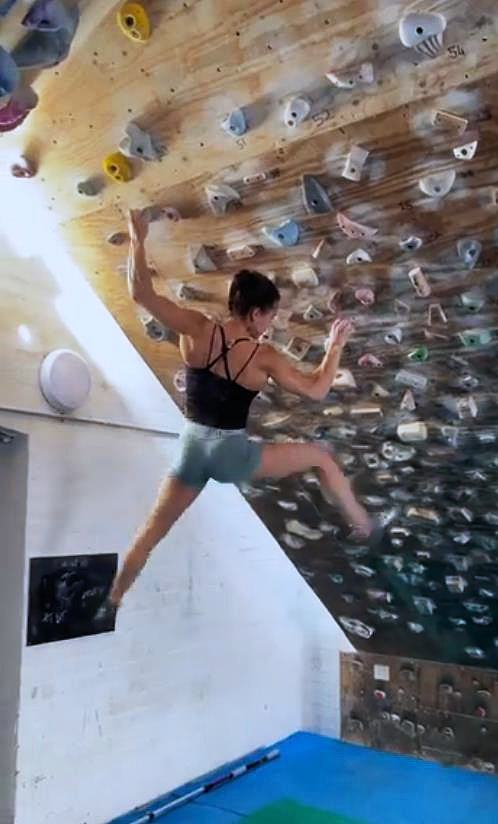 What about Hubble? That's bouldering on a rope so that ticks both boxes and the first female ascent would be sweet too? "It's been a dream of mine I never thought possible, but now I'm ready to at least have a go! I really love trying things that people think are too hard/reachy for me, or that haven't had female repeats - adds an extra layer of satisfaction if you're able to succeed! Hubble wise there's a long move at the very start, so that's my biggest concern. But I'm so psyched to give it a try!"
So did she have a favourite rock; grit or lime? "I like them both!" she said, adding "But I'm much better on the lime and can have a good go at most things. On the grit I have to be pretty selective with what I try - sometimes it's just too reachy for me. I'm a lot more consistent on the lime - I can struggle loads on Font 6A+ more than harder things on the grit haha! Still makes for a good day out but definitely a different type of climbing for me - more a fun social day out. I think my finger strength is one of my biggest strengths as a climber so the lime allows me to really push myself exactly in my strongest area, which is always fun! I have to admit the scenery when climbing on the grit is much better though."
Bringing the focus back to indoor climbing and competitions we asked Molly about her training. "Yeah, I'm really happy with how my training is going at the moment! Having something like the School board is great for measuring progress, and I have been tracking my climbing on it over the 5/6 years I've been climbing there. My training has been a lot of 'foundational groundwork' so seeing improvements on there and climbing harder stuff outside is a really pleasant surprise! Maybe that's why I feel like I'm climbing so well? No expectations as I'm going pretty hard in training at the moment so it's rare that I feel fresh!"
And finally, what about the first competition for the year? "Fingers crossed I'll be out with the GB Team in Salt Lake City next month for the next 2 rounds of the IFSC Bouldering World Cup. After that, I'm staying positive and optimistic and plan on doing the full Lead World Cup season starting in Innsbruck in June."
Follow Molly online via her Instagram page here…