Molly Thompson-Smith climbs first F8c
Wednesday 5th December 2018
Dec 5th; 2018
Molly Thompson-Smith's return to form following her horrendous finger injury nearly 12 months ago continues with a redpoint of La Fabelita (F8c) at Santa Linya in Spain.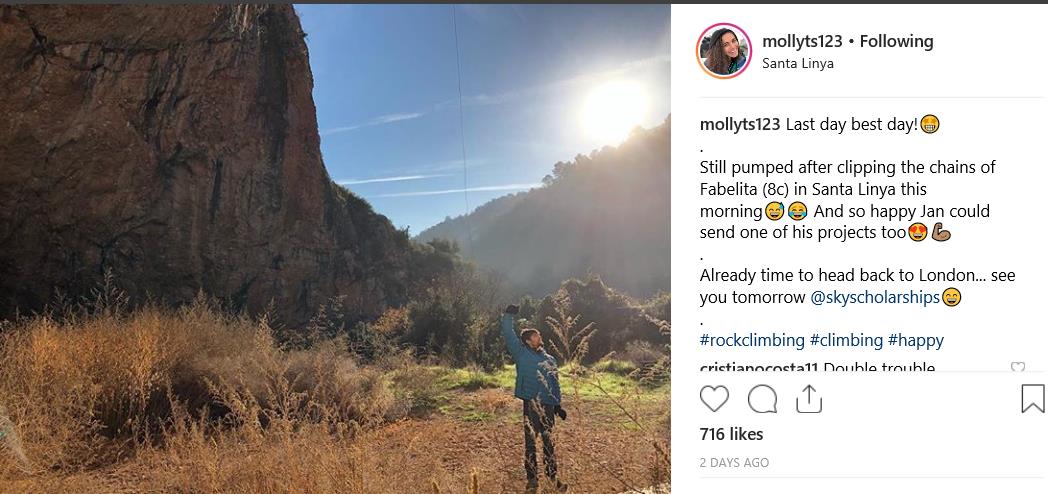 Molly's IG feed.
Following recent trips to both Kalymnos and Siurana, Molly returned to Santa Linya having first visited last New Year. However, unlike last year when she had a ruptured finger tendon, this trip Molly was fighting fit and determined. Climbing La Fabelita on her last day she posted on-line; "Last day, best day". Molly's ascent of La Fabelita not only signals her continuing good form but a recovery from the finger injury. Molly has now added her name to the growing list of UK female climbers to have climbed F8c.
CLIMBER asked Molly to reflect on her trips to Santa Linya, Siurana and Kalymnos and asked her which she found most satisfying and why; "I'd say Kalymnos was a great trip for me; it wasn't the trip with the hardest routes, but felt more about just climbing lots and getting more comfortable outside, not just big numbers. It was definitely a 'holiday' (we even had a beach day!!) and was nice to just climb for fun after a stressful and at times upsetting year."
Molly explained her plans for the winter and 2019: "I'm back to training, and even back to Spain twice more! I'm really going 100% for next year's comp season but I also have some big goals for rock too. I'd love to incorporate more rock climbing into my comp training; I think there's a lot to be learnt outside, and much I can take with me into the mats!"
Molly also redpointed Kalea Borroka (F8b+) at Siurana.
Follow her on her IG page here…