Molly Thompson-Smith and Shauna Coxsey blast GB lead climbing onto world stage
Monday 13th November 2017
Nov 13; 2017
Cheered-on by the event and virtual crowd, Molly Thompson-Smith and Shauna Coxsey climbed their hearts out in Kranj over the weekend blasting GB lead comp climbing to new levels.
Climbing superbly Molly cemented her increasingly mature performances to finish in third place at Kranj and so collect a bronze World Cup medal – the first ever podium finish for a GB female athlete in a lead comp. "Speechless!" was Molly's response to the weekend adding "I didn't expect a session like this this year, what a perfect end to 2017!"
Molly climbing into third place at Kranj – the highest place and first podium position ever for a female GB lead athlete. (Video grab IFSC live stream)
Also wearing a GB vest and donning a harness for a comp for the first time in five years, and the first time ever in a WC lead comp, was twice WC Boulder Champion, Shauna Coxsey. Shauna showed incredible composure, skill and determination to climb into the final – obviously her first WC final ever - where ultimately she finished in a sixth place. It was, not entirely surprisingly, a star performance from a star climber. It amassed her sufficient points to collect the bronze medal in the 2017 Combined (Lead and Boulder), another first for a GB athlete as well.
Saturday's qualification round saw the usual master-classes from Janja Garnbret with tops on both routes. Inevitably, Anak Verhoeven, Jain Kim and local Mina Markovic, also posted solid performances as well. Molly and Shauna finished in seventh and eighth place respectively which, not only signalled their intent, but also earned them a place in the semi's on Saturday evening.
Shauna applying WC bouldering strength to the crucial section of Saturday's semi-final.(Video grab IFSC live stream)
Climbing in reverse order, as usual, Shauna was the first female athlete to master a particularly powerful and difficult crux on the semi-final route at about two-thirds height. Until Shauna climbed that section it wasn't looking good for the route-setters with all the climbers up to that point falling off the same move! Not surprisingly, the crowd went wild – could Shauna blast to the top? Finding a sneaky rest Shauna did indeed add more moves to her tally before coming unstuck on a capping roof.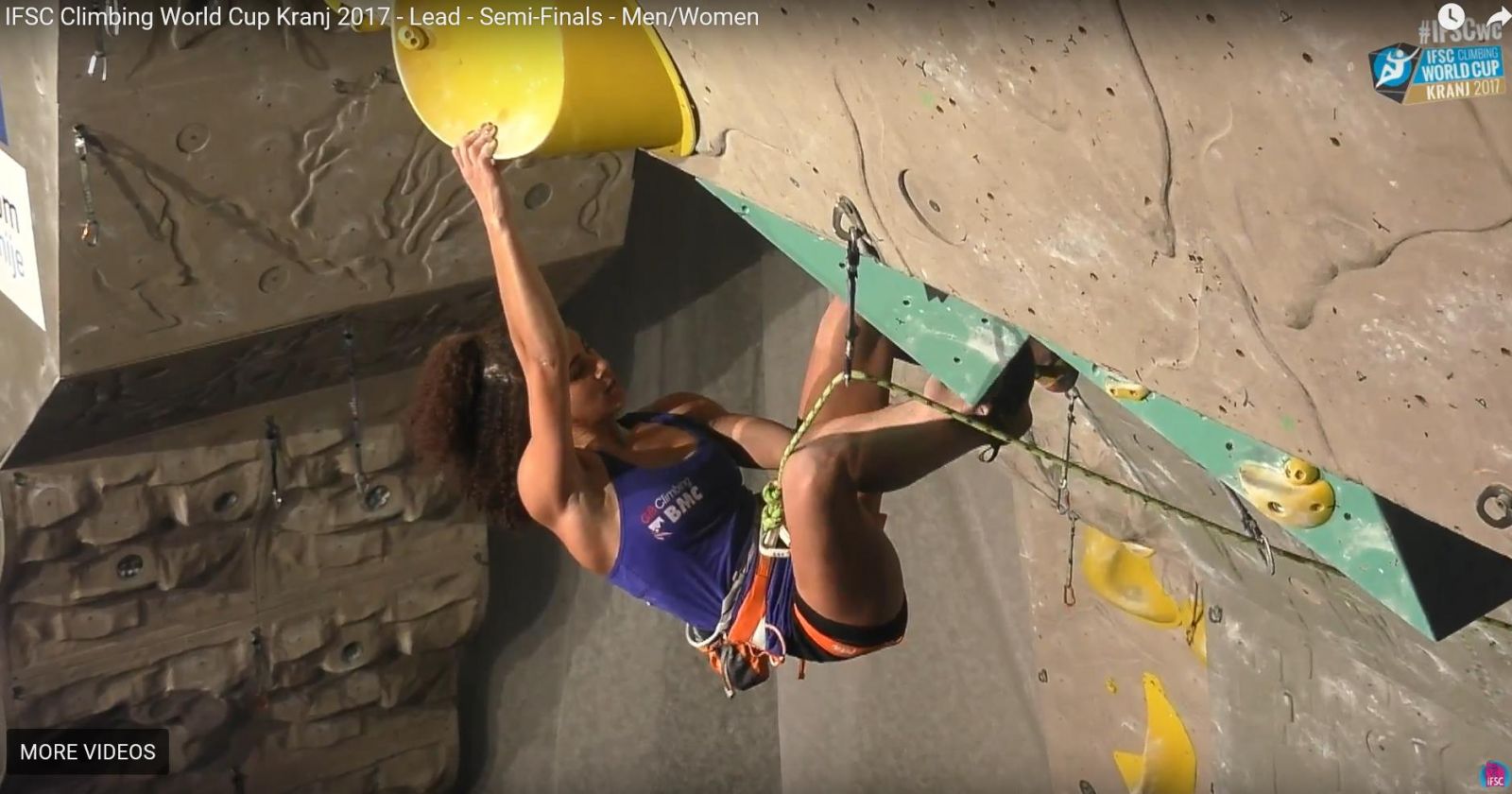 Molly and that sloper. The troublesome screw-on which Molly ignored is just visible higher on the hold. (Video grab IFSC live stream)
Molly was next up; how would she handle the stopper crux? Climbing smoothly as you like Molly duly arrived at the crux and then in a moment of inspired – and entirely natural – climbing, launched into the crux ignoring a high bolt-on going double-handed off the lip of the sloping volume instead. It worked – brilliantly in fact – and Molly ploughed on passing Shauna's high point finally falling off the move onto the headwall. Both Molly and Shauna had climbed superbly and, perhaps more importantly in today's results-driven environment, into the finals!
Shauna wrestling with the banana's in the final. (Video grab IFSC live stream)
Roll forward to Sunday evening and the final. Again the setters had concocted a(nother) gruesome crux section – using monster banana-shaped holds, with screw-ons – at about two-thirds height on the womens final route. Once again, Shauna was the first climber to make progress through this section; once again the crowd were in up-roar and out of their seats! Just when it was looking like a real upset was potentially on the cards Shauna's right-foot blew off. Shauna, rightly, was massively psyched with making the finals and finishing in sixth – to repeat, it was her first lead comp in five years and her first ever WC event - but in the rarefied performance environment that Shauna operates in, she was clearly disappointed: "…I can't help but feel disappointed" she said. "A foot slip left me standing under the climb confused and disgruntled. I had more to give. I really wanted to push to my max on this route, get pumped out of my mind and fight but I didn't get the chance." It's clearly been a massive learning experience for Shauna who – as you'd expected – is now gagging for more: "Admittedly this just makes me hungry for more."
Molly was next out in the finals and once again she climbed smoothly up to the crucial section. Repeating her Saturday performance, Molly once again adopted a different sequence for the crux. Switching hands on an undercut beneath the crux enabled Molly to lead into the crux with her left hand and hence get more easily established on the crucial banana. Molly's unique solution to the crux enabled her to press-on into the next section of powerful moves before falling off. At that point in the competition Molly went into the lead – doubtless much to the pleasure of thousands of avid followers screaming at their live streams! It was a super solid performance that was only bettered by two of the very best sport climbers in the world – Janja Garnbret and Jain Kim. Molly had climbed into third place in a WC Lead comp and so secured a podium position and bronze medal.
What a night and what a result!! A full report on the comp at Kranj, including how the rest of the GB team got on, will follow.