Mina Leslie-Wujastyk Totally Free II (F8b)
May 14th; 2018
On Friday of last week Mina Leslie-Wujastyk redpointed Totally Free II (F8b) at Malham. It's not the hardest sport route she's ever done but it sure is the longest and not surprisingly, it took a degree of fortitude to get the job done – something which Mina has in spades - plus some strawberry pencil sweets!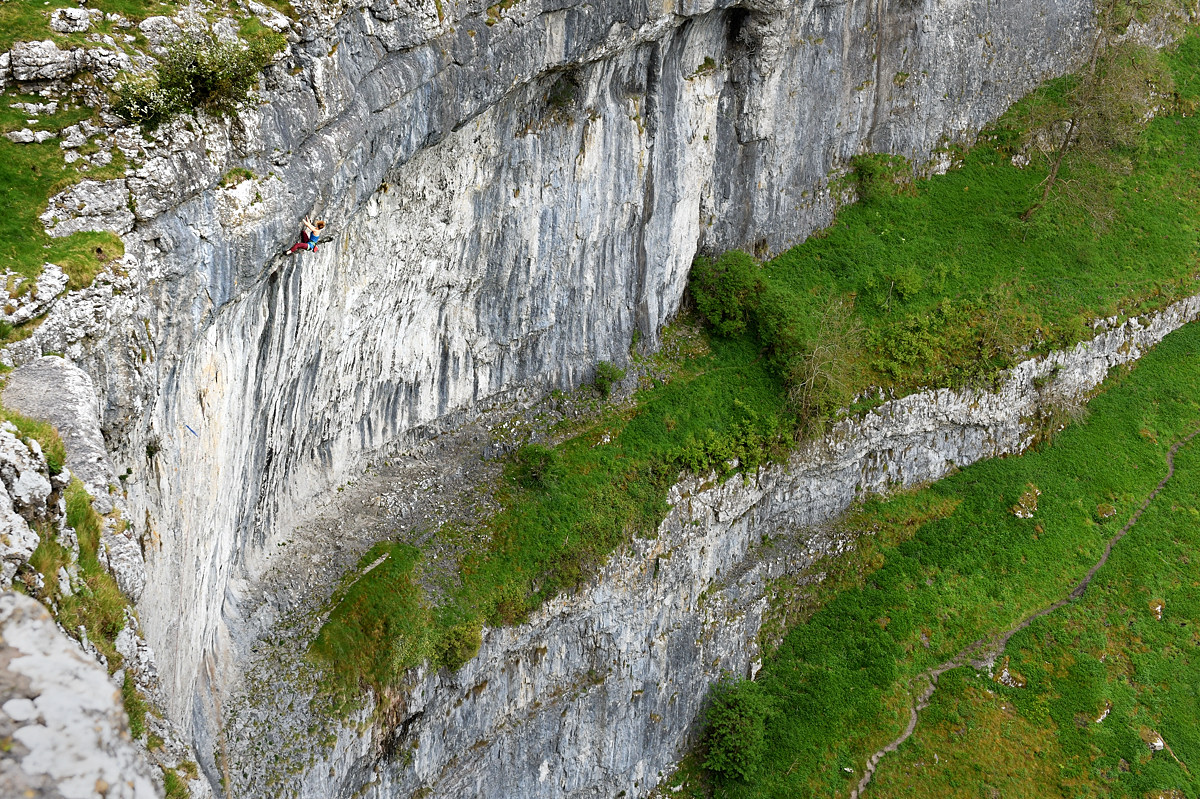 Mina Leslie-Wujastyk on the headwall of Totally Free II during her unsuccessful Wednesday burn. Photo: Keith Sharples
As anyone with their ear to the ground will know Mina has been working hard trying Rainshadow at Malham. As she reported on her social media page last week she's recently taken a break from Rainshadow; after 14 days at the grindstone over 7 weeks that's perfectly reasonable. However, Mina didn't jet off for a week in the sun she switched from one of the hardest sport routes in the UK to some of the longest. Well, they say that a change is as good as a rest don't they!!
First up was The Groove (F8a+) which she knocked off in double quick time. Some 35m in length, The Groove certainly isn't short. Mina had done Supercool in 2014 and Urgent Action in 2016 so doing The Groove gave Mina the final tick in the Yorkshire Triple Crown. That in itself is a fantastic achievement which has only been achieved by a limited number of climbers and even fewer women!
Having done The Groove, Mina then went upstairs and did An Uneasy Peace (F7c+); that's the upper half of Totally Free II – Steve Crowe's route from 2009, itself a variation on John Dunne's Totally Free from 1988. At an estimated 70m in length, Totally Free II (F8b) is the longest single-pitch sport route in the UK. Again, only a handful of climbers have completed it; perhaps it's needless to say all men. Clearly, Mina meant to address that omission and add her name to the climbers that have done it.
Mina high on The Groove – the initial 35m F8a+ section of Totally Free II. Photo Keith Sharples
At 4pm on Wednesday 9th May, Mina tied-in, left the catwalk and started up Totally Free II. An hour later, and in the face of in-coming bad weather, she had topped the final roof and was about 2m from the lower-off. Keith Sharples had a ring-side view from the top of The Cove but it was clear that things weren't going to plan. He talks to Mina about what happened when she hit 'the wall' and then how she resolved to return on Friday for her successful ascent…
Mina back on the headwall on Friday for the successful ascent of Totally Free II. Photo Keith Sharples
Let's back-up to last Wednesday when you above the lip on Totally Free II; 68m into the 70m route! Can you describe what happened?
Oh dear, that was a long, drawn out fail! I got to the last part of the roof section, good holds below the final mantle, having grunted my way through the series of huge moves between good holds. The previous clips had been a real effort to get the rope in due to epic rope drag and the final one was too much – I couldn't lift the rope high enough! It was like trying to lock off on one arm and lift a massive dumbbell with the other! I should mention that I was also totally pooped at this point and running out of energy fast! I made a few attempts to get the draw clipped and then gave up and tried to recover before pushing on past it (unsuccessfully haha).
Did it ever occur to you to bail-out?
No way! At that point you have climbed about 68/69m of a 70m route, there was no way I was bailing. It was 110% in. Unfortunately my forearms had other ideas though…
What were your initial thoughts after you'd fallen off?
I was pretty gutted to fall that high and kind of annoyed with myself that I had tried so many times to clip, I should have pushed on without it sooner. But it's hard in the moment to make the right decision and I probably would have fallen either way, I was so boxed!
Falling 2m from the top of a 70m route might break some people. Did it take you long to realise that you 'needed' to come back and complete?
Walking down with you (Keith) I couldn't imagine trying again any time soon, I was thinking "maybe over the summer sometime I'll have another go". Initially I couldn't face the idea of doing all that climbing again (including another repeat of The Groove) and dropping it up there again! But you and David talked me round. It made sense to try again soon while all the beta was in my mind (I have an atrocious memory) and after the exhaustion of that attempt faded, my psyche started to build again.
Weather aside, you had horrendous rope drag and suffered cramps on your attempt on Wednesday. How did you change your game-plan to resolve those problems?
Yeah I think it was cramp, or something akin to it in my right forearm in particular (more intense/crippling than just normal pump). There were a few things that I thought might have contributed to that and the general wall-hitting exhaustion in that roof so I decided to tackle them all!
1) Rope drag: on the first attempt I used one skinny (9.1mm) single rope all the way. On the successful attempt I climbed The Groove with two ropes, clipping one in and trailing the other. At the top of The Groove there is a good rest and here I clipped the trailing line into three points (two extended draws in the chains and one extended draw off the first bolt of the next section) before untying and dropping my first rope. This massively helped with drag at the top.
2) I wore more layers including a thermal and a headband to keep warmer up there.
3) I put salts in my water that day to keep my electrolytes up.
4) Best of all, I put strawberry pencil sweets in my sports bra so I had sugary snacks for all the rests! Even if it didn't help, they were yummy!
I'm a bit of a geek - I like deconstructing and problem solving!
How did you feel on Friday when you tied in again and how did it go?
I was pretty tired on Friday and to be honest I wasn't that hopeful for a send. I had done The Groove and An Uneasy Peace (the top section of Totally Free II) both for the first time on Tuesday, had my high fail on Totally Free II on Wednesday and also went and re-worked the top afterwards. I rested on Thursday but felt totally wasted so returning on Friday felt optimistic at best!
First attempt I fell off the top crux of The Groove and I nearly took my draws out…always worth one more go though!
Most climbers learn something when they finish a route; what did Totally Free II give you to take away?
I think the biggest challenge was psychological, especially after falling so high. I learnt to mentally break the challenge into sections and components and deal with them all separately. I'm quite a logical person I guess and bite-size pieces make the whole thing less overwhelming a prospect. At the end of the day, with something that big, you just have to tie in and start climbing…..and remember to try hard!
And now back to Rainshadow?
Yes…..I was taking a little sabbatical from project-mode after I started to go backwards on Rainshadow….so I'm going to go back to it and see…..
Stay in touch with Mina's climbing via her IG page here. See more of Keith's images here on his blog.