Melloblocco 2015 is a wrap…
May 7th, 2015
The world renown bouldering fest that is Melloblocco has just wrapped up the 2015 competition. The organisers report that over 2,500 registered participants from 25 countries - plus a further 2,500 other climbers - flocked to take part in the biggest outdoor bouldering comp based in Val Masino and Val di Mello, Italy.
Anthony Gullsten climbing Samba do Brasil.
As previously reported (see here for our earlier post…) Melloblocco was held April 30th to May 3rd. The festival bash – held on the penultimate night – saw Adam Ondra, Steve House and Christian Core all take to the stage and wow the crowds. Organisers report that Ondra "hypnotized the Melloblockers with his Be the Change". Steve House and Christian Core also got ovations. By all accounts, Patxi Usobiaga, almost set a new fingerboard record too.
Janja Garnbret climbing La Volpe a 9 Code.
For those that are keen to hear about the climbing the organisers report that the competition went down to the wire. At the close of play Stefano Ghisolfi, Adam Ondra and Martin Stranik each sent 9 out of 10 problems to join Finland's Anthony Gullsten. They were followed by Gabriele Moroni and Francesco Vettorata who sent 8, ahead of Jacopo Larcher (7), Nalle Hukkataival and Stefan Scarperi (6), Jorg Verhoeven and Vilimantas Petrasiunas (4). Apparently, the unclimbed problem, Mare Vostrum, became even more difficult after the hold broke. This remains a quality project for the future. In the women's event victory went to 16-year-old Slovenian Garnbret (7 tops out of 10), followed by Saurwein (6 tops), Lavarda and Zangerl (5 tops) and then Zampa, Chiappa and Lehmann (4 tops). Finally, Raffaella Cottalorda, Caroline Sinno, Michelle Theisen and Katerina Zimova all sent 3 problems.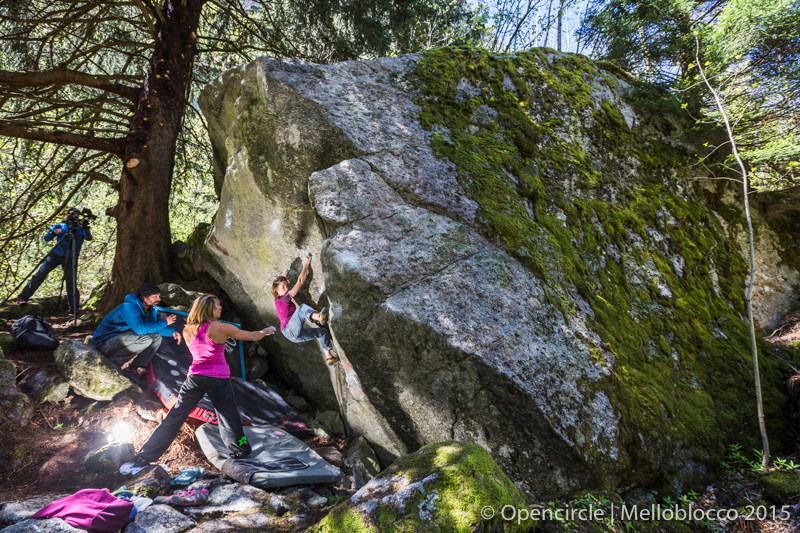 Giada Zampa climbing Lista da Piuma

For more info click through here to Melloblocco website.
All photos © Open Circle/Melloblocco