Megos kicks-off UK trip with Hubble
June 1st; 2016
Alex Megos made history yesterday when he became the first foreign climber to repeat Hubble.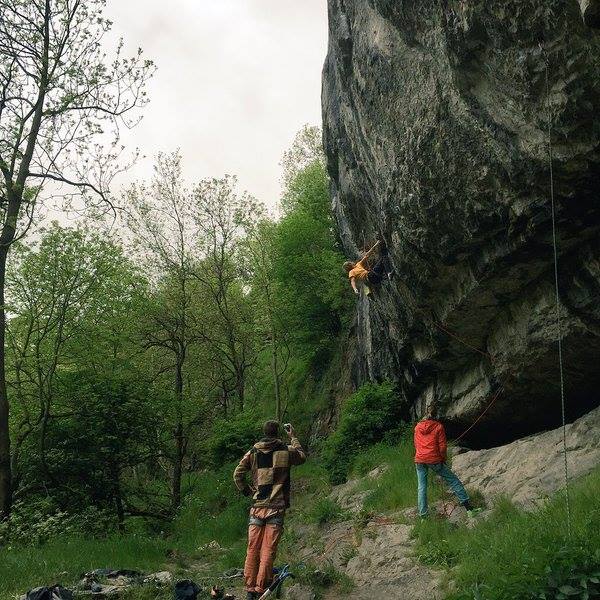 Alex Megos making the first foreign ascent of Hubble. Photo Ethan Walker
Following Ben Moon's first ascent way back in 1990, Hubble has only been repeated on a handful of occasions since and until yesterday never by a foreign climber. Originally graded F8c+ by Ben Moon, it has now become widely accepted that Hubble is F9a and as such the first route of that grade ever climbed. Following Ben's ascent, Malc Smith, John Gaskins, Steve Dunning and Steve McClure were the only climbers to take the tick before Alex.
Over the last decade however, there has been increasing interest by overseas climbers to come and try Hubble. Dave Graham had a dabble in the late 00s and since then Adam Ondra, Sean McColl and Alex Megos have all tied-in for a play. Mostly their attempts were during flying visits when they were over in the UK as part of a comp or a promo tour. Ondra own trips to the UK were largely centred on Malham; Raven Tor visits being restricted to/from the airport.
Steve McClure on Hubble nearly a decade ago. Photo Keith Sharples
Alex Megos's own previous dalliance with Hubble was during a trip a couple of years ago – the same trip that he did Mecca first red-point. Unfinished business doesn't sit well with most athletes and it seems Alex was so keen for the tick that he kicked-off his two week trip to the UK with Raven Tor and specifically Hubble.
Tor locals, Ethan Walker, Hadyn Jones and Yann Genoux, were on-scene to witness the event yesterday. It seems that Megos took several attempts to do Hubble but on his final ascent he did all the moves statically. With Hubble in the bag, Megos went on to try Kabaah (F8c+) getting to the flake on his first redpoint. Interestingly, Megos wasn't born when Moon did the first ascent of Hubble.
With Megos over for two weeks it's highly likely that we'll be reporting more on his activities – maybe even he'll go for the second ascent of Steve McClure's Mutation (F9a) – something else which is keenly awaited. Watch this space.