Megos and le Neve take 2017 RAB CWIF titles
March 21st; 2017
Over an action-packed and super-charged weekend Alex Megos and Melissa le Neve emerged as RAB 2017 CWIF champions.
Alex Megos carefully crimping after his one-arm campus start on one of the blocs in the final - one which didnt see a top-out. Photo RAB
The line-up for the 2017 CWIF (Climbing Works International Festival) was little short of outstanding, so much so that it was touted as a 'World Cup Plus' all-star cast/event! The Plus bit coming from the attendance of the like of Alex Megos, Jimmy Webb and Melissa le Neve – all top-class climbers that now don't partake in international comps – generally!! Melissa le Neve, for example, retired from the international comp scene last year to concentrate on outdoor climbing; her recent success on a 8b+ at Fontainebleau underlined just how well she was climbing. Alex Megos – a previous CWIF champion was recovering from a finger injury so he was playing his expectations down somewhat, so much so that he withdrew from the comp on Thursday night!
Melissa le Neve on-fire for her first CWIF title. Photo RAB
Saturday was qualification day and each competitor had to tackle 30 problems. Jongwon Chon emerged the sole climber to top all 30 – a sterling effort which included topping a particular tasty compression bloc that really upset the apple cart. Aidan Roberts must have completed the day extremely chuffed with his second place! Interestingly, a jamming crack featured in the qual round as well causing few problems for a few competitors. As it was, a certain Alex Megos also rocked-up and competed having changed his mind.
Jongwon Chon on a final bloc - the only competitor to top that particular bloc. Photo RAB
Sunday's Semi Finals were equally testing and yet more super-stars were eliminated as the field was whittled down to just six male and six females. Despite some valiant attempts by the strongest brits Matt Cousins, the 2016 British Bouldering Champion and the on-form Michaela Tracy were to sole Brits that made it across the cut and into the finals. Top jock and previous CWIF winner Sean McColl as well as Rustam Gelmanov couldn't quite turn-on the dazzling performances that they had in the past and likewise didn't make the final's cut.
Cometh the finals the blocs appeared to get even harder – the setters dishing-up all kinds of mean tricks to test the climbers – dual texture holds seemingly being extra-popular with the setters anyway! A fascinating insight for those listening on the live feeds was provided by five-time CWIF and the current World Champion Shauna Coxsey who was sitting CWIF out this year. Having been part of the testing team and therefore in an excellent position to offer a fascinating insight to the blocs, Shauna's was an especially knowledgeable and hence welcome insight to those watching the live feeds.
Men's 2017 CWIF Podium. Screen grab
Women's 2017 CWIF Podium. Screen grab
When the chalk had settled the men's title was duly lifted by Alex Megos who despite climbing with an injured finger appeared to be having the most fun of all the competitors. He appeared to be a little hesitant when crimping on his injured hand but his seemingly near casual one-armed campus start on one of the blocs belied his tremendous strength. Perhaps the secret of his success was that he was having such fun?! Megos is the only previous male CWIF winner to do the double and win a second time. Ironically, Alex's victory came on a slab of all things; a slab which appears almost devoid of any holds so perhaps his finger injury didn't impact him on that occasion? Jongwon Chon – having dominated the event thus far finished in second with Michael Piccolruaz in third. Congrats should go to Matt Cousins for his fourth place ahead of Jernej Kruder and Jan Hojer. Tops were limited, very limited in fact; only two tops from two climbers and different tops at that!
With five-times previous winner Shauna on the testing and commentary team the women's finals was destined for a new name come what may. As expected World Champion Petra Klingler pushed hard despite wearing a heavy-duty looking knee-brace but it was Melissa le Neve, the 2016 runner-up, that emerged victorious and lifted the CWIF title for the first time. Michael Tracy came in third with a stonking performance – sadly taking a few more attempts than Petra for her two tops. Former World Cup winner and World Champion Jule Wurm came fourth with Sol Sa and Julia Kruder coming in fifth and sixth respectively.
Men's Finals Results. Screen grab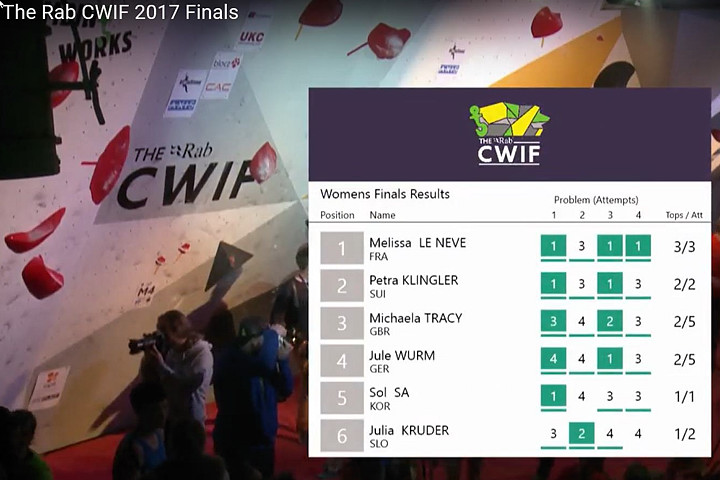 Women's Finals Results. Screen grab
Watch the finals again below.