Megos and Garnbret take gold at Briancon
July 24th; 2018
Alex Megos and Janja Garnbret took gold at the IFSC Lead comp last weekend at Briancon.
Alex Mego taking his first ever IFSC Lead gold with a convincing performance.
In amongst the rain showers at Briancon, the competitors in the Lead comp were treated to some nail-biting climbing from the world's top lead climbers. The elephant in the room involved two questions: could Megos finally stand on top of an IFSC Lead podium and would it be Pilz or Garnbret for gold this weekend?
The star-studded men's final line-up included no less than Alex Megos, Romain Degranges, Domen Stofic, Jacob Schubert and Stefano Ghisolfi – all of whom were quite clearly out to make a point and take the win. Last week's winner in Chamonix, Stefano Ghisolfi, couldn't however replicate that feat and fell out of contention on the lower section of the headwall to take fifth place. Jacob Schubert and Domen Skofic both bettered Ghisolfi's performance by a single move; Schubert taking fourth whilst Skofic took bronze place on count back.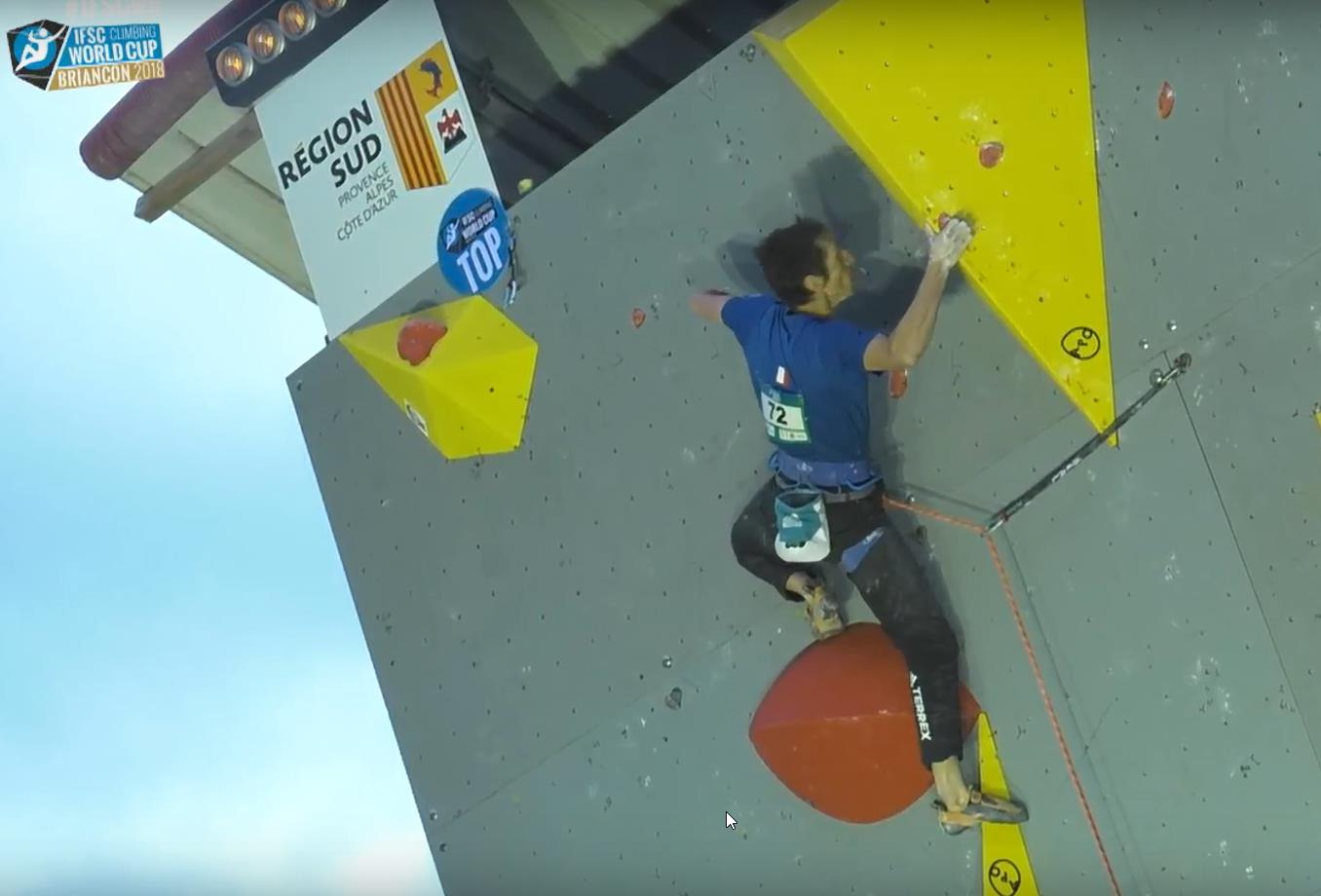 Romain Desgranges used all his crimping prowess and climbing technique to good effect to collect silver.
Last year's overall winner, Romain Degranges, was clearly out to make amends for his 'poor' showing last weekend in front on a home crowd at Chamonix and crimped his way resolutely slightly higher and so into second place. It was however, the on-form and super relaxed – or so it appeared – Alex Megos that out-climbed all falling, in the end, having touched but failing to control the final holds. It came Megos his first ever IFSC Lead gold medal having collected silver last weekend in Chamonix and bronze last year at Kranj. If ever there was someone that arguably deserved and should have stood on top the podium at a lead comp it was Megos; finally, he has done just that. The question is, can he double that next weekend at the lead comp in Arco?!
Janja Garnbret back on top with a gold medal performance
The women's final was no less startling; for starters there were four Slovenian women in the final line-up including Janja Garnbret and Mina Markovic, as well as Jessica Pilz, Anak Verhoeven and Ashima Shiraishi. Mina Markovic and Ashima Shiraishi fell at the same point on the route with Shiraishi taking fourth on count-back. Anak Verhoeven climbed solidly touching but not controlling the final hold; enough for bronze medal. Both Jessica Pilz and Janja Garnbret climbed brilliantly and both topped the route; Garnbret taking the gold on count-back.
The Briancon Final places showing the finely balanced performance of the best climbers
Finally, watch the highlights from the Briancon final below...