McColl and Noguchi take Gold in Chongqing in #3 of WC Bouldering
June 23rd, 2015
Sean McColl and Akiyo Noguchi proved popular gold medalists in #3 of the World Cup bouldering compition held in Chongqing, China over the weekend.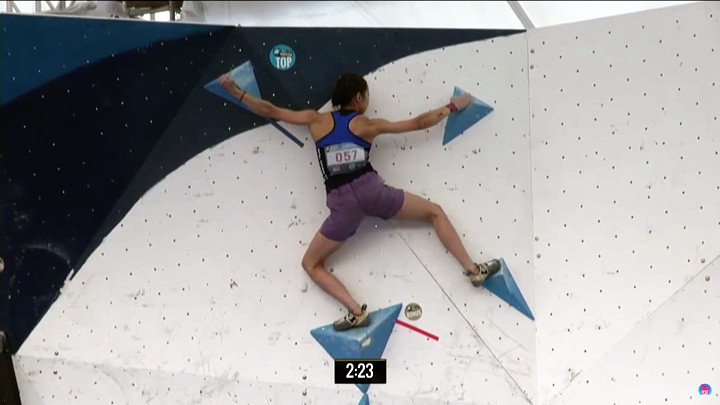 Akiyo Noguchi flashing F4. Video grab IFSC Live stream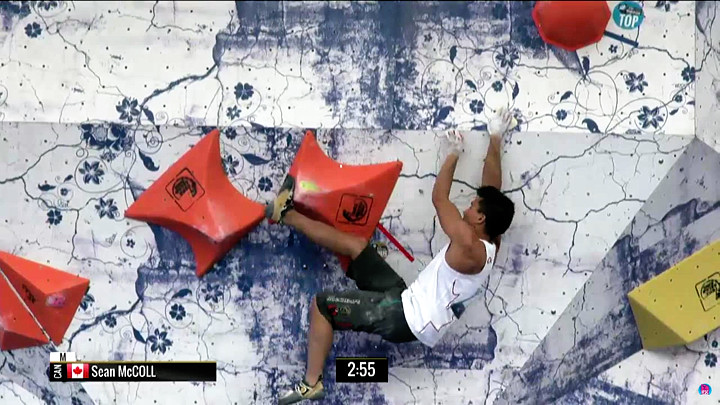 Sean McColl flashing M3. Video grab IFSC Live stream
Chongquig, the first Asian leg of the WC bouldering, once again provided considerable upset with some big blocmiester names crashing out in earlier rounds. Sadly, the live stream on the internet was very poor spoiling the viewing for most viewers!
British interest was limited to Shauna Coxsey and Leah Crane in the women's event – sadly none of the Team GB guys travelled to Chongquig, we understand due to funding issues. Similar issues further impacted the competitor start-list too with the likes Megan Mascarenus missing from the line-up as well. Stohr and Puccio were missing through injury.
Qualification, often something of a lottery, saw no less than four women all record a perfect score – five tops and five bonuses in 5 attempts; Akiyo Noguchi, Petra Klinger, Berti Schwaiger and Julija Krader. The semi's saw Noguchi re-assert herself as the only women competitor to get all four tops. In an amazing (and no doubt frustrating…) display of consistency, Leah Crane and Sierra Blair-Coyle finished in joint 21st again both missing the semi's by just one place! Ondra scooped up four tops and bonuses in four goes in the men's qualifications but no less than six other male competitors topped the fifth problem leaving Ondra some way off the pace. Ondra's troubles continued in the semi's when, despite collecting another four tops and four bonuses he was out-gunned by the others competitors and finished in 8th place missing the finals by a single place. There's little doubt that Ondra will be anoyed about that and wont take much solice for being highest placed semi competitor. Nataniel Coleman, previously in first place after the first two rounds of the WC bouldering, also crashed and burnt in the semi's finishing in 18th place four places behind Alban Levier, the gold medalist in Toronto.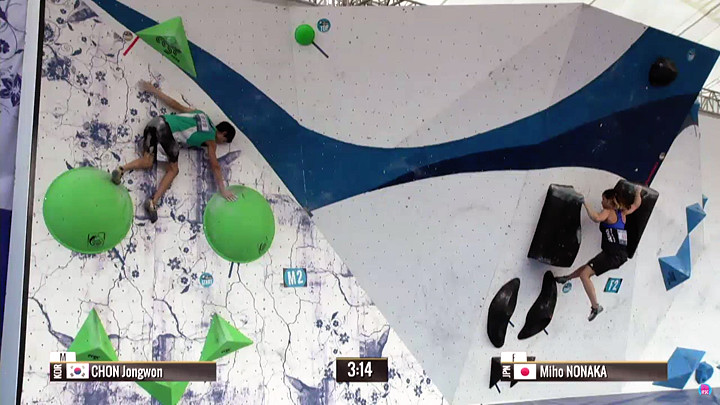 M2 and F2 Jonywon Chon and Miho Nonaka. Video grab IFSC Live stream
The finals kicked-off with seven males and six females although not surprsingly the nation split was slewed a little with four Japaneese climbers (three women and one male) and two Koreans (one women and one male) in the field. The rest of the field comprised five Europeans,one Canadian and one Rusian.
M1 looked as though it suited the taller (stronger) climbers and perhaps predicatably it saw a couple of tops and a couple of flashes from Andrzej Mecherzynski Wiktor and Jan Hojer – both pretty tall and strong climbers. F1 was also a stearn starter bloc with only a couple of tops from Mikho Nonaka and Akiyo Noguchi although most competitors collected the bonus holds as well as the kneebar amidst the volumes . The later competitors also had to contend with nearly full sun on F1 though it clearly didn't affect either Nonaka nor Noguchi. Shauna Coxsey didn't do well on this bloc although it probably costing her more mentally than in actual comp points.
M2 and F2 – two 3D blocs - seperated their respective fields as well; both blocs seeing four top-outs. Shauna was one of four to top out F2 although only after a technical incident following some difficulity with a lower volume. Akiyo Noguchi however, dominated F2 with the only flash. M2 should have suited the powerhouse Hojer but he took several goes to eventually realsie that the final move was best done crimping the penultimate volume and finishing in a slow and steady move rather than dynoing.
Shauna Coxsey about to top-out on F3. Video grab IFSC Live stream
M3, a funky looking bloc, started inside the competitor's exit tunnel before emerging onto a steep volume-laden headwall. It was flashed by three maales – Sean McColl included – and with only M4 to go it was looking like McColl's day. Again it looked as though it should have suited Hojer but uncharestically he fell repeated from the final moves and didn't complete. F3 looking like blob-city really sorted the women out. Shauna however, put in an excellent performance topping this on her second attempt which would have been excellent news had it not been for Noguchi going one better and flashing it! With three tops from three, including two flashes, Noguchi was now showing clear water between herself and the remaining women. Completing the comp M4 – another triangular volume-based bloc saw five tops – including 2 flashes, one from Hojer. F4 – yet another triangular volume-based bloc was topped by all the female competitors although only Nonaka and Noguchi flashed it.
As the result clearly show, Sean McColl and Akiyo Noguchi were the clear winners at Chongqing.
Womens Final results Video grab IFSC Live stream
Womens Podium. Video grab IFSC Live stream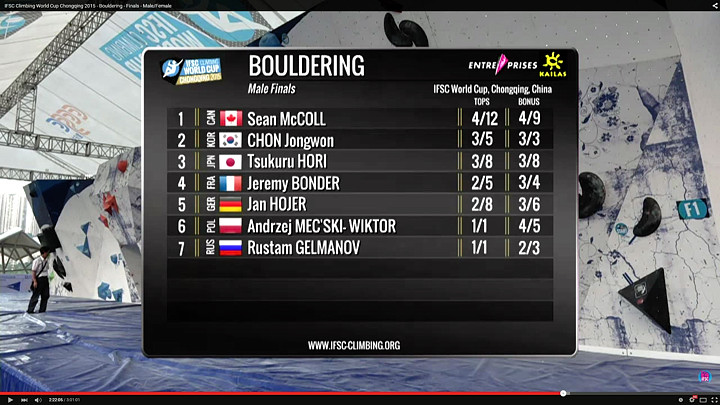 Mens Final results Video grab IFSC Live stream
Mens Podium. Video grab IFSC Live stream
After three rounds the current World Cup Bouldering standings are as follows:
Men

1

Coleman

USA

176

2

Ondra

CZE

170

3

McColl

Can

169

4

Hojer

GER

158

35

Barrans

GB

16
Women

1

Noguchi

Jap

260

2

Nonaka

Jap

178

3

Coxsey

GB

167

4

Stohr

Aus

151

25

Crane

GB

27