Max Milne does first ascent of Lord Farquhar
Oct 2nd; 2018
Young Scottish climber Maximillian Milne has just completed his project at Clashfarquhar, Aberdeen to give Lord Farquhar (Font 8b+).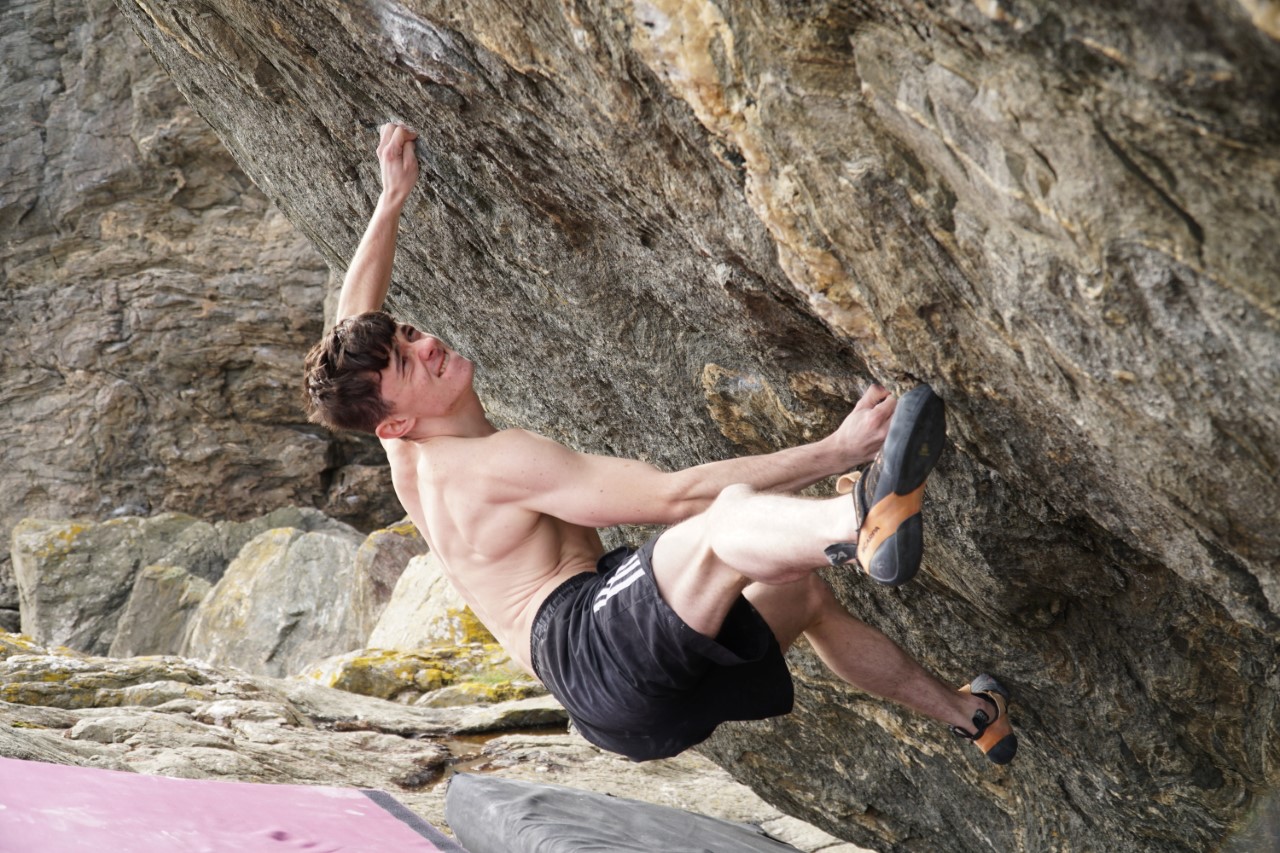 Max Milne on Lord Farquhar. Photo Mike Webster
Max is emerging onto the scene as a super psyched, highly motivated and capable young climber. Two years ago, aged just 15, he climbed Delirium (Font 8a) at Clashfarquhar. Since then he's been busy ticking off a string of quick repeats of established classic blocs. Max repeated Working Class (Font 8a+) at Bowden Doors, for example, in a session. He's pretty keen on notching up first ascents too as he told CLIMBER; "I've also did The Bullworker (Font8a+) when I went with a few mates for a short trip "lead climbing". Whilst warming up I found this unclimbed gem and just couldn't resist haha."
For starters, CLIMBER asked Max to describe the climbing at Clashfarquhar; "The climbing style at Clash is my favourite style - HARD PULLING. It's my favourite area close to me for sure! Lots of hard stuff to get on and the moves are amazing on all the boulders there. There's something for everyone hard crimping, hard compression, gnarly sloppers, technical boulders, pressing boulders you name it we got it."
Reading his on-line posts Max was clearly well-psyched with his first ascent of Lord Farquhar. He told CLIMBER; "I was over the moon when it went!!! It was a surreal feeling. As soon as I sent it, it felt like a dream; strange but amazing." And could he remember when he first saw the line and tried it? "Yeah I can remember when I saw it in 2015 I got told it would be a futuristic project. So how could I not want to get on it!"
CLIMBER asked Max to run-down the timeline on Lord Farquhar. "In 2016 after I sent Delirium I went straight over to the line and was blown away by how hard it was as I couldn't get my ass of the ground - no one could! I went away but didn't forget about it. During 2017 I had one session on it and maybe could pull on the first move for a second. I also did the last move so the dream was born. This year I had 2 sessions on it and did the top move again but not the bottom move. The next session I did the first move. Once I'd done all the moves I knew it was possible!!!
"I went away got stronger and fitter and then came back, waited for good weather then went down. However, I'd brought the wrong shoes so I couldn't stand on the foot holds. I came back the next week and struggled a bit with the hardest move so I went off and put my headphones in and blasted some tunes got psyched then did the move in my jacket and hat!!! Then a few goes after... IT WENT!!"
Max Milne latching the top of Lord Farquhar. Photo Mike Webster
Long term projects have a habit of getting to climbers; CLIMBER asked Max if anything had got to him whilst working the project? "The one thing what really got under my skin was that some days I could do the moves and another days I couldn't do anything! This was really hard to deal with as it filled my head with doubt but I didn't give up!"
And where did the name come from; "I chose the name Lord Farquhar due to the venue and it also ties in with the character from Shrek, Lord Farquad, which I though was funny and goes together well. I also think it works as it is the lord of all the problems as it is by far the hardest."
Finally, Max told us a little about the potential at Clashfarquhar and what he has his eyes on for the future; "There a few possibilities. One is quite font like on awesome sloppers with compression moves. So I might have a play on that. But there may be a lower start to Lord Farquhar which I still can't pull on. I really want to get on an 9a route and see how fast I can send that as I've never pulled on one before and I feel in better lead shape than boulder at the moment so that will be fun."
Max is currently on a Lattice training programme and is committed to competitions having competed at the World Youth Championships earlier this year where he made the semi-finals in lead and boulder in his first year as junior male. He finished 15th in lead and 11th in boulder and got a PB of 8.6secs in speed. He's a regular at Transition Extreme in Aberdeen and loves "lots of just basic hard pulling."
Mike Webster, Sherrill Mason and Marcus Valente have made a great short film of Max's first ascent.
Click through here to see more of Mike Webster's work…
Click through here to see more of Marcus Valente's work…
Finally, watch Max in action on Lord Farquhar below…