Matt Helliker and Jon Bracey having a ball in Chamonix
March 23rd, 2015
British alpinists, Matt Helliker and Jon Bracey, report that they've done what they believe to be a second new route on one of a trio of gendarmes on the East Face of Mt Maudit in the Mont Blanc Massif. This route comes nearly a month or so after a new line they did previously on the Pyramid du Tacul.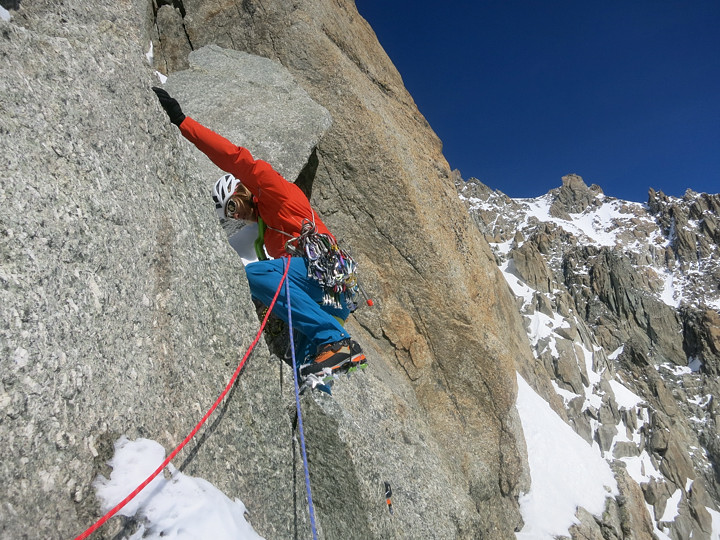 The initial mixed pitches on Zephr.
They climbed the latest line on Mt Maudit on March 13th having approached on skis from the Aiguille du Midi. Matt has told CLIMBER that although he knew about the potential for a new route conditions had to be "just right" – in this case, the lower buttress had to have enough snow on it to be mixed climbed and the upper pillar dry enough so that they could rock climb it. Helliker reports that the line followed iced-up crack and corners on the lower buttress after which they crossed a snowfield and "some unsettling snowed up slabs to belay at the base of the upper pillar". Although they were climbing in the lee of the prevailing (65kph) winds the sun enabled the pair to initially progress according to plan. However, things soon changed as Hellieker explains: "As the sun dipped in behind the East Face, the strong cold north winds found its way round onto the face, making the remaining excellent rock climbing pitches brutality cold". Eventually however they topped-out. They have named this line Zephyr and offered a grade of M5+, 6b for the 400m route.
The upper rock pitches on Zephr.
The pair's earlier line on the North East face of the Pyramid Du Tacul follows the summer rock route Le ronfleur paradoxal for a pitch then follows a natural winter line to join the East Ridge to the summit. Helliker ad Bracey described the climbing on that as "icey runnels linked by hard steep mixed sections, giving excellent sustained climbing." Some 250m long, they called that route Mastabas and graded it M7.
Matt and Jon after climbing Mastabas earlier in February.
Matt Helliker is sponsored by: Patagonia, Black Diamond, Osprey Packs, Scarpa, Adidas Eyewear, Edelweiss ropes, MaxiNutrition. Click through here for Matt's website
Jon Bracey is sponsored by: Patagonia, Black Diamond, Osprey Packs, Scarpa, Adidas Eyewear, Edelweiss ropes.