Martina Demmel fires her first F9a – Joe Cita
Martina Demmel has just climbed Joe Cita her first F9a; impressive enough – even more so given she's only been climbing since 2017!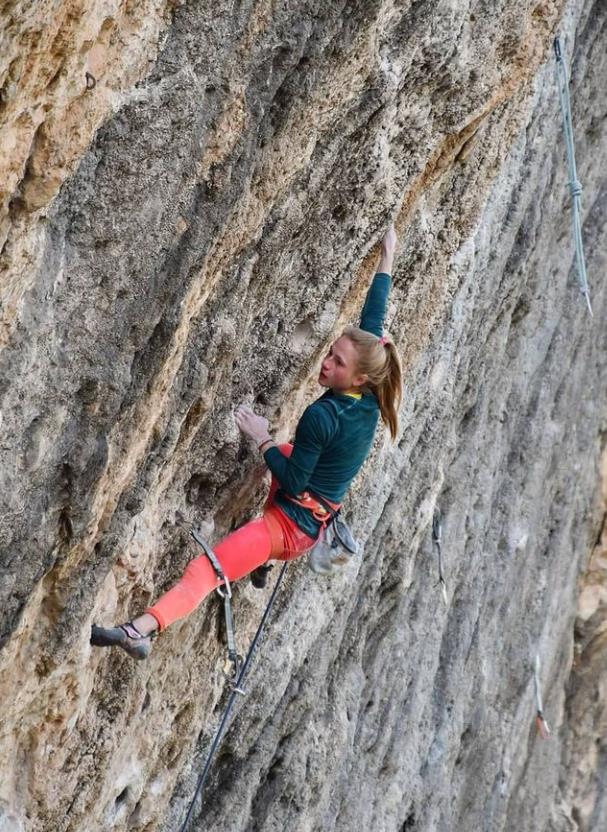 As previously reported (click here for that report), Martina Demmel, the 19-year old German climber, is on fire at the moment and tearing up the routes on her trip to Oliana. Earlier she on-sighted her first F8b+, Humildes Pa Casa, after which she redpointed Joe Blau - her second ever F8c+.
No sooner had we reported on that, then the news from Oliana is she's just redpointed her first F9a, Joe Cita. Writing on-line she said: "Still searching for the right words to describe what happened yesterday evening topping everything🤯💭! When a lifetime goal you haven't even started to dream about as it felt so far away suddendly becomes reality😻!" Remarkably, she sent the 40m endurance route – a link-up between Joe Blau and Marroncita – on her fifth attempt having ticked both out the 'parent' routes!
It seems though that her ascent of took Demmel somewhat by surprise: "Before the send try, I rather felt like resting today, not psyched at all to try hard😴 but couldn't really find another free climb to hop-on... a typical "I just check out the moves once more and see how it feels" try with not existing expectations🤷‍♀️." That is not an unfamiliar story to many sport climbers!
She describes both the route and her attempts on-line saying: "The route starts with the first intense half of Joe Blau, then continues with trying to somehow recover in the upper part of Marroncita and finishes off this whole 128 moves journey with the bouldery La Morenita, what a beast💥! Even though it's 'just' a linkup, it's featured with probably one of the coolest limestone structures and diverse sequences you can get here😊💎!
After falling 4 times at the crux of Joe Blau again after already making it to the top of both single lines, I really was wondering what I'm doing wrong here that I'm arriving at the little jumpy crux more & more pumped every day🔥🥵... Never linked it from the middle to the top as I was always falling at the brutal shoulder move in the final slab 5 meters below the chains🤯💃 and in my mind, I still see myself falling there over and again🦅!"
It seems that once again the coincidence of good conditions with a relaxed state proved to be the winning formulae: "Maybe waiting for prime conditions was the key because it simply couldn't have been better last Wednesday with 15 degrees and wind🙃🌬. Almost felt like there was glue on every hold because the rock was soo crazy sticky😜🦎! Surprisingly, I managed to get through the lower part pretty solid and arrived rather fresh at the bad rest before the slab in my 5th attempt trying this combi😉. My thoughts literally were going crazy at this point but knowing that I'm probably falling there somehow helped me to jump out of all the pressure and expectations which just started to rise and to fully risk and give everything I had left🦋🔥! Luckily the worst case falling at the very last move didn't came true, I even was able to do this unique move in the most static version ever😇 and found myself clipping the chains a few seconds with an explosion of emotions😍😍!!!"
This is Demmel's Oliana tick-list – so far!!
Humildes Pa Casa F8b+ OS
Mind Control F8c 2nd go
Fish Eye F8c 2nd go
American Hustle F8c 2nd go
Crimptonite F8b+ 2nd go
Papermullat F8b+ 2nd go
El Gran Balu F8b+ 2 go
Gorillas en la Nieble F8b+ 2nd go
Joe Blau F8c+ RP
La Morenita F8c+ RP
Joe Cita F9a RP
Doubtless we'll be hearing more of this young German; meanwhile follow Martina on Instagram here.